Dancing huko ICC ochacho............A what maxi.....!!!
Diaspora Spokesperson
Executive Director
Confederation Council Foundation for Africa Inc.,
USA
http://socioeconomicforum50.blogspot.com
Check this out
---------------
Terje Rød-Larsen was compelled to resign from his ministerial functions in Norway because he falsified his declarations in such a way that he did not pay taxes for the past 10 years. With his fraudulent qualities, he was nominated to serve at the United Nations.
President Uhuru Kenyatta request for exemption from continuous attendance granted with conditions
Updated Friday, October 18th 2013 at 21:57 GMT +3
By WAHOME THUKU and ALPHONCE SHIUNDU
President Uhuru Kenyatta has been given some relief over his trial at The Hague after judges directed that he would attend part of the proceedings at the International Criminal Court (
ICC
).
In what could ease pressure on the court and the President over the case, the Trial Chamber V(b)on Friday conditionally excused Uhuru from continuous presence at his trial which starts on November 12.
The decision, which was made following request by Uhuru was made by the majority of the Chamber, with presiding judge Kuniko Ozazi dissenting.
The two judges Robert Fremr and Chile Eboe-Osuji who granted the request, however, ruled that President Uhuru must be physically present for the entirety of the opening session, during the making of closing statements of all parties and participants, hearings when victims present their views and concerns in person, the delivery of judgement and any other attendance ordered by the Chamber.
"If applicable, Uhuru is also required to be present during sentencing hearings, the delivery of sentencing, the entirety of victim impact hearings, as well as reparation hearings," the judges decided.
President Uhuru is charged, as an indirect co-perpetrator with five counts of crimes against humanity consisting of murder, deportation or forcible transfer, rape, persecution and other inhumane acts allegedly committed during the post-election violence in Kenya in 2007-2008. Charges were confirmed on January 23, 2012, and the case was committed to trial before Trial Chamber V(b).
The decision could influence the debate on whether the case should be deferred as recommended by the African Union and proposed to the United Nation's Security Council, until Uhuru and his deputy William Ruto complete their term in office.
Closing sessions
The two judge said the excusal could be revoked if the President violated any of the condition and a warrant for his arrest could be issued where appropriate.
They said excusal was strictly granted to accommodate the demanding functions of Uhuru's office as President of Kenya, and not merely to gratify the dignity of his own occupation of that office. A similar excusal had been granted to Ruto by Trial Chamber V(A) on June 18, but was suspended by the Appeals Chamber following an appeal by the Prosecution. Judge Osuji is the presiding the case against Ruto and radio journalist Joshua Sang
The two judges said granting such an exception was motivated in part by not only the need to ensure the fairness and expeditiousness of the trial in full respect to the rights of President Uhuru as an accused, but also, the need for due regard for the protection of victims and witnesses.
The decision in the Uhuru case is also likely to be appealed against by the Office of the Prosecutor.
Earlier, President Kenyatta's political advisor Joshua Kutuny had called for his boss to be exempted from being physical presence at the
ICC
save for the opening and closing sessions.
Addressing a news conference at his office in Nairobi's Harambee House, Kutuny said the country cannot afford having the Head of State sitting in court, without giving any input.
"I am not happy. The Deputy President is in that courtroom at The Hague. He just sits. He never does anything. Why do you keep him there idle yet he has so much to do back here? We're telling the
ICC
that it doesn't add value to make the Deputy President sit idle for up to eight hours; they should not subject the President to the same treatment," Kutuny said on Friday.
------------------------------------------
US prosecutor condemns Hague trials of Kenyan leaders
From:

khaguli maurice


To:

"progressive-kenyans@googlegroups.com" ; "uchunguzionline@yahoogroups.com"


Sent:

Wednesday, October 16, 2013 7:56 AM


Subject:

[PK] KM and OKLI, kama hii beer!
Ruto; Uhuru hii maneno ya ICC ni kama hii beer ndani ya maninio yangu. Uhuru; ai! Ruto, hata hii yangu ni nzito sana sijui kama tutafaulu but wewe uko na nafasi ya kusetiwa free msee-Mudavadi ndie alilaani sisi-niombee ndugu!
----- Forwarded Message -----
From:

paul nyandoto


To:

"wanakenya@googlegroups.com"


Sent:

Friday, October 18, 2013 12:31 PM


Subject:

RE: US prosecutor condemns Hague trials of Kenyan leaders
The man is right (US prosecutor):
Remember even the ICC, Ocampo; Koffi Anna etc told kenyans to form local tribunal to try PEV victims at home. But hell no, they wanted Hague and ICC. Then they used ICC propaganda to climb to presidency & Deputy president. Whose mistake is it?. It is not ICC `s mistake that Uhuru & Ruto are there. The mistake is on Kenyans who wanted it. So all these hindsight wisdom springing while ICC was used as a propaganda to attain power are all rubbish. Let them go to Hague, that is where their destiny rest. Cheating people all the time will finally fail and its is failing. I wish they knew.
Paul.
Date: Fri, 18 Oct 2013 09:16:32 -0400Subject: US prosecutor condemns Hague trials of Kenyan leadersFrom: kjmwangi@gmail.comTo: progressive-kenyans@googlegroups.comCC: Wanakenya@googlegroups.com; uchunguzionline@yahoogroups.com; africa-oped@yahoogroups.com; VuguVuguMashinani@yahoogroups.com
Ndugu Khaguli and other loudmouths:
Can you let us know what is going here? Do you agree with this prosecutor?
----------------------------------------------------
----- Forwarded Message -----
From:

Maurice Oduor


To:

Progressive Kenyans


Cc:

WanaKenya ; uchunguzi online ; Africa-Oped ; VVM Vuguvugu Mashinani


Sent:

Friday, October 18, 2013 8:41 AM


Subject:

Re: [PK] US prosecutor condemns Hague trials of Kenyan leaders
KM,
This David Crane does not offer any solution. In this article, do you see any solution he has offered? Just saying that "political realities have to be taken into account" is an empty statement.
Courage
Ndugu Khaguli and other loudmouths:
Can you let us know what is going here? Do you agree with this prosecutor?
******
US prosecutor condemns Hague trials of Kenyan leaders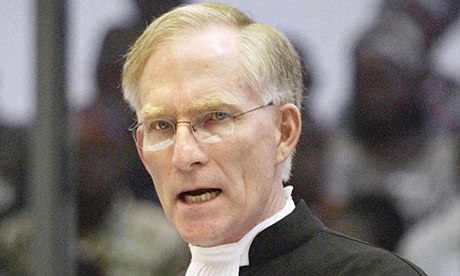 David Crane, the former chief prosecutor of the special court for Sierra Leone. Photograph: Ben Curtis/AFP/Getty Images
Uhuru Kenyatta, Kenya's president, is due to stand trial next month at the ICC, the first time a sitting head of state will have done so. Along with his deputy, William Ruto, whose separate but related trial has already begun, Kenyatta is accused of masterminding the violence that killed at least 1,300 people in the wake of a disputed election at the turn of 2007-08.
"I would never have indicted or gotten involved in justice for the Kenyan tragedy," said Crane, a former chief prosecutor of the special court for Sierra Leone, a precursor to the ICC. "It's placed them in a situation where they are damned if they do or damned if they don't."
The African Union has called on the Kenyan leaders not to attend hearings at The Hague until the UN security council, which oversees the ICC, has responded to its recent demands.
France is working on a UN resolution that would defer the Kenyan cases for 12 months, according to a senior diplomat in the Kenyan capital, Nairobi.
Human rights groups have said giving in to AU demands for immunity would set a terrible precedent that would encourage heads of state to trample constitutional term limits, cling to power and rig elections. "It's become a lose-lose situation," said Crane.
After ad hoc tribunals dealt with the fallout from civil wars in the Balkans and west Africa, as well as the genocide in Rwanda, the ICC got a permanent home in the Netherlands and issued its first arrest warrants in 2005.
Under the Argentinian lawyer Luis Moreno-Ocampo, the prosecutor's office pursued high-profile African leaders, including Sudan's Omar al-Bashir – who has ignored the warrant – and a number of alleged warlords in the Democratic Republic of the Congo.
Crane said Moreno-Ocampo had a "political tin ear" and had been overly ambitious in his indictments.
When Kenya came close to a civil war and as many as 400,000 people lost their homes after a contested election result in 2007, mediators brokered a deal under which a national tribunal was meant to be set up to try the guilty. The ICC stepped in as a court of last resort when the Kenyan parliament could not agree on a local alternative.
Moreno-Ocampo became a celebrity in Kenya, with minibus taxis named after him, but his initial popularity waned, and this was exacerbated by his decision to name Kenyatta and Ruto, political rivals whose supporters had fought during the violence, among the indictees. The pair united in a "coalition of the accused" and won elections this year in a campaign that portrayed the ICC as a colonial throwback.
Moreno-Ocampo was replaced last year as chief prosecutor by Gambia's Fatou Bensouda.
Crane said the ICC should have used the threat of its intervention to nudge for reform rather than launching prosecutions that the Kenyan elite would never support.
"It's a question of some justice versus no justice," he said. "If it's perceived that Kenyatta and Ruto have won then we're thrown back to the pre-Taylor era in Africa."
----------------------------------------------------
Top Ban Ki-moon aide fights Sierra Leone corruption claimsBy KEMO CHAM in Freetown | Friday, March 1 2013 at 12:12
UN Secretary General`s Special Representative on Sexual Violence in Conflict, Zainab Hawa Bangura.
The UN Secretary General`s Special Representative on Sexual Violence in Conflict, Ms Zainab Hawa Bangura, is fighting to clear her name in an embarrassing graft scandal at home.
The former Sierra Leonean health minister has been linked to a corruption scandal involving a Bill and Belinda Gates Foundation-funded immunisation project run by the Geneva-based Global Alliance for Vaccines & Immunization (GAVI).
In December, GAVI announced it had uncovered the misuse of funds allocated to the Health and Sanitation ministry of about $1.1 million.
As a result, an existing grant worth over $500,000 was frozen and a pending two year grant of $5. 4 million suspended.
President Ernest Bai Koroma in January suspended 10 senior health ministry officials as the Anti Corruption Commission (ACC) started a probe.
But government critics have alleged Ms Bangura was an accomplice as some of the loss happened when she was health minister, and want her investigated.
Ms Bangura has denied any involvement.
A close ally of the president, she served as foreign affairs minister between 2007 and 2010.
She was moved to the health ministry in January 2011 ahead of her current appointment in August the following year.
The alleged misuse of donor funds, according to the GAVI Alliance, occurred between 2008 and 2010, with one part in 2011.
Ms Bangura is believed to be nursing ambitions of a more advanced political career, with a possible eye on the presidency, a position she first contested for in 2002.
It added: "As a Minister, Ms Bangura did not participate in that Procurement Committee."
All of the suspended officials were said to be part of that committee, but the critics say they are only scapegoats.
A group calling itself Concerned Sierra Leoneans has been extremely vocal on the issue.
It has alleged that Mrs Bangura took time off from her UN job to come home and destroy evidence prior to the institution of investigation.
This issue has affected her image, hence, according to the GAVI Alliance, she had requested them to clarify her role on the matter.
Concerned Sierra Leoneans however, is pressurising GAVI to act and has even accused the Alliance itself of "gross negligence" and possible complicity in the theft.
"We intend to hold GAVI responsible for the theft because of their sloppy oversight and will not hesitate to sue them…," the group said in a statement, claiming to be speaking on behalf of defenceless Sierra Leonean children.
According to reports, officials from the GAVI Alliance were scheduled to be in Freetown this week seeking an explanation from the government about the missing funds.
speaker's corner
Most Popular
*******************************************
ACCORDING to the Kenyan DAILY NATION today, the UN SG Ban Ki-Moon has asked African leaders to adhere to their commitments to the ICC. Meanwhile South Korean ICC JudgeSang-Hyun Song said the Kenyan Parliament twice refused to enact a local tribunal.
Let Ban Ki-Moon adhere to his commitment to transparency and integrity by stepping down for a probe into the allegations against him.
On Friday, October 18, 2013 4:09 PM, mohamed warsama wrote:
Corruption at the Top
An Open Letter to the dishonorable Ban Ki-moon
United Nations Secretary-General Ban Ki-moon visited Lebanon to prepare for a possible NATO action against Syria. Too busy conspiring against the peace he should be defending, he forgot to inquire about Israel's daily violations of Lebanese sovereignty. In an open letter published by the Lebanese press, Arab thinker Hassan Hamade lambastes Mr. Ban and his representative Mr. Rød-Larsen, recalling that far from standing up for principles, both are thugs wallowing in corruption.

Mr. Secretary General,
While listening to your speech in Beirut, in which you proclaimed the absolute necessity to proceed with the reforms, "because the flame of freedom ignited in Tunisia shall never be extinguished", I immediately thought of a Swedish person, famous for her integrity, transparency and credibility in terms of reforms. I meant Mrs. Inga-Britt Ahlenius, who was once the UN Under Secretary General, in charge of the United Nations Office of Internal Oversight Services (OIOS), which main mission was to ensure the good services providing of this "big machine", namely in the finance field and who served under your supervision.
You certainly know, Mr. Secretary General, that Mrs. Ahlenius, whose professional career has always been flawless, be it in Sweden or during her office at the administration of the UNO, has drafted a 50-page report related to the status of the Organization in terms of finance and utilization of public funds in budgets of various services.
Said report clearly indicates you as a principal responsible for financial exactions performed at all levels, especially at your department level, and makes you accountable for lack of transparency. It even goes further to say: "Sir, your actions are unprecedented …. and deserve more than just condemnation."
Empowered by her function to lead the war against corruption within the UNO and to monitor the good carrying out of services, Mrs. Ahlenius writes that she is certain of your implication in the financial chaos that drowns your administration which totally lacks transparency: "Your actions – she pursues – lack transparency and violate audit regulations". She sums up by stating: "I am sorry to say that the Secretary General steps into a phase of delinquency, where he is utterly collapsing, and one might say, from which he cannot be rescued."
Facing this report, you opted for total silence, all the while completely ignoring it. Moreover, you summoned its recalling from the official UNO website within the 48 hours that followed its electronic diffusion [The Voltaire Network has found this document for you. It is attached herewith at the bottom of the page].
We knew of this report from a number of journalists who took note of it, yet did not initiate an accompanying media campaign, nor did they interrogate you concerning the subject probably by fear of triggering a process which could open the case of the generalized corruption that prevails within your administration, at the expense of peoples of the world.
Remember Mr. Secretary General that Mrs. Ahlenius, following her trip back from her native country and after the publishing of mentioned report in August 2010 which crowned her 5-year-mandate, wrote and co-published a book with the Swedish journalist Nialas Ekdal.
In this book titled
Mr. Hasard, the UNO deterioration under the direction of Ban Ki-moon
[
1
], the authors describe in details a multitude of your exactions which deprive the UNO from the minimal vital credibility.
They qualify you as incompetent and corrupted, thus discrediting you of your entire professional path.
Mr. Secretary General,
The book, just like the report, had its share of silent attacks which contributed to its complete suffocation at the media level. You surely know about the occult forces that lead the combat against the truth defended by Mrs. Ahlenius? Those are the exact same forces that protect you, Mr. Secretary General.
How dare you speak of reforms, you, the thief?
You are probably not used to hearing such direct, vivid and true critiques, but you should get the habit of it. On the morality level, you surely are in no position to give reform lessons to anyone. It would be interesting however to benefit from your eloquence about reforms to demand their application at the UNO first. The first step towards accomplishing this matter would be your interrogation by a special investigation commission that would send you for trial to the competent tribunal. The world needs a Nuremberg to judge crimes of corruption and pillage of public assets belonging to the peoples of the world. What do you think?
Public assets which you illegally disposed of, according to Mrs. Ahlenius, belong to the peoples of the world, which governments finance your organization and pay your salaries, yours and all the UNO staff.
Incidentally however, it would be interesting to note that governments that pretend to form a protesting bloc against the takeover of the US on the UNO mechanisms, and who accuse you of acting for Washington's account, avoid requesting the formation of an investigation commission to examine accusations perpetrated against your person by Mrs. Ahlenius! Roles are reversed and you are now giving them lessons in reforms!
Mr. Secretary General,
Just a few hours before your arrival to Beirut, you made a promise to appoint a new Attorney General for the Special Tribunal for Lebanon to replace Judge Daniel Bellemare who resigned.
Tell us about the nature of judges who will be appointed by a person as controversial as yourself? Can we expect justice from judges who would accept to be appointed by a person caught in the act by their own Under Secretary General?
Is this the "highest degree of professionalism and transparency" so-promised by late President Antonio Cassese?
Mr. Secretary General,
In the name of which Wisdom did you keep silent, facing the accusations of Mrs. Ahlenius? Is it because you consider as a "crime of honor" or a "political crime" the misappropriation of other people's funds?
Or is it by fear of seeing this case opened in front of the whole world? This is it!
Calling for a United Nations' Spring
Let us imagine things the other way around, and that a certain number of countries require the formation of an investigation commission backed by proofs and evidence of your implication as well as that of other United Nations officials.
Wouldn't we be at the threshold of an era that would justify a so-called "United Nations' Spring"?

Terje Rød-Larsen was compelled to resign from his ministerial functions in Norway because he falsified his declarations in such a way that he did not pay taxes for the past 10 years. With his fraudulent qualities, he was nominated to serve at the United Nations.
Terje Rød-Larsen, the fraudster
Sir,
It seems that your loyalty for people who protect you was apparent by the presence, at your side in Beirut, of your coordinator in Lebanon Mr. Terje Rød-Larsen.
The latter refuses to admit that Israel, which he considers as his second home-land, has accumulated more than 10 000 deliberate violations of applicable resolutions issued by your UNO, in defiance of the whole world.
Mr. Rød-Larsen merely speaks of 'incursions'' and not of ''aggressive acts of war''. The difference between the two concepts is huge, since, according to Nuremburg judgment sentence, the war of aggression represents ''the supreme international crime'' and consequently, exposes its perpetrators to prosecutions for war crimes in front of the international justice.
You probably do not know the difference between ''incursion'' and ''aggressive acts of war'', just like the Lebanese government and the permanent delegation of Lebanon at the UNO?
Your coordinator in Lebanon, Mr. Rød-Larsen, surely does not ignore this fact. He dissimulates the fact to avoid any reference to the supreme international crime, which could result in the prosecution of Israeli officials for crimes of war, notwithstanding the recidivism factor that aggravates criminal responsibility, especially that the number of such ''aggressive acts of war'' has beaten all wars and conflicts records.
I shall say no more, Mr. Secretary General, apologizing for not finishing my letter by presenting my sincere regards, awaiting the results of a true investigation as regards the contents of the report and the book written by Mrs. Inga-Britt Ahlenius, for whom I kindly present my sincere regards and my profound respect.
Attached documents
| | | |
| --- | --- | --- |
| | | (PDF - 597.9 kb) |