South Sudan Ex-VP Backs Agreement to End Violence
---
Last updated on: January 05, 2014 12:32 PM
Former South Sudan vice president Riek Machar says groups demanding the immediate cessation of hostilities are "jumping the gun," insisting representatives of the two warring factions holding peace talks in Ethiopia need to agree on the mechanisms to end the conflict.
United Nations Secretary General Ban Ki-Moon has called for the prosecution of perpetrators of human rights violations in South Sudan, and some observers are calling for the International Criminal Court (ICC) to investigate and prosecute the perpetrators.
Machar also says he backs the prosecution of those who commit gross human rights abuses and crimes against humanity in South Sudan's ongoing conflict. He blames President Salva Kiir for the ongoing conflict.
"Salva Kiir should go to the ICC," said Machar. "He has targeted one ethnic group. He has embarked on ethnic cleansing resulting in the Juba massacre."
The violence in South Sudan erupted after President Salva Kiir, a Dinka, accused former vice president Riek Machar, a Nuer, of attempting a coup. Macher, who is in hiding, denied the accusation.
"There was no coup d'état," said Machar. "I am committed to a democratic process. It is Salva Kiir who did not want the democratic process in the party, nor does he want to go for the elections in 2015... There was no plan at all for a coup."
Member states of the Intergovernmental Authority on Development (IGAD), the African Union and other international human rights groups have demanded a cessation of hostilities in South Sudan's conflict.
But, Machar says measures including monitoring systems would have to be agreed upon by the two parties in order to ensure both sides adhere to the ceasefire calls.
"The two teams are in Addis [Ababa], they have not yet agreed on an agenda," said Machar. "Normally, cessation of hostilities is agreed upon and a monitoring system for verification is also agreed upon. So those who are demanding it are jumping the gun. The negotiating teams need to agree on it."
There are news reports that forces loyal to Machar are marching towards South Sudan's capital, Juba. But, Machar says troops from the national army have also been heading towards areas under his control.
"There are troops that are allied to Salva Kiir that are marching northwards in an attempt to capture Bor. So, we definitely would match them and we would march southwards," he said.
The African Union has called on both sides to create the space to enable humanitarian agencies to provided assistance to the victims of the violence. Machar says he agrees with the call.
"The areas which are under our control are open for humanitarian access so that people are served. We have said that publicly, that we would give access to all the humanitarian workers so that they can provide services to the people," said Machar.
Clottey interview with Riek Machar, South Sudan's former Vice President
=====================
South Sudan general killed in ambush – BBC News
At the scene
The rebels are not just a ragtag group of civilians with guns - although there is an element of that.
It's actually a whole division of the South Sudan army that has joined the rebel side.
So you've got army fighting against army. They're both very well armed.
The government has been trying for a few days to retake Bor. It still hasn't managed to get through.
We've seen bodies on the road and two burnt-out tanks. We've seen very heavy fighting between two trained armies.
A South Sudanese army general has been killed in fighting outside the rebel-held town of Bor.
A BBC correspondent with government troops said a convoy advancing on Bor came under heavy fire in an ambush.
The fighting is continuing as the warring parties meet in Ethiopia to try to agree a ceasefire. Substantive talks appear to have been delayed once again.
The conflict pits supporters of President Salva Kiir against rebels led by his sacked deputy Riek Machar.
It began on 15 December after the president accused Mr Machar of attempting a coup - which he denies.
At least 1,000 people have been killed and nearly 200,000 displaced in the conflict, which has taken on ethnic undertones. Mr Kiir is from the Dinka community and Mr Machar from the Nuer group.
Fighting rages
The BBC's Alastair Leithead was travelling with government troops from the capital, Juba, on Sunday when the convoy came under attack about 25km (15 miles) from Bor.
The commanding general - who has not been named - was killed in the ambush.
The government has been sending reinforcements to try to retake Bor in recent days, bringing the total number of army troops involved to some 2,000.
A whole division of the South Sudanese army has joined the rebel side, so the fighting in Bor in effect involves two trained armies, our correspondent adds.
He says he saw evidence of the intensity of the fighting, with burnt-out tanks by the side of the road.
Fighting is also continuing in other areas. Army spokesman Philip Aguer said there had been clashes in the oil-producing states of Unity and Upper Nile in the north.
Up until Friday, the talks in the Ethiopian capital, Addis Ababa, were conducted by mediators. Now, teams representing the opposing factions are expected to negotiate face-to-face.
A preliminary meeting was held late on Saturday. Key issues are establishing a ceasefire, and the rebels' demand for the release of what they see as political prisoners.
But substantive talks failed to get under way on Sunday, delayed by disagreements over the agenda and - an official was quoted as saying - by "protocol issues".
It seems each side is trying to gain as much leverage on the battlefield before they even consider a ceasefire, says the BBC's Africa editor Richard Hamilton.
International mediators may be losing patience with South Sudan's leaders whose delays are costing hundreds of lives, he says.
It is now hoped talks will begin on Monday.
South Sudan spokesman Michael Makuei said the government would resist
international pressure
to free supporters of Mr Machar arrested in Juba at the start of the conflict.
He said releasing "those who attempted to overthrow a democratically elected government" would set a "bad precedent".
"Are we not risking the governments of Africa and the rest of the world to such attempts? We should not be arm-twisted because we are a new nation."
Meanwhile the first aid flight to South Sudan funded by the UK government has
arrived in the country
. The aircraft, carrying emergency aid and sanitation supplies, landed in Juba, on Sunday.
South Sudan is the world's newest state. It was formed in 2011, gaining independence from Sudan after decades of conflict.
The latest trouble has its roots in tensions that go back long before 2011.
============================
Heavy fighting reported at S. Sudan army barracks in Juba, Yei
January 4, 2014 (JUBA) - Heavy fighting broke out on Saturday at the barracks of the South Sudanese army in Yei, a town on the border with Uganda and the Democratic Republic of Congo, causing panic among local residents.
A South Sudan army soldier mans a machine gun, that has been mounted onto a truck, as it drives through a street in Malakal town, 497 km (308 miles) northeast of capital Juba, December 30, 2013 (REUTERS/James Akena)
It was not possible to ascertain the cause of the fighting. In Jonglei and Unity states parts of the army mutinied following reports that civilians from the Nuer tribe were being targeted during clashes in the capital, Juba, in mid-December.
Fighting has also been reported from the barracks in Juba where the fighting began on December 15 between members of the presidential guard.
The Juba incident, according to a military source, started when supporters of president Salva Kiir allegedly attacked senior military officers from the Nuer tribe prompting defections. This report could, however, not be independently verified.
The spokesperson of South Sudan's president Ateny Wek Ateny, told Sudan Tribune that the latest fighting in Juba was between drunken soldiers. No casualty figures were known by Saturday evening.
The soldiers who defected in Juba last month were pushed back to Khor William, but launched a counter attack on Juba on Saturday, according to Major General Marial Cindong Yol from the South Sudanese army (SPLA).
Following the outbreak of fighting, President Salva Kiir accused his former deputy Riek Machar and others of attempting to stage a coup. This has, however, been denied by Machar who is now leading an armed rebellion against the government and now controls two of the country's 10 states.
Representatives from both sides have sent delegations to Ethiopia for ceasefire talks, but no progress has been made as Machar has set out preconditions for these negotiations, including the release of all political detainees and that a mechanism for monitoring the ceasefire be established.
(ST)
Breaking News: Fighting Breaks Out in Juba
Juba, January 4, 2014 (SSNA) -- Heavy fighting erupted in Juba…the clash appears to have occurred in Gida, the General Headquarters of the Sudan People's Liberation Army (SPLA).
Rapid bursts of gunfire were also heard around areas where most government buildings and presidential palace are located.
The cause of the fighting is yet to be determined.
There are some doubts as to what ignited the fighting. But, source close the SPLA told the South Sudan News Agency that the fighting was a result of an assassination attempt on at least one SPLA commander loyal to president kiir.
The source went in length, accusing the rebels of carrying out the attack. The SSNA is unable to independently verify the claim.
Attempts to try to get the rebels' reaction about the allegation went unanswered.
Another government source dimissed the fighting as 'minor issue' instigated by "drunk soliders". The source did not provide specifics.
Meanwhile, some Juba's residents who spoke to the SSNA believed that the fighting appears more like defections inside the SPLA headquarters.
Peace talks are currently under way in Ethiopia. The Ethiopia's Ministry of Foreign Affairs announced on Friday that direct talks between the two warring factions are likely to begin this weekend.
Deep political differences between senior members of the ruling Sudan People's Liberation Movement (SPLM) party went unresolved in the December 14 meeting of the National Liberation Council (NLC). In that meeting, the senior colleagues who do not like Kiir's leadership style pulled out of the meeting and called the process as "undemocratic", drawing a fury from the SPLM Chairman and his allies.
On the 15th of December 2013, fighting erupted at about 10:00pm, between different units of presidential guards.
At least 1000 people have been killed and many more are still missing.
Kiir and his ministries must go because they have lost the legitimacy of the South Sudanese people.
=========================
South Sudan's Peace Talks Open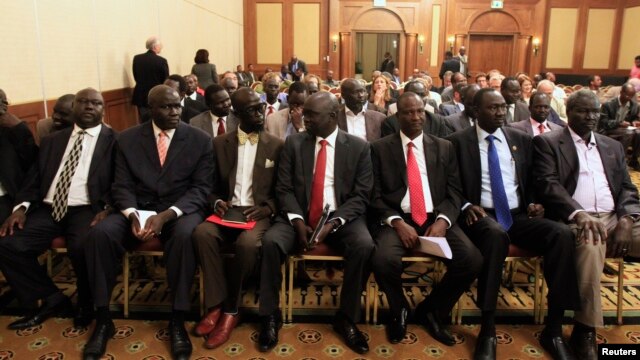 Members of South Sudan rebel delegation attend the opening ceremony of South Sudan's negotiation in Ethiopia's capital Addis Ababa, Jan. 4,
Last updated on: January 05, 2014 7:09 AM
South Sudan's warring factions have opened peace talks in Ethiopia, as violence continues in at least two regions of South Sudan, with government troops advancing on Bor, the rebel-held capital of Jonglei state.
Representatives for President Salva Kiir and ex-vice president Riek Machar took part in opening ceremonies for talks on Saturday.
Ethiopian Foreign Ministry spokesman Dina Mufti said the two sides would begin face-to-face negotiations in Addis Ababa on Sunday, following days of delays.
Mufti said several items would be high on the agenda.
"Definitely cease-fire will be on the top of agenda, then the issue of opening humanitarian corridors, the issue of releasing detainees and other issues," he said.
Mufti said negotiators were anxious to find a resolution to the fighting, which has left more than 1,000 people dead.
"All sides are feeling the need, the urgency, for a cease-fire and everything else," he said.
U.S. Secretary of State John Kerry said Sunday that Washington would support those seeking peace, but would work for international pressure against those who used force to gain any advantage. Kerry said negotiations must be serious - not a "gimmick."
South Sudan's unrest began in mid-December, when renegade soldiers attacked an army headquarters. President Kiir accused former vice president Machar of a coup attempt.
On Saturday, there were reports of heavy fighting near Bor, the rebel-held capital of Jonglei state, which government troops have launched an effort to reclaim.
Earlier, forces loyal to Machar said they were preparing to advance from Bor to the national capital, Juba. But
in a Friday interview with Britain's Telegraph
, Machar said his forces would hold back on attacking the capital in hopes of achieving a "negotiated settlement."
The French News Agency said explosions and automatic artillery fire rattled a government district in the capital on Saturday.
The talks in Ethiopia are being mediated by the Intergovernmental Authority on Development (IGAD), an East African regional bloc.
EU Horn of Africa representative Alexander Rondos, who is at the meeting, said the responsibility to find a solution to the conflict rested in the hands of South Sudan's political leadership.
"The leadership of South Sudan, the entire political leadership, needs to find a resolution," he said. "there are no alibis, only they can find that solution. And they must do everything to help the negotiators from IGAD to find that solution and very quickly," he said.
Machar said Wednesday that President Kiir was responsible for much of the unrest. He said peace could not be achieved under the president's leadership.
Witnesses said some of the violence was ethnically motivated, with supporters of Kiir, a member of the Dinka tribe, and supporters of Machar, from the Nuer tribe, targeting each other.
Some information for this report was provided by AFP and Reuters.