Japan and China at War on the Op-Ed Page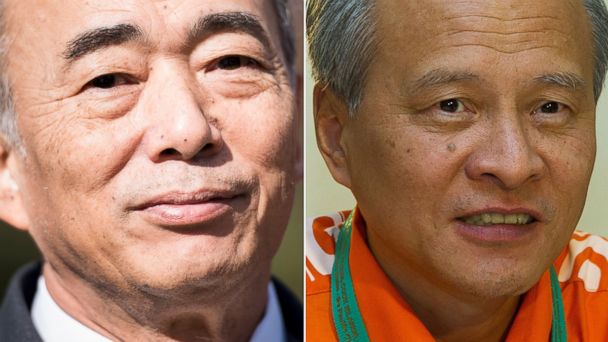 The icy standoff between Japan and China is now playing out on the pages of the Washington Post's op-ed section, as both nations' ambassadors to the United States penned vicious editorials against each other's homeland.
It's the latest in a series of antagonistic moves by both countries, including China's inclusion of hotly-contested islands in a map of its air defense zone, and Japanese Prime Minister Shinzo Abe's December visit to a shrine of World War II dead that includes Class A war criminals, an affront to both China and South Korea.
The opening salvo in the latest scuffle came from China's ambassador to the United States Cui Tiankai, who
wrote
on Jan. 9 that Abe's visit to the Yasukuni shrine "deeply disturbed people in China and much of Asia. The dispute surrounding his actions is about more than symbolism; it goes to the heart of his intentions for Japan's future and his willingness to build an atmosphere of trust, respect and equality in East Asia."
Japan's Deputy Foreign Minister Nobuo Kishi paid a visit to Undersecretary of State Bill Burns this week to explain the shrine visit. State Department spokeswoman Jen Psaki did not shed much light on the conversation and said Thursday only that they "discussed a full range of issues."
Cui's editorial went on to condemn Japan's recent beefing up of its military and Abe's denial of World Was II era sex slaves, known as "comfort women," taken by Japan from Korea and China.
Japan's ambassador to the United States, Kenichiro Sasae, responded Thursday with an equally acidic op-ed.
"China has been conducting a global propaganda campaign against Japan, the most recent example of which was the Jan. 10 [Washington] Post op-ed by Cui Tiankai," Sasae
wrote
. "His op-ed was wrong, and China's leaders clearly misread global attitudes.
It is not Japan that most of Asia and the international community worry about; it is China."
Sasae contended that Abe went to the shrine not to upset Japan's neighbors but rather to make a pledge for lasting peace. He also blamed China as the more bellicose of the two, noting that the country has ramped up its military spending far more than Japan and the fact that it added the hotly contested islands, which are also claimed by Japan, to a map of areas China has vowed to defend against foreign interlopers.
"What has become a serious, shared concern for the peace and security of the ­Asia-Pacific region is not our prime minister's visit to the Yasukuni Shrine but, rather, China's unparalleled military buildup and its use of military and mercantile coercion against neighboring states," he wrote.
Related Stories
=============================
China-Japan disputes spill onto opinion pages
By
MATTHEW PENNINGTON
January 18, 2014 10:55 AM
WASHINGTON (AP) — Escalating disputes between Japan and China are spilling onto newspaper opinion pages around the globe as the rivals try to sway attitudes abroad and placate nationalist fervor at home.
Japan's ambassador to the U.S., in the latest salvo, accused China of a propaganda campaign that portrays Prime Minister Shinzo Abe as glorifying Japan's militaristic past.
"It is not Japan that most of Asia and the international community worry about; it is China," Kenichiro Sasae wrote in Friday's Washington Post.
Both nations have been criticized for recent actions: China for its declaration of an air defense zone over a disputed area of the East China Sea; Abe for his visit to a shrine where convicted World War II war criminals are among the many honored.
Chinese envoys have spared the diplomacy in their opinion pieces.
On the Pacific island of Vanuatu, the Chinese ambassador accused Abe of "a gross trampling upon world peace and human conscience." In Australia, the ambassador said the prime minister had "put the international community on high alert," while the ambassador in Madagascar said Abe's action was comparable to "laying a wreath at Hitler's bunker."
The most headlining-grabbing exchange to date was in Britain's Daily Telegraph. The Chinese and Japanese ambassadors compared each other's nations, in some shape or form, to the evil Lord Voldemort of the Harry Potter books.
The antipathy between Japan and China is rooted in Japan's occupation of parts of China in the first half of the 20th century. But ties have been especially strained since 2012 when Tokyo nationalized some unoccupied islands it administers in the East China Sea that are also claimed by Beijing.
That touched off nationalist sentiments in China, which viewed the step as a change in the status quo and stepped up military patrols. Japan refuses to acknowledge that's there's a territorial dispute.
The two nations' security forces have steered clear of outright confrontation around the islands, known as Senkaku by Japan and Diayou by China, so war appears a distant possibility. It would be ruinous to both their economies, which are deeply interconnected.
But the propaganda battle is a serious one.
According to Japanese officials, China has posted articles in nearly 40 countries, and Japan has so far responded in a dozen of them, with more planned.
China began the op-ed offensive days after Abe's Dec. 26 visit to the Yasukuni shrine, the first by a Japanese prime minister since 2006.
The visit angered China and the two Koreas, where occupying Japanese forces committed atrocities before and during World War II. The visit also drew a rare expression of disapproval by the U.S. of its Japanese ally.
China's tough response underscored how sensitive its people are about Japan's past abuses and current Japanese attitudes.
But Jim Schoff, a senior associate for the Asia program at the Carnegie Endowment for International Peace in Washington, said China also was capitalizing on an opportunity provided by Abe's visit to put Japan on the defensive.
China faced much international criticism in November when it declared an air defense identification zone over the disputed area of the East China Sea, including the islands administered by Japan. China's action deepened concern over its approach to pushing its territorial claims with its neighbors and was sharply criticized by Washington.
Last week in The Post, China's ambassador to the U.S., Cui Tiankai, accused Abe of denying wartime atrocities. The diplomat linked Abe's homage at Yasukuni to his government's efforts to loosen the constitutional constraints to reform Japan's military and project power overseas.
Sasae later railed against "China's unparalleled military buildup" and noted that its growth in military spending far exceeds Japan's. He also said China's control on information and debate at home means "Chinese people cannot see the truth that people throughout the world see."
America's treaty alliance with Japan means it could be drawn into a conflict between Japan and China.
While the prospects for improving relations in the short term appear dim, Schoff said: "Better to escalate on the pages of newspapers than in other ways."
COMMENTS
WakeUpAmerica
china careful where you might step it could be your last japan was our enemy and now they are our ally we will stand with our ally so china can spread propaganda all they want the only way we can stop wars is stop it from the beginning and with strong ally power germany start the war when no on stood up against it from the start dont let it happen again i pray both side can iron out there different i m with you japan god bless america and our ally
CecileC
The smarter one is the one that doesn't fight. China is building a scary nuclear arsenal, with puppet countries as well. It is not very smart of China to believe they can build up nuclear arsenal and go for world domination without encountering a global catastrophe that they would be to regret as much as others. I wish China and Iran would disarm. Nobody wants a nuclear war. We would ALL loose. Who cares if some Japanese visit the tombs of some criminals, Ignore it, that makes Them look bad. Not all the people of Japan are visiting the shrine, no reason to destroy or fight all the nice people of Japan or all the nice people of China because some people are stirring a war to sell weapon$.
Rene
Now that the level of toxins mixed in the air the Chinese breath everyday . And it is just getting worst and it will not get better anytime soon . They are desperate to claim other place especially owned by small counrtries that has clean air and water to fish . And later to settle and pollute the same way they did their mainland China . The whole world should be worried ..... The Philipines and other countries should rally to protect what is theirs . Just like any other counrty being bullied by The Big China .
Simple
Hurray...World War III...Only this time 3.000 million will die...
But We must remember, War does not show who is right or wrong, Only who is left...
Read on.
Read below....
Let's take a look. Germany the "economic powerhouse" of the EU seems to be entering a new period of uncertainty as it did just before the "great war" broke out. As the New Year begins, the sudden fall (perhaps presaging Euro zone's break up?) of the German chancellor is an ominous occurrence. Looking like a weakened political figure (symbolised by the chancellor's first public appearance in 2014, using crutches), Ms. Merkel has finally managed to cobble together a "grand collation". Its life span is in doubt. Growing social and income inequities in the country have worsened during Merkel's reign. But even before the sporting mishap, the chancellor was unwilling to take any chances (in the best authoritarian or Wilhelminian tradition) and had already appointed an "heir" to succeed her (1); as if to ensure stability and continuity, even in the post-Merkel period. In other words, neo-liberal economic policies will likely be applied at home and around the EU for some time to come.

2014 mirrors 1914: A would be Imperial Germany in the XXI century; Spain 's decaying monarchy and the decrepit Italian republic….

With an 'iron will" in her third term (2), the chancellor seems determined to pursue the draconian policies of austerity (further destroying economic growth and spurring unemployment). This means more pain and little gain, for millions on the receiving side of such policies such as Spaniards. Unlike the relatively calm of Berlin , the Spanish capital bears witness to on-going popular protests. Meanwhile, an ageing monarch (also hobbled due to a nasty fall, and forced to use crutches to get around) is facing a "crisis of confidence". King Juan Carlos of Spain , who once popularly symbolised the return of democracy after decades of Franco's fascist rule, is seeing his kingdom buffeted by growing popular protests. The growing rebelliousness among the populace is fuelled by never ending corruption scandals. His daughter is now implicated in a money laundering-embezzlement scam (3). And then there's the prospect of evermore economic blight to throw into the mix. Spain managed to remain neutral when WW1 broke out. Yet, in 2014, the country is on the front lines of the struggle against austerity in Europe . Moreover the future of the monarchy looks unclear.

Across the Mediterranean, or in Italy (a decrepit republic if there ever was one) ended a tumultuous 2013 with "pitchfork protests" in the streets of its cities. Again as in Spain , Italy is plagued by incessant corruption, social unrest, and is seeing it institutions systematically undermined (due to criminal syndicates) at the expense of the democratic process. Witness the rise in Italy of demagogues, or clownish populists and rising xenophobia. Anti –politicians over there, are taking advantage of the rage against Rome and Brussels (the imperial HQ of the EU). .

Europe's historical powder keg, the Balkans is ready to re-ignite

Assassinations are not perhaps on the agenda this coming year in the Balkans, but political upheaval sure is on the menu for 2014. Mass strikes and protest movements which began violently in Greece back in 2008, have now spread through the southern Balkan states. The mass demonstrations against usurious price hikes (in the wake of en masse privatisation) in energy costs imposed on local consumers, have nearly toppled the government in Bulgaria (4). Next door in Romania , rampant corrupting and an epic struggle between a civil society movement and a Canadian mining company, has nearly shaken the foundation of the Romanian government (5). Despite these explosive events, Brussels adamantly refuses to do away with restrictions related to the freedom of movement, imposed on these two states' citizens. Their entry date into the "Schengen zone" is still pending or sine die. In 2014, this containment policy is a dangerous one, indeed.

Is Turkey once again the "Sick man of Europe "?

Beyond the borders on the southern flank of the EU, there is also great instability in 2014, which eerily recalls 1914 tensions on the eve of war. The benign promise of an "Arab Spring" has turned into a horrific nightmare. Situations resembling a civil war like conflict have developed in Egypt , Libya , and Tunisia , Yemen and more recently Lebanon . In the case of Syria , the resemblance is simply a tragic reality. This regional instability risks spilling over into Turkey (the US 's closes regional ally). Of course, back then, Turkey was the lynchpin of an Ottoman Empire which ruled over most of the Middle East . A hundred years ago, and in its death throes, it haplessly entered the "great war". This precipitated its collapse and then led to the Armenian genocide of 1915. How long will Ankara sit on the sidelines before it's dragged into a wider war in its neighbourhood this time? 2014 will likely determine the course of action it will take.

On the domestic side, Turkey is rife with internal dissent and rocked by ongoing protest which began last June. Popular discontent with the Sultan like authoritarian rule of PM Erdogan has not subsided. The ongoing struggle between secularist (Kemalists) and neo-Islamists (and within factions of the AKP party itself), risks fracturing the Turkish state in 2014, in ways the Ottoman Empire experienced a century ago.

Furthermore, the government's hold on power has been recently further weakened due to corruption scandals at the highest leadership levels (6). Subsequent purges within the police and security apparatus have further envenomed the situation. The truce with the rebellious Kurds in the eastern part of the country remains a tenuous one. Finally, Turkey 's decades old bid to become an EU member state is essentially "on ice" due to repressive actions taken against activists and journalists there. Hence, as in 1914, the country is a boiling cauldron floating on a sea of regional instability.

Echoes in Asia of the Mexican revolution

Shifting to Asia in Thailand , Cambodia , and Bangladesh there seems to be growing popular movements or revolts against an entrenched and corrupt oligarchy underway. So far these uprising have been brutally repressed with military force. Do today's events in these places risk sparking a 1914 like conflaguaration? Probably they don't. However these developing countries seem to be in what I like to refer to as being in a "pre-revolutionary mode". What we see happening in these parts of the world in 2014, bears striking similarity to the Mexican revolution (1910-20) which saw a decade long struggle to rid the country of a corrupt regime known as the "Porfiriato". Add to all this the risk of a military confrontation between rising and falling "great powers" as was the caseback in 1914 (witness today's sabre rattling over the disputed Diaoyu and Tiaoyutai in the far east), then one really gets the sense history is repeating itself once again.
==========================
South Sudan peace talks may be too late to stop war
AFP
Saturday, 19th 2014 5:00 P.M.
By
Peter Martell
7 hours ago
Nairobi (AFP) - As East African mediators attempt to push South Sudan's government and rebels into signing a truce, analysts and diplomats fear it may already be too late to halt the war.
Regional nations are trying to broker a ceasefire but have already been drawn into the brutal five-week-old conflict, with Ugandan troops battling alongside government forces loyal to President Salva Kiir.
The longer it continues, the more "those who have remained on the sidelines are increasingly pulled into the conflict," US Assistant Secretary of State for African Affairs Linda Thomas-Greenfield warned in a statement this week.
"Each day that the conflict continues, the risk of all-out civil war grows as ethnic tensions rise," she added.
Many say it already is a civil war, pitting a conventional army against a loose alliance of mutinied army units and ethnic militia. Each side has been deploying heavy weapons, fighting has been fierce and protracted, and key towns have been changing hands each week.
South Sudanese government forces backed by Ugandan troops on Saturday recaptured the strategic town of Bor, defeating an army of thousands of rebels, officials said.
A day earlier the United Nations' top human rights envoy Ivan Simonovic, who has gathered reports of mass killings, sexual violence and widespread destruction, said South Sudan was now in a state of "internal armed conflict" and that the laws of war were applicable.
Talks in neighbouring Ethiopia are being mediated by the East African regional bloc IGAD, even though Uganda is a key member and the rebels have expressed concern about its neutrality.
Rebel chief Riek Machar has accused Ugandan fighter jets of targeting him, and is also deeply critical of suggestions that Sudan, another IGAD member, could deploy troops to help Juba protect oil fields from the rebels.
Kenya, which sent in troops to evacuate citizens, also warned in a confidential briefing document this week of the "internationalisation" of the conflict.
Rebels from Sudan's war-torn Darfur region, nervous of a pact between their old allies in Juba and their enemy in Khartoum, are also reportedly operating in oil-rich border zones.
The crisis on the ground, therefore, seems to be moving faster than the peace talks and out of the control of the politicians who sparked it.
"We are heartbroken to see what was purely a political problem... quickly slide into an ethnic one on a rapid and frightening scale," read a statement from the South Sudan Council of Churches, an influential coalition of religious leaders.
Violence is rooted in decades-old grievances between former rebels turned political leaders, combined with unhealed wounds left over from the two-decades long civil war that preceded South Sudan's independence from Khartoum in 2011.
Cycle of revenge
Many appear deeply pessimistic that even if a political deal is struck, the conflict pitting members of Kiir's Dinka people -- the country's largest group -- against Machar's Nuer has reached a point of no return.
"Handshakes, smiles and a mere political settlement between the two parties will not set South Sudan on a path towards truth, sustainable peace, democracy and the rule of law," wrote David Deng from the South Sudan Law Society, a civil society organisation, and human rights lawyer Elizabeth Deng.
"The two parties should be compelled to submit themselves and their supporters to an independent investigation into the crimes committed," they wrote in a joint commentary on the crisis.
And Princeton Lyman, a former US special envoy to the country, said in a report for the United States Institute of Peace think tank that the talks "cannot simply return the country to the previous status quo."
"For lasting peace, the negotiating parties and mediators will need to reach beyond national political elites and those bearing arms and invite active involvement of the international community," he wrote.
On the ground, the pattern appears to be sliding towards that of the 1983-2005 southern civil war when Sudan was a united nation, when the government controlled towns but multiple rebel forces claimed swathes of countryside.
"There is no military solution," said the group Citizens for Peace and Justice, a coalition of academics and civil society leaders, calling the conflict "a crisis engulfing the whole country".
Jok Madut Jok, a former senior government official and academic now running the Sudd Institute, has warned that "what started as a political confrontation between power contenders... has now evolved into a military revenge and counter-revenge" along ethnic lines.
Jok warned of civil war "should the IGAD-led initiative for a dialogue fail to produce a quick deal".
Kiir could be "threatened with regional isolation if he shows any intransigence, but little can be done to pressure Mr. Machar," Jok added, saying the rebel leader has "very little to lose".
As the number of those displaced by fighting touches half a million, those affected say their dreams of building a new nation are shattered.
"We thought we were dreaming of peace but now we are back in war, it's a circle," said teacher Simon Thon, 31, who fled across the White Nile river from fighting in the rebel-held town of Bor with his heavily pregnant wife, who has since given birth to a boy under a tree.
"When you hear your neighbour calling you, you go. What you do not expect is for that neighbour to then start shooting to kill you... that is what happened to us."
COMMENTS:
odogu
Based on the tone of what I am hearing from the West, my advise to Africans on the continent is to get ready for war with the West. That has become inevitable because Africa does not have any nuclear deterrence. The Whiteman's pedophilic mentality dictates to him that he must prey on you if he thinks that he can get away with it..
==============================
Cease-fire plan for South Sudan acceptable to both sides
Read more:
http://www.upi.com/Top_News/World-News/2014/01/19/Cease-fire-plan-for-South-Sudan-acceptable-to-both-sides/UPI-60601390144413/#ixzz2qyjRDQqe
ADDIS ABABA, Ethiopia, Jan. 19 (UPI) --
The two sides in the fighting in South Sudan said they would cease fire in the coming days after accepting a plan to continue peace talks.
South Sudan President Salva Kiir and the rebels both accepted the plan offered by international mediators on Saturday and said their forces would halt the fighting within a few days.Kiir and the rebel forces led by his former vice president began an all-out conflict last month. Kiir's forces Saturday announced they had driven the rebels out of the provincial capital of Bor.Negotiating teams from both sides were already in Addis Ababa, the capital of neighboring Ethiopia, on Saturday and both pledged they would sign the cease-fire pact.A representative of the rebels told the Sudan Tribune that the cease-fire plan met its conditions, which included allowing humanitarian aide into the contested areas and the withdrawal of foreign troops that had been assisting Kiir's army.
http://www.upi.com/Top_News/World-News/2014/01/19/Cease-fire-plan-for-South-Sudan-acceptable-to-both-sides/UPI-60601390144413/
==============================
Sunday 19 January 2014
January 18, 2014 (KAMPALA/JUBA) - South Sudanese army announced they retook the capital of Jonglei state, Bor for the second time from the rebels, but the latter claimed they operated a tactical withdrawal. A South Sudanese government (...)
Sunday 19 January 2014
January 18, 2013 (JUBA) – The Chairperson of the African Union (AU) commission, Nkosazana Dlamini Zuma has expressed concerns over South Sudan's current crisis and called for an urgent inquiry to probe the "senseless" killings and gross (...)
---
Sunday 19 January 2014
January 19, 2014 (JUBA/ADDIS ABABA) - South Sudanese president Salva Kiir accepted on Saturday a cessation of hostilities agreement with rebels who have been fighting to remove him from power for over a month. South Sudan president (...)
---
Sunday 19 January 2014
By Ijoo Bosco January 18, 2014 (TORIT) - Eastern Equatoria governor Louis Lobong Lojore said there are growing concerns within his government about the humanitarian situation in the state following a massive influx of refugees seeking (...)