US universities in Africa 'land grab'
Institutions including Harvard and Vanderbilt reportedly use hedge funds to buy land in deals that may force farmers out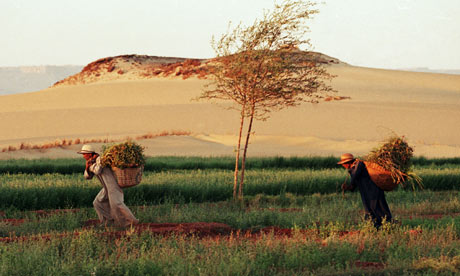 Harvard and other major American universities are working through British
hedge funds
and European financial speculators to buy or lease vast areas of African farmland in deals, some of which may force many thousands of people off their land, according to a new study.
Researchers say foreign investors are profiting from "land grabs" that often fail to deliver the promised benefits of jobs and economic development, and can lead to environmental and social problems in the poorest countries in the world.
The new report on land acquisitions in seven African countries suggests that Harvard, Vanderbilt and many other US colleges with large endowment funds have invested heavily in African land in the past few years. Much of the money is said to be channelled through London-based Emergent asset management, which runs one of
Africa
's largest land acquisition funds, run by former JP Morgan and Goldman Sachs currency dealers.
Researchers at the California-based Oakland Institute think that Emergent's clients in the US may have invested up to $500m in some of the most fertile land in the expectation of making 25% returns.
Emergent said the deals were handled responsibly. "Yes, university endowment funds and pension funds are long-term investors," a spokesman said. "We are
investing
in African agriculture and setting up businesses and employing people. We are doing it in a responsible way … The amounts are large. They can be hundreds of millions of dollars. This is not landgrabbing. We want to make the land more valuable. Being big makes an impact, economies of scale can be more productive."
Chinese and Middle Eastern firms have previously been identified as "grabbing" large tracts of land in developing countries to grow cheap
food
for home populations, but western funds are behind many of the biggest deals, says the Oakland institute, an advocacy research group.
The company that manages Harvard's investment funds declined to comment. "It is Harvard management company policy not to discuss investments or investment strategy and therefore I cannot confirm the report," said a spokesman. Vanderbilt also declined to comment.
Oakland said investors overstated the benefits of the deals for the communities involved. "Companies have been able to create complex layers of companies and subsidiaries to avert the gaze of weak regulatory authorities. Analysis of the contracts reveal that many of the deals will provide few jobs and will force many thousands of people off the land," said Anuradha Mittal, Oakland's director.
In Tanzania, the memorandum of understanding between the local government and US-based farm development corporation AgriSol Energy, which is working with Iowa University, stipulates that the two main locations – Katumba and Mishamo – for their project are refugee settlements holding as many as 162,000 people that will have to be closed before the $700m project can start. The refugees have been
farming
this land for 40 years.
In Ethiopia, a process of "villagisation" by the government is moving tens of thousands of people from traditional lands into new centres while big land deals are being struck with international companies.
The largest land deal in South Sudan, where as much as 9% of the land is said by Norwegian analysts to have been bought in the last few years, was negotiated between a Texas-based firm, Nile Trading and Development and a local co-operative run by absent chiefs. The 49-year lease of 400,000 hectares of central Equatoria for around $25,000 (£15,000) allows the company to exploit all natural resources including oil and timber. The company, headed by former US Ambassador Howard Eugene Douglas, says it intends to apply for UN-backed carbon credits that could provide it with millions of pounds a year in revenues.
In Mozambique, where up to 7m hectares of land is potentially available for investors, western hedge funds are said in the report to be working with South Africans businesses to buy vast tracts of forest and farmland for investors in Europe and the US. The contracts show the government will waive taxes for up to 25 years, but few jobs will be created.
"No one should believe that these investors are there to feed starving Africans, create jobs or improve
food security
," said Obang Metho of Solidarity Movement for New Ethiopia. "These agreements – many of which could be in place for 99 years – do not mean progress for local people and will not lead to food in their stomachs. These deals lead only to dollars in the pockets of corrupt leaders and foreign investors."
"The scale of the land deals being struck is shocking", said Mittal. "The conversion of African small farms and forests into a natural-asset-based, high-return investment strategy can drive up food prices and increase the risks of climate change.
Research by the World Bank and others suggests that nearly 60m hectares – an area the size of France – has been bought or leased by foreign companies in Africa in the past three years.
"Most of these deals are characterised by a lack of transparency, despite the profound implications posed by the consolidation of control over global food markets and agricultural resources by financial firms," says the report.
"We have seen cases of speculators taking over agricultural land while small farmers, viewed as squatters, are forcibly removed with no compensation," said Frederic Mousseau, policy director at Oakland, said: "This is creating insecurity in the global food system that could be a much bigger threat to global security than terrorism. More than one billion people around the world are living with hunger. The majority of the world's poor still depend on small farms for their livelihoods, and speculators are taking these away while promising progress that never happens."
TRANSLATED IN FRENCH:
Harvard et d'autres grandes universités américaines travaillent à travers les hedge funds britanniques et européennes spéculateurs financiers pour acheter ou louer de vastes étendues de terres agricoles en Afrique dans les transactions, dont certaines peuvent forcer des milliers de personnes à quitter leurs terres, selon une nouvelle étude.

Les chercheurs disent que les investisseurs étrangers tirent profit de «l'accaparement des terres» qui, souvent, ne parviennent pas à fournir les prestations promises d'emplois et le développement économique, et peut conduire à des problèmes environnementaux et sociaux dans les pays les plus pauvres du monde.

Le nouveau rapport sur les acquisitions de terres dans sept pays africains suggère que Harvard, Vanderbilt et de nombreuses autres universités américaines avec de grands fonds de dotation ont lourdement investi dans la terre africaine au cours des dernières années.
Une grande partie de l'argent est dit être acheminée par basé à Londres Emergent Asset Management, qui gère l'un des plus grands d'Afrique du fonds d'acquisition de terres, dirigé par l'ancien JP Morgan et Goldman revendeurs de devises Sachs.

Des chercheurs de l'Institut Oakland en Californie, pense que Emergent ses clients aux États-Unis a peut-être investi jusqu'à 500 millions de dollars dans certaines des terres les plus fertiles dans l'espoir de faire des retours de 25%.

Emergent a déclaré que les opérations ont été gérées de façon responsable.
"Oui, universitaires fonds de dotation et les fonds de pension sont des investisseurs à long terme», un porte-parole.
«Nous investissons dans l'agriculture africaine et la création d'entreprises et l'embauche de personnes. Nous le faisons d'une manière responsable ... Les montants sont importants. Ils peuvent être des centaines de millions de dollars. Ce n'est pas l'accaparement des terres. Nous voulons rendre la terre plus
précieux. Être grand fait un impact, les économies d'échelle peuvent être plus productifs. "

Chine et du Moyen-Orient ont déjà entreprises considérés comme des «accaparement» de vastes étendues de terres dans les pays en développement à produire de la nourriture pour les populations d'origine pas cher, mais les fonds occidentaux sont derrière la plupart des transactions les plus importantes, explique l'institut Oakland, un groupe de recherche de plaidoyer.

La société qui gère des fonds d'investissement de Harvard a refusé de commenter.
"C'est la politique de Harvard société de gestion de ne pas discuter des investissements ou de la stratégie d'investissement et donc je ne peux pas confirmer cette information", a déclaré un porte-parole.
Vanderbilt a également refusé de commenter.

Oakland, les investisseurs surestimé les avantages des offres pour les communautés concernées.
«Les entreprises ont été en mesure de créer des couches complexes de sociétés et filiales d'éviter le regard de la faiblesse des autorités réglementaires. L'analyse des contrats révèle que la plupart des prix créera des emplois peu et forcer des milliers de personnes de la terre», a déclaré Anuradha
Mittal, directeur d'Oakland.

En Tanzanie, le protocole d'entente entre le gouvernement local et aux États-Unis une société de développement agricole Agrisol l'énergie, qui travaille en collaboration avec l'Université d'Iowa, stipule que les deux sites principaux - Katumba et Mishamo - pour leur projet sont les camps de réfugiés détenant le plus grand nombre 162000
personnes qui devront être fermés avant que le projet 700 millions de dollars peut commencer.
Les réfugiés ont cultivé cette terre depuis 40 ans.

En Éthiopie, un processus de «villagisation» par le gouvernement est en mouvement des dizaines de milliers de personnes de leurs terres traditionnelles dans de nouveaux centres en grandes transactions foncières sont frappés avec des entreprises internationales.

L'accord le plus vaste territoire au Sud-Soudan, où jusqu'à 9% de la superficie est dit par les analystes norvégiens ont été achetés au cours des dernières années, a été négocié entre une entreprise basée au Texas, Trading Nil et le développement et la coopération locale
opérationnelle dirigée par des chefs absents.
Le bail de 49 ans de 400.000 hectares de Central Equatoria pour environ $ 25.000 (€ 15.000) permet à l'entreprise d'exploiter toutes les ressources naturelles, notamment le pétrole et le bois.
La société, dirigée par l'ancien ambassadeur américain Howard Eugene Douglas, affirme qu'il a l'intention de demander des crédits de carbone soutenues par l'ONU qui pourrait lui fournir des millions de livres par an du chiffre d'affaires.

Au Mozambique, où jusqu'à 7m hectares de terres potentiellement disponibles pour les investisseurs, les hedge funds occidentaux dit dans le rapport de travailler avec les entreprises les Sud-Africains à acheter de vastes étendues de forêts et de terres agricoles aux investisseurs en Europe et aux États-Unis.
Les contrats montrent que le gouvernement va supprimer les taxes pour un maximum de 25 ans, mais peu d'emplois seront créés.

"Personne ne devrait croire que ces investisseurs sont là pour nourrir les Africains affamés, de créer des emplois ou d'améliorer la sécurité alimentaire", a déclaré Obang Metho du Mouvement de Solidarité pour la Nouvelle-Ethiopie.
«Ces accords - dont beaucoup pourraient être mis en place pour 99 ans - ne pas représenter un progrès pour les populations locales et ne conduira pas à la nourriture dans leur estomac Ces offres conduire qu'à de dollars dans les poches des dirigeants corrompus et les investisseurs étrangers.».

«L'ampleur des transactions foncières étant frappé, c'est choquant", a déclaré Mittal.
«La conversion des petites exploitations africaines et les forêts dans un cadre naturel, reposant sur l'actif, la stratégie d'investissement à haut rendement peuvent faire monter les prix alimentaires et augmenter les risques de changement climatique.

Les recherches menées par la Banque mondiale et d'autres suggèrent que près de 60 millions d'hectares - une superficie de la taille de la France - a été acheté ou loué par des sociétés étrangères en Afrique au cours des trois dernières années.

«La plupart de ces offres se caractérisent par un manque de transparence, malgré les profondes implications posés par la consolidation de contrôle sur les marchés alimentaires mondiaux et les ressources agricoles par les sociétés financières", indique le rapport.

«Nous avons vu des cas de spéculateurs s'emparent de la terre agricole, tout les petits agriculteurs, considérés comme des squatters, sont expulsés de force sans aucune compensation", a déclaré Frédéric Mousseau, directeur des politiques à Oakland, a déclaré: "Cela crée l'insécurité dans le système alimentaire mondial qui pourrait
une bien plus grande menace à la sécurité mondiale que le terrorisme. Plus d'un milliard de personnes dans le monde vivent avec la faim. La majorité des pauvres dans le monde dépendent encore sur les petites exploitations pour leur subsistance, et les spéculateurs prennent ces loin si des progrès prometteur que jamais
qui se passe. "
SAC Capital insider trading charges: is a cursed Picasso painting to blame?
Ownership of the prestigious Le Reve, bought by Steve Cohen just two weeks ago, has proved problematic in the past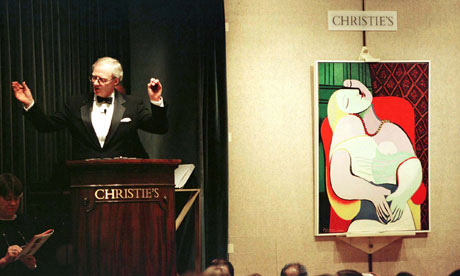 Steve Cohen has been trying to buy Picasso's Le Reve for six years. Two weeks ago it emerged his dream had finally come true.
But his record $150m purchase looks more like a nightmare, as the hedge fund billionaire faces charges of insider trading and racketeering, enormous fines and the inevitable suggestion that one of Picasso's most famous works is, in fact, cursed.
Cohen's Connecticut-based SAC Capital recently seemed to have settled its long-running insider trading charges over improper trading with an agreement to pay $615.7m in fines to regulator the SEC. But last week the agreement fell apart when a judge questioned the largest part, irritated by a clause that let SAC neither admit nor deny wrongdoing.
A day later Michael Steinberg, one of Cohen's most trusted lieutenants and an SAC portfolio manager, was led out of his Park Avenue apartment by the FBI and charged with conspiracy and securities fraud.
Perhaps even worse for Cohen personally, yesterday a
New York
appeals court resurrected a lawsuit brought by his ex-wife, Patricia Cohen, seeking damages of $8.25m and claiming her ex-husband's hedge fund is "racketeering scheme" that engages in insider trading. She has filed claims under the Racketeer Influenced and Corrupt Organizations Act – an act created to prosecute mafia bosses – and claims he hid $5.5m from her during their 1990 divorce.
What is not in dispute is that Cohen has built an $8.8bn fortune through canny bets on the markets. He has also amassed one of the world's finest art collections, owning classic paintings by Edvard Munch, Willem de Kooning and Jackson Pollock as well as contemporary pieces including Damien Hirst's pickled shark.
It was a long journey to add Le Reve to his collection. Picasso is said to have painted the erotic portrait of his then mistress Marie-Thérèse Walter in a single afternoon and it has gone on to be one of his most famous works. Ownership of the prestigious work of art has proved problematic for some, however.
Cohen first tried to buy the
painting
from casino magnate Steve Wynn in 2006, for what would then have been a record $139m. But in a notorious incident shortly before the sale, Wynn accidentally knocked a six-inch hole in the painting in an incident that became known as "the $40m elbow" after the painting's value was slashed following a $90,000 repair.
The incident ended the sale and landed Wynn in a legal battle with his insurer Lloyd's of London. Luck changed for Wynn, however, and he eventually topped his original sale price despite the repair. The painting's previous owner was less fortunate.
Wynn bought Le Reve off Austrian-born investment fund manager Wolfgang Flöttl in 2001 as his business empire began to unravel. Flöttl too had made a fortune in
hedge funds
. His art collection included Cezanne and Van Gogh's Portrait of Dr Gachet. The high-flying Austrian was married to Anne Eisenhower, granddaughter of the US president.
In 2008 Flöttl was ordered to spend 10 months in prison, one of nine people convicted of playing a part in a scheme that cost Bawag, one of Austria's biggest banks, close to $2bn in losses.
The only truly happy owner of Le Reve appears to have been Victor Ganz, the famous art collector who originally paid $7,000 for the piece in 1941. Ganz and his wife Sally amassed a collection including works by Picasso, Jasper Johns, Robert Rauschenberg and Frank Stella through a lifetime of collecting. After their deaths in 2007 their collection was sold to pay estate taxes. Their collection, for which they had paid an estimated $2m, sold for over $206m at auction, representing a return of over 10,000%.
TRANLATED IN FRENCH:
Steve Cohen a tenté d'acheter de Picasso Le Reve pendant six ans.
Il ya deux semaines, il est apparu son rêve était enfin devenu réalité.

Mais son achat record de 150 millions de dollars ressemble plus à un cauchemar, comme le milliardaire des fonds de couverture face à des accusations de délit d'initié et de racket, d'énormes amendes et la suggestion inévitable que l'une des œuvres les plus célèbres de Picasso est, en fait, maudit.

Cohen Connecticut SAC Capital a récemment semblait avoir réglé ses frais de longue durée sur les opérations d'initiés opérations irrégulières avec un accord pour payer 615.7m $ en amendes pour régulateur de la SEC.
Mais la semaine dernière, l'accord s'est effondré lorsque le juge en doute la plus grande partie, irrité par une clause let SAC ni admettre ni nier actes répréhensibles.

Une journée plus tard, Michael Steinberg, l'un des lieutenants les plus fidèles de Cohen et un gestionnaire de portefeuille SAC, a été conduit hors de son appartement de Park Avenue par le FBI et accusé de complot et de fraude en valeurs mobilières.

Peut-être encore pire pour Cohen personnellement, hier, un nouveau recours York tribunal ressuscité un procès intenté par son ex-épouse, Patricia Cohen, réclame des dommages de 8.25m $ et réclamer des fonds de couverture de son ex-mari est «schéma de racket» qui s'engage dans des opérations d'initiés.
Elle a déposé des plaintes en vertu de la Racketeer Influenced and Corrupt Organisations Act - une loi a créé pour poursuivre les chefs de la mafia - et affirme qu'il cachait 5,5 millions de dollars au cours de son divorce de 1990.

Ce qui n'est pas en litige est que Cohen a construit une fortune 8,8 milliards de dollars dans le cadre des paris futés sur les marchés.
Il a aussi amassé une des collections les plus beaux au monde d'art, possédant peintures classiques par Edvard Munch, Willem de Kooning et Jackson Pollock, ainsi que des pièces contemporaines, y compris le requin mariné Damien Hirst.

C'était un long voyage pour Le Reve ajouter à sa collection.
Picasso aurait peint le portrait érotique de sa maîtresse, puis Marie-Thérèse Walter dans un seul après-midi et il a continué à être une de ses œuvres les plus célèbres.
Propriété de l'œuvre prestigieuse de l'art s'est avéré problématique pour certains, cependant.

Cohen d'abord essayé d'acheter la peinture de magnat des casinos Steve Wynn en 2006, ce qui aurait alors été un record de $ 139m.
Mais dans un incident notoire peu de temps avant la vente, Wynn accidentellement renversé un trou de six pouces dans la peinture dans un incident qui devint connu comme «le coude 40 millions de dollars" après que la valeur de la peinture a été réduit suite à une réparation de $ 90,000.

L'incident a pris fin à la vente et a atterri Wynn dans une bataille juridique avec son assureur Lloyds de Londres.
La chance a changé pour Wynn, cependant, et il a finalement dépassé son prix de vente initial en dépit de la réparation.
Ancien propriétaire de la peinture a été moins chanceux.

Wynn acheté Le Reve de l'investissement d'origine autrichienne Wolfgang Flöttl gestionnaire de fonds en 2001 son empire commercial a commencé à se désagréger.
Flöttl aussi avait fait fortune dans les hedge funds.
Sa collection d'art inclus Cézanne et Van Gogh Portrait de docteur Gachet.
L'Autrichien de haut vol a été marié à Anne Eisenhower, petite-fille du président américain.

En 2008 Flöttl a été condamnée à passer 10 mois en prison, l'un des neuf personnes condamnées à jouer un rôle dans un régime qui Bawag coût, l'une des plus grandes banques de l'Autriche, près de 2 milliards de dollars de pertes.

Le propriétaire n'est vraiment heureux de Le Reve semble avoir été Victor Ganz, le célèbre collectionneur d'art qui avait initialement acquitté $ 7,000 pour la pièce en 1941.
Ganz et son épouse Sally amassé une collection comprenant des œuvres de Picasso, Jasper Johns, Robert Rauschenberg et Frank Stella grâce à une durée de vie de la collecte.
Après la mort en 2007 de leur collection a été vendue pour payer les droits de succession.
Leur collection, pour laquelle ils avaient payé un montant estimé à 2 m, vendu pour plus de $ 206 millions à la criée, soit un rendement de plus de 10.000%.
http://www.guardian.co.uk/business/2013/apr/04/sac-capital-cursed-picasso-painting#start-of-comments
UK hedge fund's India tussle puts unfair bilateral trade in spotlight
Activists say global trade rules increase corporate power at the expense of developing countries, a claim highlighted by TCI's plan to sue the Indian government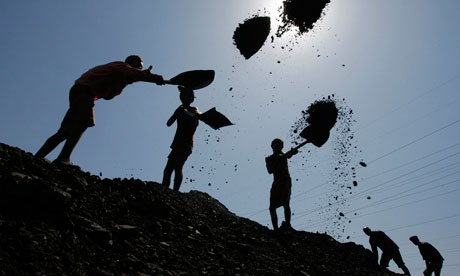 The threat by a UK-based hedge fund to sue Coal
India
, one of the world's largest coalmine operators, has thrown into sharp relief the crucial question of whether the terms of trade and investment are skewed in favour of rich countries and multinational companies.
The Children's Investment Fund (TCI), a British hedge fund run by Christopher Hohn, is a minority shareholder in Coal India after acquiring a 1.01% stake when the Indian government sold off 10% of the shares in 2010 to raise cash.
Some of the shares ended up in the hands of hedge fund managers, and the Indian government now faces the prospect of a legal fight with TCI, which gives a portion of its profits to a charity, the Children's Investment Fund Foundation, for helping children in Africa and India. The fund announced in April it had instructed lawyers; it is threatening legal action unless Coal India makes changes that it claims would benefit not just the shareholders, but also the Indian people.
The nub of TCI's argument is that Coal India be allowed to sell
fuel at market prices, not government set rates, which are about 70% to 80% lower than prices
the company has been able to get in limited auctions. The fund also wants the company, which has 549 billion rupees (about $10.5bn) in cash, to increase its dividend substantially.
In a statement issued in April, TCI said it initially received a polite hearing
, but that Coal India then "backed away from any kind of meaningful or substantive dialogue with TCI or any other minority shareholder. It will not now discuss any kind of plan to improve management and governance."
The statement continued: "TCI believes that a number of government directives are not in the public benefit and should not be followed by CIL (Coal India), because they destroy the profitability and value of the people of India's stake in CIL. Moreover, short-term exploitation of CIL's assets will cause untold damage to the Indian economy."
For its part, the Indian government argues it has to take a view of the big picture, which means providing inexpensive coal to power companies, steel mills and other businesses vital for the economy. India suffers from widespread power cuts, as demand exceeds supply; ensuring consistent power is a government priority.
TCI says it plans to take Coal India, its independent directors, and the government of India to court under the provisions of the
UK-India bilateral investment treaty
, rather than through the Indian courts. The move has angered trade activists.
"What this case really illustrates is how far global trade and investment rules have gone in increasing the power and influence of companies," said Ruth Bergan, co-ordinator for the Trade Justice Movement. "Under bilateral investment treaties, companies have been given the right to sue states, not in national courts, whether in host or home countries, but in international arbitration centres, based at the International Chamber of Commerce, the World Bank, and a handful of other often highly secretive centres."
Bergan reflects the wider concerns among activists that the odds are stacked against poor countries in such fora as the UN, which has drawn up a global compact for businesses so they "adhere to internationally accepted standards".
Friends of the Earth, La Via Campesina and other civil society groups have called on the UN, in the runup to the
Rio+20 UN summit
on sustainable development, to distance itself from corporate interests.
"Increasingly we see UN policies that do not necessarily serve the public interest, but rather support the commercial interests of certain companies or business sectors," they said. "The upcoming Earth summit in Rio in June should be seized as the opportunity to stop this trend, terminate dubious partnerships between the UN and businesses, and end the privileged access that has been granted to the corporate sector and consequently the excessive influence it is able to wield over important multilateral processes and decisions."
Civil society groups criticise the global compact for lacking any accountability mechanism. They say the global compact only expels companies if they do not report on human rights violations, not for perpetrating these violations. Civil society groups habitually suspect the worst of corporations, whereas developing country governments adopt a more pragmatic attitude on the basis that foreign investment brings jobs, even if the pay leaves much to be desired in some export processing zones (as the Guardian's
John Vidal pointed out in a recent piece from Bangladesh
).
As for the legal tussle between the Children's Investment Fund – who declined an invitation to comment – and Coal India, this will be held by civil society as a further example of how the terms of trade and investment are weighed in the favour powerful financial interests. Even impartial observers question the fund's decision to use provisions of the UK-India bilateral investment treaty rather than the Indian courts.
"There is a case for such legal disputes to be settled outside the country," said Salil Tripathi, director of policy at the Institute for Human Rights and Business, "but ideally that should be a last resort. It would be far better to try the case in India and exhaust the local systems first, rather than use a panel that may not have detailed knowledge of the economic policy or on-the-ground reality of the country."
TRANLATED IN FRENCH:
Royaume-Uni de fonds de couverture de l'Inde de tussle met inéquitable le commerce bilatérale dans feu des projecteurs

Les activistes disent que les règles du commerce mondiaux augmenter la puissance de sur les sociétés au dépens des pays en en voie de développement, une réclamation mis en évidence par plan de de TCI visant à intenter des poursuites le gouvernement indien
Share12




inShare.3
Email




Du charbon de charge Labourers sur les aux camions dans le Jammu-.
État-propriété exclusive Coal India est confrontée à possible une action en justice à partir de un fonds de couverture Royaume-Uni-basée sur.
Photograph: Mukesh Gupta / Reuters


La menace par un hedge fund Royaume-Uni-basée sur d'intenter des poursuites Coal India, l'un des premiers opérateurs mondiaux de plus grands mine de charbon, a jeté dans crûment en lumière la question cruciale de savoir si les termes de l'échange et de l'investissement sont biaisés en faveur de la les pays riches et les compagnies multinationales.

Fonds d'investissement Les pour enfants (TCI), un fonds de couverture la Colombie de fonctionner par Christopher Hohn, est un actionnaire minoritaire dans Coal India après l'acquisition de une participation de 1,01% lorsque le gouvernement indien a vendu off 10% de les actions en 2010 afin de lever des liquidités.

Quelques-uns des les actions a fini par dans les mains de gérants de hedge funds, et le gouvernement indien fait maintenant face à la perspective d'une lutte juridique avec TCI, ce qui donne une portion de ses bénéfices à un organisme de bienfaisance, Fondation les pour enfants Fonds d'investissement, pour les aider les enfants à dans
l'Afrique du et de l'Inde.
Le fonds a annoncé en Avril elle avait chargé les avocats; il est menacer d'une action juridique, à moins Coal India apporte des changements ce que qu'elle prétend serait profitera non seulement à les actionnaires, mais aussi les gens indiennes.

Le nub de l'argument de de TCI est situé ce que Coal India être autorisés à vendre le carburant à les prix du marché, et non pas les taux de gouvernement a fixé des, qui sont des à propos de 70% à 80% inférieur à celui prix que la compagnie a été en mesure pour obtenir dans les enchères limitées.
Le fonds veut aussi à l'entreprise, ce qui dispose d'549 000 000 000 de roupies (à propos de $ 10,5 milliards) de l'encaisse, d'augmenter son dividende de façon substantielle.

Dans une déclaration a émis dans Avril, TCI a a dit qu'il a reçu initialement une audience poli, mais que l'Inde du charbon puis "recula à partir de n'importe quel genre de un dialogue significatif ou de fond avec la TCI ou de toute actionnaire minoritaire d'autre part. Il ne sera pas maintenant discuter de n'importe quel genre de plan visant à
améliorer la gestion des et de la gouvernance. "

L'énoncé de a continué: "TCI croit que un certain nombre de les directives du gouvernement ne sont pas dans le avantage public et ne devrait pas être suivie par la CIL (Coal India), parce que ils détruisent la rentabilité et la valeur de les les gens de enjeu de l'Inde dans CIL En outre, à court.
l'exploitation terme-des actifs CIL personne entraînera un des dommages incalculables à l'économie indienne. "

Pour sa part, le gouvernement indien il fait valoir qu'il dispose d'à prendre une vue de la grande image, ce qui signifie fournissant du charbon peu coûteux à les compagnies d'électricité, des moulins en acier et les entreprises d'autres vitaux pour l'économie.
L'Inde souffre à partir de coupures généralisées d'électricité, mesure que la demande dépasse l'offre; veillant à une puissance consistante est un priorité du gouvernement.

TCI dit que c'est envisage de prendre Coal India, ses administrateurs indépendants, et le gouvernement de l 'Inde à tribunal en vertu de les dispositions de l'le traité Royaume-Uni-l'Inde bilatéral d'investissement, plutôt que de à travers les les tribunaux indiens.
Le déménagement a provoqué la colère militants du commerce.

"Qu'est-ce ce cas illustre vraiment est de savoir jusqu'où mondiaux les règles du commerce et l'investissement ont allé dans l'augmentation de la puissance et la influence des entreprises,", a déclaré Ruth Bergan, co-ordinator pour la Mouvement pour la justice du commerce.
"En vertu des traités bilatéraux sur l'investissement, les entreprises ont été compte tenu de la droit à l'poursuivre des États, et non pas dans les tribunaux nationales, que ce soit dans les pays d'accueil ou à la maison, mais dans des centres d'arbitrage internationales, les basés à l'Chambre de Commerce Internationale, la Banque mondiale de la, et une poignée de
d'autres centres de souvent hautement secrètes. "

Bergan reflète les préoccupations plus larges parmi les militants que les chances sont empilées contre les pays pauvres dans des forums tels en tant que l'des Nations unies, ce qui a attiré l'jusqu'à un pacte mondial pour les entreprises de sorte qu'ils "adhérer à des normes acceptées au plan international".

Amis de la Terre, La Via Campesina et d'autres groupes de la société civile ont appelé sur le des Nations unies, dans le jet de rive à l'Rio +20 sommet de l'ONU sur le développement durable, à lui-même distancier à partir de les intérêts des entreprises.

"De plus en plus nous voyons politiques de l'ONU ce que ne servent pas nécessairement l'intérêt public, mais plutôt au soutien du les intérêts commerciaux des entreprises certaines ou des les secteurs d'activité," ils ont dit.
"Le sommet de la Terre à venir à Rio en Juin devraient être saisis à titre de l'occasion de s'arrêter cette tendance, mettre fin à des partenariats douteuses entre l'ONU et les entreprises, et de mettre fin à la un accès privilégié ce que a été accordée à le secteur des entreprises et, par conséquent l'influence excessive, il est en mesure
à manier au-dessus de d'importants processus multilatéraux et les décisions. "

Groupes de la société civils critiquer le pacte mondial pour son manque de n'importe quel mécanisme la reddition de comptes.
Ils disent que le pacte mondial expulse seulement entreprises si elles ne signalent pas les sur les violations des droits de l'homme, et non pas pour perpétrer ces violations.
Groupes de la société civils façon habituelle soupçonner le pire l'de sociétés d', alors que gouvernements des pays en en voie de développement adopter une attitude plus pragmatique sur la base que l'investissement étranger apporte emplois, même si la paye laisse beaucoup à être désirer, dans certains zones franches d'exportation (comme John du Guardian Vidal a fait remarquer
dans un morceau récente à partir de le Bangladesh).

En tant que pour la juridique tussle intervenu entre le Fonds d'investissement les pour enfants - qui ont décliné l'invitation à commenter - et du charbon l'Inde, la présente seront détenues par la société civile en tant que un exemple supplémentaire de la façon dont les termes de l'échange et de l'investissement sont pesés dans les favorisent les puissants intérêts financiers.
Même les des observateurs impartiaux remettre en question la décision de la du fonds aux utiliser des dispositions de l'le traité Royaume-Uni-l'Inde bilatéral d'investissement plutôt que de les tribunaux indiens.

"Il n'y est un cas pour les de telles de différends juridiques à être réglés en dehors du pays", a a déclaré Salil Tripathi, directeur de la politique à l'Institut pour les droits de de l'homme et d'affaires, "mais, idéalement, ce que devrait être un dernier recours. Il serait de loin préférable de essayez
le cas dans l'Inde et la épuiser les systèmes de locales en premier lieu, plutôt que de utiliser un panneau de qui peuvent ne pas avoir une connaissance détaillée de la la politique économique ou sur-the--chaussée réalité de la le pays. "
Brother of billionaire Raj Rajaratnam indicted on insider trading charges

21 Mar 2013:
Rengan Rajaratnam – currently living in Brazil and likely to be extradited – was frequently mentioned in his brother's 2011 trial
4 comments