Land Grabbers in Kenya Face Sh10m Fine or Seven Years in Jail in New Proposed Law
measures
for land grabbers. As part of its mandate to investigate those implicated in land scams as provided in the Transition to Devolved Governments Act 2012, the authority proposes they be fined Sh10 million or jailed for seven years.
In the last two weeks land debate has dominated the campaigns with presidential
candidates
pushing the issue high up in their political rallies.
The issue is compounded by the controversy surrounding the gazettement of the land commission, which has for the last six months not been done after approval by Parliament in August last year.
Land experts complain enemies of land reforms are behind the delay.
Land Development and Governance Institute national chairman Ibrahim Mwathane urged Kenyans to be vigilant as there were still people who were against the crucial land reforms.
"The road to enactment of
the Constitution
has not been easy and even after its promulgation two years ago, adversaries of development are not happy and would like the changes derailed," he said.
Yesterday, TA chairman Kinuthia Wamwangi said the Attorney General would gazette an asset management committee, whose mandate is to audit, validate and create an asset register, this week.
He said cases of grabbed land will be dealt with and people implicated fined Sh10 million or face seven years in jail.
The Transition to Devolved Government Act 2012 bars state organs, public office, public entity or local authority from transferring assets and liabilities during the transition.
The Asset Management Committee will investigate all land grabbing cases and illegal possession of Government properties and prefer charges to those accused.
The National Land Commission will also conduct land
banking
to ensuring the Government has adequate land for development.
Yesterday, Wamwangi warned all those who have seized public land and property will be forced
to return
them and be charged.
Addressing the civil society in a Nairobi
hotel
, he pointed out that data on assets and liabilities of Government and local authorities in the counties have been finalised. -
The Standard
Land grabbers face Sh10m fine
SHARE THIS STORY
Updated Thursday, February 7 2013 at 00:00 GMT+3
By NICHOLAS WAITATHU
The Transitional Authority has plunged into the land question by proposing punitive measures for land grabbers.
As part of its mandate to investigate those implicated in land scams as provided in the Transition to Devolved Governments Act 2012, the authority proposes they be fined Sh10 million or jailed for seven years.
In the last two weeks land debate has dominated the campaigns with presidential candidates pushing the issue high up in their political rallies.
The issue is compounded by the controversy surrounding the gazettement of the land commission, which has for the last six months not been done after approval by Parliament in August last year.
Land experts complain enemies of land reforms are behind the delay.
Land Development and Governance Institute national chairman Ibrahim Mwathane urged Kenyans to be vigilant as there were still people who were against the crucial land reforms.
"The road to enactment of the Constitution has not been easy and even after its promulgation two years ago, adversaries of development are not happy and would like the changes derailed," he said.
Yesterday, TA chairman Kinuthia Wamwangi said the Attorney General would gazette an asset management committee, whose mandate is to audit, validate and create an asset register, this week.
He said cases of grabbed land will be dealt with and people implicated fined Sh10 million or face seven years in jail.
The Transition to Devolved Government Act 2012 bars state organs, public office, public entity or local authority from transferring assets and liabilities during the transition.
The Asset Management Committee will investigate all land grabbing cases and illegal possession of Government properties and prefer charges to those accused.
The National Land Commission will also conduct land banking to ensuring the Government has adequate land for development.
Yesterday, Wamwangi warned all those who have seized public land and property will be forced to return them and be charged.
Addressing the civil society in a Nairobi hotel, he pointed out that data on assets and liabilities of Government and local authorities in the counties have been finalised.
Kwanza University Land Grabbers Warned
A youth network in Kwanza has issued a warning to individuals who grabbed University plot that they will demonstrate against them in a week's time if they fail to surrender the land. Kwanza consultative youth development network chairman Peter Wanyama alleged former Nzoia County council chairman Fred Kwanusu helped the culprits to grab MKU Kwanza land. Two years ago, Nzoia County council through the Kwanza community allocated the University 20 acre plot but seven acres has been grabbed. "As a community, we donated some of our land to the University, another piece for a seed drier and anothe...
Kenya: Kwanza University Land Grabbers Warned
By Nicholas Wamalwa, 16 April 2013
A youth network in Kwanza has issued a warning to individuals who grabbed University plot that they will demonstrate against them in a week's time if they fail to surrender the land.
Kwanza consultative youth development network chairman Peter Wanyama alleged former Nzoia County council chairman Fred Kwanusu helped the culprits to grab MKU Kwanza land.
Two years ago, Nzoia County council through the Kwanza community allocated the University 20 acre plot but seven acres has been grabbed.
"As a community, we donated some of our land to the University, another piece for a seed drier and another one for the youth centre" he said.
"But we realize the university one has been reduced by seven acres by the grabbers"
Wanyama revealed this over the weekend during a meeting between the community and the University which was also attended by MKU Kitale campus principal Robert Mindila and area DO.
The principal said the University has established an agricultural research centre but the grabbed land is a hindrance for fully utilization of the space.
"We need to institutionalize dairy goat breeding in conjunction with community, construct tuition and administrative block, move other courses to Kwanza among others, more space is required" Mindila said.
Gaining Ground?
Report sheds light on demand for accountability amid resistance to land deals in Africa
People who feel wronged by large scale land deals in Africa are taking a variety of steps to seek justice, according to new research that examines the accountability of public authorities that preside over such deals and asks whether legal empowerment offers citizens scope to expect fairer outcomes.
Dr Lorenzo Cotula of the International Institute for Environment and Development (IIED) will present the findings of the new report at a World Bank conference on large land deals in Washington DC on 8-11 April.
The research – published by IIED and the International Development Research Centre -- analyses legal frameworks in 12 African countries and reviews the cases of 16 large scale land deals.
Large scale land deals can bring benefits such as jobs, market access and infrastructure, but they can also dispossess people of land and other resources and can spark conflict over economic benefits. Part of the problem is that land deals are rarely transparent and that there is limited accountability on the part of the public authorities that decide them.
"We need to understand more about the accountability weaknesses in different contexts – such as the imbalances in legal frameworks and the ways in which political interests affect deals," says the report's lead author Emily Polack of IIED. "We also need to understand what options citizens have to seek greater accountability – and how to strengthen the mechanisms they can use as well as their ability to use them."
The research assesses the effectiveness of different ways citizens respond when they perceive land deals to be unjust. These efforts include letter writing, requesting an audience with authorities, forming local associations to strengthen negotiating power, and using courts and other formal legal mechanisms. Demonstrations can follow if these routes fail.
The report shows too that few legal options are available to local groups and that there is an imbalance in the way laws protect investors, governments and communities. Meanwhile, many of the smaller land deals pass unnoticed, leaving even fewer options for redress.
"On one hand, international investment law is strong and offers great protection to investors who seek to acquire large areas of land," says co-author Lorenzo Cotula of IIED. "On the other, international human rights laws tend not to be very effective in protecting the rights of poor communities. Meanwhile, features of national laws provide the basis for rights and accountability but very often they legitimise abuses of power against the powerless."
The report explores ways that legal empowerment could improve public accountability through two complementary approaches – one that reforms national and international legal frameworks to increase local control and downward accountability, and one that increases citizens' capacity to engage in policy processes, claim rights and advocate alternative visions of development.
"Improved public accountability is critical to democracy as it enables local people to voice their concerns about large scale land deals," says Adrian Di Giovanni of IDRC. "It discourages harmful investments and makes it more likely that everyone involved will gain from incoming investment."
IIED and IDRC will publish the report in both English and French. It will set out an agenda for future research on large land deals and accountability.
The International Institute for Environment and Development (IIED) is an independent, non-profit research institute. Set up in 1971 and based in London, IIED provides expertise and leadership in researching and achieving sustainable development (see:
www.iied.org
).
The project is funded by UK aid from the UK Government, however the views expressed do not necessarily reflect the views of the UK Government.
Why the World Bank is wrong (so far) on large land deals
Oxfam's
land grabs campaign,
launched on 4th October, highlights the alarming increase in the speed and scale of large land deals in the past decade. It calls on the World Bank – as an investor in land deals, as a global standard setter and as an adviser to developing countries on their land policies – to freeze those of its agricultural investments that involve large land deals for 6 months while it reviews its policies and practices to ensure land grabs are prevented.
The World Bank has responded to Oxfam's campaign raising a number of challenges, through
official statements
,
blogs
and through interventions on panels. Here's Oxfam's response to some of the main challenges:
Extent of World Bank involvement in land-grabbing
Some at the
World Bank
have suggested that it is not the right target - it is only involved in a 'few cases' that could potentially constitute land grabs and at any rate it is not as bad as most other investors. Oxfam stands by its focus on the Bank for a number of reasons. First, given the Bank's mandate for poverty alleviation, even one land-grab case is a case too many.
Secondly, in reality we know that there are very likely more than a few controversial cases relating to land. 21 cases involving land disputes have been brought by communities since 2008 (Oxfam is involved as a complainant in a number of them).
We also know that between 2000 – 2012, 56% of the complaints to the Compliance Adviser Ombudsman (CAO) have been in relation to land. The CAO also confirms that in the past 4 years there has been a growing number of complaints in relation to agri-business. Lastly, while the World Bank may not the worst culprit when it comes to land-grabbing, it IS the only global bank with a mandate for poverty alleviation and it is a crucial institution for setting the bar high in this area.
In other words, we believe that if Oxfam can't convince the World Bank to raise its standards, we have no hope of getting other financing institutions to do so. If the Bank takes leadership, we hope we can leverage change in other institutions as a result, from regional development banks to private investors.
World Bank's role in agriculture
In reaction to our call for an investment freeze, the World Bank contends that it has increased its agricultural investments precisely in response to calls from organizations such as Oxfam for it to focus on a sector that has been neglected for too long. Therefore it suggests that to suspend its agricultural investments – which overwhelmingly benefit smallholders - will only end up harming the very people that Oxfam seeks to support. In response, we have never argued – and never will – that the World Bank should not be investing in agriculture.
We welcome increased investment in agriculture by the Bank that genuinely benefits smallholders. This is why we are not arguing that the Bank should get out of agriculture altogether. And this is also why we are not calling for a freeze of all agricultural investments. On the contrary we are calling for a
temporary 6 month freeze on agricultural investments
that involve large-scale land acquisition - which the Bank acknowledges is not the majority of its investment portfolio.
To put it another way, we're invoking the precautionary principle - something the Bank has done itself in the past when it froze lending to the palm oil sector as a result of a controversial case in Indonesia.
As the World Bank's investment in agriculture has increased from $2.5 billion in 2002 to $6-8 billion in 2012, the risk of some of these investments involving problematic land acquisition is heightened (for the record, this figure was misquoted by some media as being up to $8 billion in land investments, Oxfam has always been clear that the overall figure is for agriculture more broadly, some of which will involve land acquisition).
We welcome models of agricultural investment
- both large-scale and small - that benefit communities and genuinely lead to shared benefits based on consultation and consent. We have recently published a paper outlining
models of positive agricultural investment
, and Oxfam GB CEO Barbara Stocking reiterated this message recently in the
Financial Times
(you have to register to view).
What we oppose is a model of agricultural investment that involves the mass transfer of land rights away from poor farmers and communities, a model which frequently leads to conflict and for which there is very little evidence of pro-poor outcomes.
Transparency
The Bank has suggested that it is a leader in the area of transparency. Whilst Oxfam agrees that it has made great advances over the years, we feel that there are still some real areas of concern.
First, we can't even tell the full extent of the Bank's investment in this area: there is no clarity on the overall size of its land portfolio. For an institution that rightly prides itself on the huge advances it has made in allowing its data to be accessible to all, this is disappointing.
Second, we know that 17 of the 21 complaints involving land raise issues relating to inadequate transparency.
Third we know that over 50% of lending through the International Finance Corporation (the private sector lending arm of the World Bank) is channeled through financial intermediaries: these investments are far more opaque, and these bodies are also not subject to the same standards as the World Bank. And it makes it almost impossible for Oxfam to judge whether the Bank's claim is true that '
only 2% of IFC agribusiness loans in the past financial year involved land acquisition
'. Furthermore, the trend towards new lending instruments and technical assistance makes it far more difficult to hold the World Bank accountable for cases where it might not have directly funded a project that results in controversy, but has provided the advice that made it possible.
Rob Nash, Oxfam's Private Sector policy adviser, finds a deep contradiction in the way the World Bank talks (and acts) about land
Last week I was at the World Bank's
Land and Poverty Conference
in Washington DC, sitting in one of the most luxuriously appointed office buildings I have ever seen, (and I used to work for Lehman Brothers), as we discussed the land issues that so critically affect many of the poorest people on our planet.
This week, this fine setting will play host to the annual Spring Meetings of the World Bank Group, where land issues will also be a big focus for many of the assembled policymakers, academics, NGOs and private sector investors.
Land is a big deal for Oxfam. Last year at around this time, we published
Risky Business
, looking at the explosion in channelling development finance to private sector businesses indirectly, using so-called Financial Intermediaries (FIs) like banks and
private equity funds
. In the paper we identified some worrying characteristics of this arms-length financing – opacity, complexity, focus on financial returns over development impact, focus on financial risk over environmental and social risk, lack of oversight or ability to influence the business practices of investee companies, remoteness from the projects ultimately financed and the impacts they have on poor people. We worried that such poorly governed financing was fuelling land grabs.
Since then a lot has happened. Oxfam has been asking the World Bank to freeze its large agriculture investments until it puts in place measures to tackle the threat of land grabs. Pressure on the World Bank and IFC has increased as civil society organisations around the world have drawn attention to the plight of poor rural communities whose lives are turned upside-down by deals that infringe their rights and take away their land, many of which are backed by Development Finance Institutions (DFIs) like the IFC.
And it isn't just Oxfam and the NGO community raising concerns. An audit
report from the CAO
(the watchdog for the IFC) of IFC's financial sector investments was made public in early 2013. It was measured in tone but quite devastating in its implications for IFC and for FI lending.
The report found that IFC is unable to track whether or not these investments are causing harm to poor people and the environment, let alone measure whether they bring development benefits. It found serious irregularities and compliance issues within the existing policies used by IFC, with many projects persistently failing to comply with the IFC's standards. It found inadequate transparency, with at times a near-total absence of public access to information, which can make it impossible for communities to find out if the IFC is even involved in a project, much less know that they could access grievance and redress mechanisms through the CAO.
The
response by the IFC
to the audit failed to acknowledge the gravity of the issues raised or to commit to properly addressing them. As a result, a large number of CSOs have
written
to the leadership of the World Bank Group calling for it to put its financial house in order.
Which is particularly striking given that, back at the Land and Poverty Conference, the transparency and accountability of land deals has been a major theme of presentations and discussions. Speaker after speaker stressed (to general agreement) that land acquisition deals must be subject to the consultation and consent of communities affected, must be based on a good understanding of the local context in terms of food security and existing use of resources like water and land, and must actively seek business models that contribute to improving the livelihoods of local communities and create opportunities and incentives for shared prosperity.
But the conference discussions often overlooked the use of FI lending. And although the World Bank statement makes some broad remarks about transparency and due diligence for FI lending, it ignores the very serious issues raised by the CAO audit.
Washington, we have a problem. Looks like we have two very different World Banks on land grabs. So who do we believe, Dr Jekyll or Mr Hyde? In
terms of hard cash, the IFC increasingly dominates. There has been a surge in the channelling of development finance to the private sector through FIs in recent years, from IFC and other DFIs. In 2011, 40% of IFC's portfolio was made up of lending through FIs. That proportion continues to grow as IFC itself takes up an ever-bigger share of the World Bank Group funding pie (annual reports indicate IFC matches the IBRD at around $20 billion of commitments made in 2012).
In terms of public policy, we're starting to see a lot of good progress in acknowledging the key issues of transparency and accountability and remedy, so the contradictory shift towards FI lending is a big issue for those concerned about land grabs. But it goes deeper than that, touching on the way in which publicly-backed development finance institutions like the IFC perform their role. Is it sufficient for the World Bank and IFC to pursue a narrow agenda of growth (economic growth generally or growth in private sector investment) under the assumption that benefits will trickle down to the poorest or, should they instead pay attention to the quality of that growth and investment? That means acting in part like a public body, actively seeking to ensure its intended beneficiaries are not in fact harmed, that it supports projects and influences policy in a way that upholds peoples' fundamental rights (including to food, land and water), and targets scarce resources to investments in projects where there will be a clear and shared benefit to local communities (especially marginalised groups and women) and national development priorities as well as financial returns for the recipients of finance.
Ultimately, when it lends public money to FIs, is the IFC just a bank, or is it a development finance institution?
After all, from where I am sitting, as a former banker myself – if it looks like a bank, walks like a bank, and talks like a bank, the chances are… it's just a bank.
World Bank rejects call to halt large land dealsBy CAREY L. BIRON
Tuesday, October 9 2012 at 17:36
World Bank president Jim Yong Kim. He says he will push for substantial reforms aimed at holding the bank's anti-poverty approaches more to account. FILE | NATION MEDIA GROUP
The World Bank has rejected a call to suspend its involvement in large scale agricultural land acquisition following the release of a major report by the international aid agency Oxfam on the negative impact of international land speculation in developing countries.
"We share the concerns Oxfam raised in their report," the bank stated in an unusually lengthy public rebuttal to the Oxfam Report. "However, we disagree with Oxfam's call for a moratorium on World Bank Group…investments in land intensive large-scale agricultural enterprises, especially during a time of rapidly rising global food prices."
"A moratorium focused on the Bank Group targets precisely those stakeholders doing the most to improve practices – progressive governments, investors, and us. Taking such a step would do nothing to help reduce the instances of abusive practices and would likely deter responsible investors willing to apply our high standards," the rebuttal said.
Over the past year, aid agencies, local non-governmental organisations (NGOs) and development watchdogs have warned that international investors are increasingly engaging in massive and sometimes predatory land deals in the developing world, particularly in Africa. These acquisitions are partly to blame for rising food insecurity.
Food prices are once again nearing record highs. In late August, the World Bank warned that due to adverse weather in parts of Europe and the United States, the global cost of certain staple crops was approaching levels last seen in 2008.
Ironically, multinational companies interested in growing food crops to address this need have been doing much of the recent investing. According to Oxfam, however, two-thirds of the investments made between 2000 and 2010 were exclusively for export-oriented crops, while other lands are being used to meet the increasing international demand for biofuels.
"Already an area of land the size of London is being sold to foreign investors every six days in poor countries," Oxfam stated, noting that in Liberia, land deals have "swallowed up" 30 percent of the country over the past five years.
The report did not reject what good can potentially result from private investment but warned that food-price spikes from 2008 to 2009 led to the tripling of land deals, as "land was increasingly viewed as a profitable investment" even though it largely failed to benefit local communities.
"The world is facing an unbridled land rush that is exposing poor people to hunger, violence and the threat of a lifetime in poverty. The World Bank is in a unique position to stop this," Jeremy Hobbs, Oxfam's executive director, said last Thursday, noting that the bank both invests in land and advises developing countries.
Oxfam is calling on the World Bank to temporarily halt its investments in agricultural land to give it time to review the advice it offers developing countries, and to put in place stronger policies to slow or stop the speculation and "land-grabbing" projects in which it is said to be involved.
World Bank investment in agriculture has reportedly tripled in the past decade. Since 2008, however, local communities have also brought 21 formal complaints against bank-funded projects that they say have violated their rights.
In a way, the bank's response to the call for a moratorium demonstrated outright denial: "The Bank Group does not support speculative land investments or acquisitions which take advantage of weak institutions in developing countries or which disregard principles of responsible agricultural investment."
The bank also noted that 90 per cent of its agricultural investment is focused on smallholders, and that the agricultural work of its private-sector arm, the International Finance Corporation (IFC), has provided 37,000 jobs. By 2050, it warned, the global population is set to grow by two billion people, requiring a 70 per cent increase in global food production.
Still, the bank recognised that its massive systems are imperfect and highlighted an upcoming overhaul of related guidelines that would "review and update its environmental and social safeguards policies".
"We agree that instances of abuse do exist, particularly in countries where governance is weak, and we share Oxfam's belief that in many cases, practices need to ensure more transparent and inclusive participation in cases of land transfers," the rebuttal stated.
The degree to which these safeguards are followed nevertheless remains voluntary, said Anuradha Mittal, the executive director of the Oakland Institute, a US-based think tank that has been at the forefront of recent civil society warnings about the effects of land speculation in the developing world.
"Back in 2009 and 2010, we were clearly identifying the role that the World Bank Group has been playing in promoting and facilitating these large-scale investments, completely ignoring the social and economic impact," she told IPS, referring to two reports that the new Oxfam work builds upon.
"Oxfam is reiterating that this kind of investment is misinvestment in communities, in agriculture, and unfortunately the bank is choosing to ignore the clear evidence that has been brought forward." Bank officials did not respond to requests for additional comment.
Mittal said that the development discussion needs to focus less on prescriptions handed down from multilaterals and more on the national implementation of internationally agreed rights including the rights to food and to free and prior informed consent.
"We're not interested in voluntary guidelines coming from Washington or Geneva, but rather in strengthening local and national capacities that help communities work best themselves," she said. "Each country in Africa, for instance, is in a unique situation. So what we need are real consultations at the local level to see what kind of development actually works for the local populations."
While Oxfam had called on the World Bank to move to halt its involvement in land deals before the annual meetings between the bank and the International Monetary Fund (IMF), in Tokyo next week, the bank's new president is now suggesting that he will use the meetings to begin pushing substantial reforms aimed at holding the bank's anti-poverty approaches more to account.
"If we are going to be really serious about ending poverty earlier than currently projected…there are going to have to be some changes in the way we run the institution," World Bank President Jim Yong Kim, preparing to attend his first annual meetings, told journalists on Thursday.
Kim said he would be pushing for a model "where our board and our governors focus much more on holding us accountable for results on the ground in countries, rather than focusing so much on approval of large loans". (IPS)
Campaigners claim World Bank helps facilitate land grabs in Africa
Food shortages and rural deprivation exacerbated by World Bank policy, says NGO ahead of land and poverty conference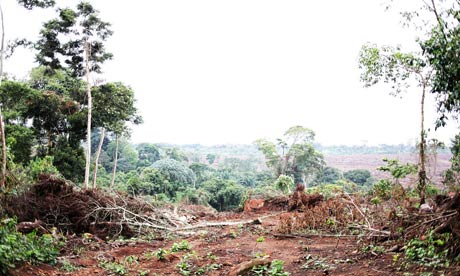 The
World Bank
is helping corporations and international investors snap up cheap land in
Africa
and developing countries worldwide at the expense of local communities, environment and farm groups said in a statement released on Monday to coincide with the bank's annual land and poverty conference in Washington DC.
According to the groups, which include NGO Friends of the Earth International (FOEI) and international peasants' group La Via Campesina, decades of World Bank policies have pushed African and other governments to privatise land and focus on industrial farming. In addition, they say, the bank is playing a "key role" in the global rush for farmland by providing capital and guarantees to big multinational investors.
"The result has often been … people forced off land they have traditionally farmed for generations, more rural poverty and greater risk of food shortages", said FOEI in a
separate report
launched ahead of the World Bank conference.
The event, which promises to focus on "land governance in a rapidly changing environment", is billed as a forum to discuss "innovative approaches" to land governance challenges including climate change, the growing demand for key natural resources, and rapid urbanisation. But campaigners say the conference mistakenly focuses on how to improve large-scale land deals rather than on helping local communities to secure or retain access to their land.
The FOEI report suggests land grabbing is intensifying and spreading, especially in rural areas of Africa and Asia. "High levels of demand for land have pushed up prices, bringing investment banks and speculators into farming," it says.
"The World Bank's policies for land privatisation and concentration have paved the way for corporations from Wall Street to Singapore to take upwards of 80m hectares (197.6 acres) of land from rural communities across the world in the past few years," said the groups in a statement accusing the bank of promoting "corporate-oriented rather than people-centred" policies and laws.
In 2010, the World Bank spearheaded the development of new principles for responsible agricultural investment to better ensure that land deals respect local rights, livelihoods and resources; these guidelines have also been criticised for legitimising, rather than challenging, the global rush for land.
Allegations of land-grabbing have hit countries around the world and have been accompanied by growing concern about whether large-scale land deals are delivering promised income and employment for local people. This week, a coalition of NGOs and research institutes is expected to release the latest findings of the Land Matrix project, which has attempted to systematically document recent land acquisitions.
Current estimates suggest that 80-230m hectares of land have been leased or bought in recent years, largely to produce food, feed or fuel for the international market.
World Bank money has been involved in many recent
international land deals
, says the FOEI report. In Uganda, the International Finance Corporation (IFC), the bank's private sector lending arm, contributed $10m for a project to clear 10,000 hectares of land for palm oil plantations on Bugala Island in Lake Victoria.
But FOEI research has shown that local people were prevented from accessing water sources and grazing land, suggesting that – despite promises of employment – many people have lost their means of livelihood.
Resistance to land grabs is growing: Harvard University has come under intense pressure to ensure its investments do not contribute to land grabs in Africa, while Iowa State University has withdrawn from a deal in Tanzania that could have displaced an estimated 160,000 people. In South Sudan, the government halted a land deal after local communities erupted in protest, saying their lands had been secretly leased to an American company.
This month, farmers and
land rights
activists from across Sierra Leone converged on the country's capital for a
national assembly of communities affected by large-scale land deals
, where groups launched a new civil-society watchdog to monitor agribusiness investments. The meeting followed the first
international farmers' conference
to tackle land grabs, held in Selingue, southern Mali, in late 2011.
On Tuesday, food justice activists, environmental organisations, students and Occupy Wall Street groups are set to gather in front of New York's Waldorf Astoria hotel to challenge the fourth annual Global AgInvesting (GAI) conference, where institutional investors and fund managers are meeting to discuss opportunities for agricultural investments overseas.
"Governments around the world need to stop land grabbing, not just try to mitigate its worst impacts. Governments must abide by their human rights obligations on land and drastically reduce demand for commodities such as palm oil from the west," said Kirtana Chandrasekaran, FOEI's food sovereignty co-ordinator.
David Kureeba, from the Ugandan national association of professional environmentalists, said: "People's rights to land [in Uganda] are being demolished. Small-scale farming and forestry that protected unique wildlife, heritage and food is being converted to palm oil wastelands that only profit agribusinesses."
Government officials, civil society, experts and the private sector will gather at the World Bank conference, which ends on Thursday, to discuss large-scale land aquisitions, land governance in the context of climate change, and rapid urbanisation.
International land deals: who is investing and where - get the data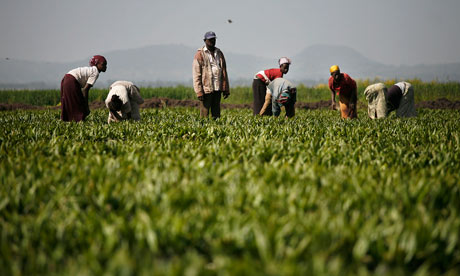 Over the past few years, so-called
"land grabs"
have become an increasingly hot topic. But reliable data has been hard to find. Now, an international coalition of NGOs and research groups
has published the world's largest database of deals
struck since 2000, offering unprecedented detail on who's investing, where and what for.
The
database
, launched on Thursday, includes 1,006 deals covering 70.2m hectares (173m acres) – or roughly half the size of western Europe. Data on further deals will be added on an ongoing basis.
Some highlights from the database:
• Eastern Africa has the largest number of recent investments, with 310 deals.
• Indonesia is the country with the largest area of land acquired by investors – 9.5m hectares. The Democratic Republic of the Congo comes second, with almost 8.1m hectares.
• The Indian government, Chinese telecommunications firm ZTE International and Indonesian company Indah Kiat Pulp & Paper are the top three investors, having acquired more than 10m hectares around the world between them.
• The vast majority of the deals are for agricultural projects (690 deals covering 50.2m hectares). Forestry is the next largest sector (94 deals covering 12.7m hectares).
• Of the agricultural deals, fewer than 30% are for food crops alone. Almost 20% are for non-food crops such as biofuels and livestock feed.
The
Land Matrix database
is now the most comprehensive public source for information on
international land deals
– but it is not perfect. Some countries, for example, may be over-represented in the data simply because they are more transparent and routinely publish contract information. In other cases, the data may be skewed towards investors or countries that have featured in more media reports.
This makes it difficult to draw too many conclusions from the data. For example, there appears to be a sharp decline in deals since 2009 – but although this could correspond to a drop in investments, it could also be driven by a fall in media interest or an increasing reluctance to disclose information about deals.
Researchers warn that smaller deals are often harder to track and may be under-represented in the database. Data for deals struck after 2010 is still being collected, cross-checked and verified.
Researchers hope that releasing the data and inviting the public to crowdsource new information will help address some of these issues.
The site
lets users "report a land deal" or submit further details on deals already recorded. This information will be independently verified by researchers before being included in the database.
We have pulled out all the data on who's investing, where and what for. You can browse key figures below, or download the
full dataset
. What can you do with the data?
Data summary
http://www.guardian.co.uk/global-development/datablog/2012/apr/27/international-land-deals-who-investing-what
Land grabbing
From Wikipedia, the free encyclopedia
Land grabbing
is the contentious issue of large-scale land acquisitions: the buying or leasing of large pieces of land in developing countries, by domestic and transnational companies, governments, and individuals. While used broadly throughout history, land grabbing as used today primarily refers to large-scale land acquisitions following the
2007-2008 world food price crisis
.
[1]
Obtaining water resources is usually critical to the land acquisitions, so it has also led to an associated trend of
water grabbing
. By prompting
food security
fears within the developed world and newfound economic opportunities for agricultural investors, the food price crisis caused a dramatic spike in large-scale agricultural investments, primarily foreign, in the
Global South
for the purposes of
food
and
biofuels
production. Initially hailed by investors and some developing countries as a new pathway towards agricultural development, investment in land has recently been criticized by a number of civil society, governmental, and multinational actors who argue that it has had negative impacts on local communities.
Land Area
Research managed by the
Overseas Development Institute
in January 2013 found that the size of the '
global land grab
' may have been exaggerated, with limited data available, and the data that existing associated with NGOs with an interest in generating media attention around the issue. They found that the figures below provide a variety of estimates, all in the tens of millions of hectares.
[3]
The Land Portal's Land Matrix data as accessed in January 2013 now totals 49 million hectares of deals globally, although only 26 million hectares of these are transnational.
A World Bank report [5] reported 57 million hectares worldwide,
Friis & Reenberg (2012) reported between 51 and 63 million hectares in Africa alone.
Most seem to arrive at a ballpark of 20-60 million hectares. Given that total global farmland takes up just over 4 billion hectares,
[6]
these acquisitions could equate to around 1 per cent of global farmland. However, in practice, land acquired may not have previously been used as farmland, it may be covered by forests, which also equate to about 4 billion hectares worldwide, so transnational
land acquisitions
may have a significant role in ongoing
deforestation
.
[3]
The researchers thought that a sizeable number of deals remain questionable in terms of size and whether they have been finalised and implemented. The land database often relies on one or two media sources and may not track whether the investments take place, or whether the full quantity reported takes place. For example, a number of deals in the GRAIN database appear to have stalled including -
The researchers claim these are only those that have been checked, and already amount to nearly 10 per cent of the GRAIN database transnational land acquisitions. Deals are reported that use the estimate of the full extent of land that the firm expects to utilise. For example
Indian investment in Tanzania is reported at 300,000 hectares, currently operating on just 1,000 hectares
Olam International's investment in Gabon reported at 300,000 hectares, currently operating on just 50,000
Three investments amounting to 600,000 hectares in Liberia, with Equatorial Palm Oil's deal reported at 169,000 hectares, despite their plans to reach just 50,000 by 2020.[3]
[edit]Land Value
The researchers found that in terms of value of transnational land acquisitions, it is even harder to come across figures. Media reports usually just give information on the area and not on the value of the land transaction. Investment estimates, rather than the price of purchase are occasionally given
[3]
They found a number of reports in land databases are not acquisitions but are instead long-term leases, where a fee is paid or a certain proportion of the produce goes to domestic markets.
An Indian investment in Ethiopia, where price per hectare ranged from $1.20 to $8 per hectare per year on 311,000 hectares
Indian investors paid $4 per hectare per year on 100,000 hectares.
While Prince Budr Bin Sultan of Saudi Arabia was reported to be paying $125,000 per year for 105,000 hectares in South Sudan, (less than $1 per year on a 25-year lease).
A South Korean investor in Peru was reported to be paying $0.80 per hectare.
[3]
Despite difficulty, one estimate of the value has been made for
IFPRI
's 2009 estimate of 15 to 20 million hectares of farmland in development countries, which they calculated at being worth $20 billion-$30 billion.
[7]
Researchers discovered global investment funds are reported to have sizeable funds available for
transnational land investments
.
One estimate suggests "$100 billion waiting to be invested by 120 investment groups" while already "Saudi Arabia has spent $800 million on overseas farms".[8] In 2011, a farm consultancy HighQuest told Reuters"Private capital investment in farming in expected to more than double to around $5-$7 billion in the next couple of years from an estimated $2.5-$3 billion invested in the last couple of years".[9]
There is significant uncertainty around the value of transnational land acquisitions, particularly given leasing arrangements. Given the quantity of land and the size of investment funds operating in the area, it is likely that the value will be in the tens of billions of dollars.
[3]
[edit]Land destinations
Researchers made extensive use of the
Land Portal
's
Land Matrix
, utilising a database of 49 billion hectares of land deals, shows that Asia is a big centre of activity with
Indonesia
and
Malaysia
counting for a quarter of international deals by hectares.
India
contributes a further 10 per cent of land deals. The majority of investment is in the production of
palm oil
and other
biofuels
.
[3]
They determined that the Land Portal also reports investments made by investors within their home country and after stripping out these found only 26 million hectares of transnational land acquisitions which strips out a lot of the Asian investments. The largest destination countries include
[3]
They found the story seems to be biofuels expansion with exceptions in
Sudan
and
Ethiopia
, which sees a trend towards growth of food from
Middle Eastern
and
Indian
investors. Represented in the media as the norm they seem to be more the exception.
[3]
[edit]Land origins
The researchers found a mixed picture in terms of the origins of investors. According to the
Land Portal
, the
United Kingdom
is the biggest country of origin followed by the
United States
,
India
, the
UAE
,
South Africa
,
Canada
and
Malaysia
, with
China
a much smaller player. The
GRAIN database
says;
Both the
Land Portal
and the
GRAIN database
show that the
UK
and the
US
are major players in transnational land acquisitions. This is agribusiness firms, as well as investment funds, investing mostly in
sugar cane
,
jatropha
or
palm oil
. This trend has clearly been driven by the
biofuels targets
in the
EU
and
US
, and greater
vertical integration
in
agribusiness
in general.
[3]
The smaller trend is the picture of Middle Eastern investors or State-backed Chinese investments. While the
UAE
has done some significant deals by size, some driven by food deals, with Saudi Arabia a smaller number, this is not the dominant trend. While this aspect of 'land grabs' has gathered lots of media attention, it is not by any means a comprehensive story.
[3]
[edit]Other deals
Other estimates of the scope of land acquisition, published in September 2010 by the
World Bank
, showed that over 46 million ha in large-scale farmland acquisitions or negotiations were announced between October 2008 and August 2009 alone, with two-thirds of demanded land concentrated in Sub-Saharan Africa.
[10]
Of the World Bank's 464 examined acquisitions, only 203 included land area in their reports, implying that the actual total land covered could more than double the World Bank's reported 46 million ha. The most recent estimate of the scale, based on evidence presented in April 2011 at an international conference convened by the Land Deal Politics Initiative, estimated the area of land deals at over 80 million ha.
[11]
Of these deals, the median size is 40,000 ha, with one-quarter over 200,000 ha and one-quarter under 10,000 ha.
[10]
37% of projects deal with food crops, 21% with cash crops, and 21% with biofuels.
[10]
This points to the vast diversity of investors and projects involved with land acquisitions: the land sizes, crop types, and investors involved vary wildly between agreements. Of these projects, 30% were still in an exploratory stage, with 70% approved but in varying stages of development. 18% had not started yet, 30% were in initial development stages, and 21% had started farming.
[10]
The strikingly low proportion of projects that had initiated farming signifies the difficulties inherent in large-scale agricultural production in the developing world.
Investment in land often takes the form of long-term
leases
, as opposed to outright purchases, of land. These leases often range between 25 and 99 years.
[10]
Such leases are usually undertaken between national or district governments and investors. Because the majority of land in Africa is categorized as "non-private" as a result of government policies on public land ownership and a lack of active titling, governments own or control most of the land that is available for purchase or lease.
[12]
Purchases are much less common than leases due to a number of countries' constitutional bans on
outright sales of land to foreigners
.
The methods surrounding the negotiation, approval, and follow-up of contracts between investors and governments have attracted significant criticism for their opacity and complexity. The negotiation and approval processes have been closed in most cases, with little public disclosure both during and after the finalization of a deal. The approval process, in particular, can be cumbersome: It varies from approval by a simple district-level office to approval by multiple national-level government offices and is very subjective and discretionary.
[10]
In Ethiopia, companies must first obtain an investment license from the central government, identify appropriate land on the district level and negotiate with local leaders, then develop a contract with the regional investment office. Afterwards, the government will undertake a project feasibility study and capital verification process, and finally a lease agreement will be signed and land will be transferred to the investor.
[13]
In Tanzania, even though the Tanzania Investment Centre facilitates investments, an investor must obtain approval from the TIC, the Ministry of Agriculture, the Ministry of Lands and Housing Development, and the Ministry of Environment, among which communication is oftentimes intermittent.
[13]
[edit]Target countries
The target locations of most land grabs lie in the
Global South
, with 70% of land grabs concentrated in
Sub-Saharan Africa
.
[citation needed]
Other primary areas of note are in Southeast Asia and Latin America.
One common thread among governments has been the theme of
development
: Target governments tout the benefits of agricultural development, job creation,
cash crop
production, and infrastructure provision as drivers towards economic development and eventually modernization. Many companies have promised to build irrigation, roads, and in some cases hospitals and schools to carry out their investment projects. In return for a below-market-rate $10/ha annual payment for land, Saudi Star promised "to bring clinics, schools, better roads and electricity supplies to Gambella."
[14]
Governments also count new job creation as a significant feature of land acquisitions.
The issue of agricultural development is a significant driving factor, within the larger umbrella of development, in target governments' agreement to investment by outsiders. The Ethiopian government's acceptance of cash crop-based land acquisitions reflects its belief that switching to cash crop production would be even more beneficial for food security than having local farmers produce crops by themselves.
[15]
Implicit in the characterization of African agriculture as "underdeveloped" is the rejection of local communities' traditional methods of harvesting as an inadequate form of food production.
On a smaller scale, some deals can be traced to a personal stake in the project or possibly due to corruption or
rent-seeking
. Given the ad hoc, decentralized, and unorganized approval processes across countries for such transactions, the potential for lapses in
governance
and openings for corruption are extremely high. In many countries, the World Bank has noted that investors are often better off learning how to navigate the bureaucracies and potentially pay off corrupt officers of governments rather than developing viable, sustainable business plans.
[10]
[edit]Responses
Since 2010
Brazil
enforces in a stricter way a long-existing law that limits the size of farmland properties foreigners may purchase, having halted a large part of projected foreign land purchases.
[16]
In
Argentina
, as of September 2011, a projected law is discussed in parliament that would restrict the size of land foreign entities can acquire to 1000 hectare.
[17]
[edit]Types of land investment
Investors can be generally broken down into three types:
agribusinesses
, governments, and speculative investors. Governments and companies in Gulf States have been very prominent along with East Asian companies. Many European- and American-owned investment vehicles and agricultural producers have initiated investments as well. These actors have been motivated by a number of factors, including cheap land, potential for improving agricultural production, and rising food and biofuel prices. Building on these motivations, investments can be broken down into three main categories: food, biofuel, and speculative investment.
Forestry
also contributes to a significant amount of large-scale land acquisition.
Food-driven investments, which comprise roughly 37% of land investments worldwide, are undertaken primarily by two sets of actors: agribusinesses trying to expand their holdings and react to market incentives, and government-backed investments, especially from the Gulf states, as a result of fears surrounding national food security.
[10]
Agricultural sector companies most often view investment in land as an opportunity to leverage their significant monetary resources and
market access
to take advantage of underused land, diversify their holdings, and vertically integrate their production systems. The World Bank identifies three areas in which multinational companies can leverage economies of scale: access to cheap international rather than domestic
financial markets
, risk-reducing
diversification of holdings
, and greater ability to address
infrastructural
roadblocks.
[10]
In the past few decades, multinationals have shied away from direct involvement in relatively unprofitable primary production, instead focusing on inputs and processing and distribution.
[18]
When the food price crisis hit, risk was transferred from primary production to the price-sensitive processing and distribution fields, and returns became concentrated in primary production. This has incentivized agribusinesses to vertically integrate to reduce supplier risk that has been heightened by the ongoing food price volatility.
[13]
These companies hold mixed attitudes towards food imports and exports: While some concentrate on food exports, others focus on domestic markets first.
While company-originated investments have originated from a wide range of countries, government-backed investments have originated primarily from the food-insecure Gulf States. Examples of such government-backed investments include the government of Qatar's attempt to secure land in the
Tana River Delta
and the Saudi government's King Abdullah Initiative.
[19]
[20]
Additionally,
sovereign wealth funds
acting as the investments arms of governments have initiated a number of agreements in Sub-Saharan Africa. Since the population of the Gulf states is set to double from 30 million in 2000 to 60 million in 2030, their reliance on food imports is set to increase from the current level of 60% of consumption.
[21]
The director general of the Arab Organisation for Agricultural Development echoed the sentiment of many Gulf leaders in proclaiming, "the whole Arab World needs of cereal, sugar, fodder and other essential foodstuffs could be met by Sudan alone."
[13]
[edit]Biofuels
Biofuel production, currently comprising 21% of total land investments, has played a significant, if at times unclear, role. The use and popularity of biofuels has grown over the past decade, corresponding with rising oil prices and increased environmental awareness. The total area under biofuel crops more than doubled between 2004 and 2008, expanding to 36 million ha by 2008.
[22]
This rise in popularity culminated in EU Directive 2009/28EC in April 2009, which set 10% mandatory targets for renewable energy use, primarily biofuels, out of the total consumption of fuel for transport, by 2020.
[23]
Taken as a whole, the rise in biofuels popularity, while perhaps beneficial for the environment, sparked a chain reaction by making biofuels production a more attractive than food production and drawing land away from food to biofuel production.
The effect of the rise in popularity in biofuels was two-fold: first, demand for land for biofuel production became a primary driver of land sales in Sub-Saharan Africa; second, demand for biofuels production crowded out supply of traditional food crops worldwide. By crowding out food crops and forcing conversion of existing food-producing land to biofuels, biofuels production had a direct impact on the food supply/demand balance and consequently the food price crisis. One researcher from the IFPRI estimated that biofuels had accounted for 30 percent of the increase in weighted average grain prices.
[24]
[edit]Criticism
Large-scale investments in land since 2007 have been scrutinized by civil society organizations, researchers, and other organizations because of issues such as land insecurity, local consultation and compensation for land, displacement of local peoples, employment of local peoples, the process of negotiations between investors and governments, and the environmental consequences of large-scale agriculture. These issues have contributed to critics' characterization of much large-scale investment since 2007 as "land grabbing," irrespective of differences in the types of investments and the ultimate impact that investments have on local populations.
[2]
[edit]Land insecurity
One of the major issues is
land tenure
: In a 2003 study, the World Bank estimated that only between 2 and 10 percent of total land in Africa is formally tenured.
[13]
Much of the lack of private ownership is due to government ownership of land as a function of national policy, and also because of complicated procedures for registration of land and a perception by communities that customary systems are sufficient.
[13]
World Bank researchers have found that there existed a strong negative statistical link between land tenure recognition and prospective land acquisitions, with a smaller yet still significant relationship for implemented projects as well.
[10]
They concluded that "lower recognition of land rights increased a country's attractiveness for land acquisition," implying that companies have actively sought out areas with low land recognition rights for investment.
[10]
[edit]Local consultation and compensation
While commonly required by law in many host countries, the consultation process between investors and local populations have been criticized for not adequately informing communities of their rights, negotiating powers, and entitlements within land transactions.
[25]
Consultations have been found extremely problematic due to the fact that they oftentimes reach just village chiefs but neglect common villagers and disenfranchised groups. World Bank researchers noted that "a key finding from case studies is that communities were rarely aware of their rights and, even in cases where they were, lacked the ability to interact with investors or to explore ways to use their land more productively."
[10]
When consultations were even conducted, they often did not produce written agreements and were found to be superficial, glossing over environmental and social issues.
[10]
In Ghana and elsewhere, chiefs often negotiated directly with investors without the input from other villagers, taking it upon themselves to sell common land or village land on their own.
[10]
Moreover, investors often had obtained approval for their projects before beginning consultations, and lacked any contractual obligation to carry out promises made to villagers.
[10]
There is a knowledge gap between investors and local populations regarding the land acquisition process, the legal enforceability of promises made by investors, and other issues. The inability of villagers to see and study the laws and regulations around land sales severely deteriorates communities' agency in consultations. When consultations do occur with communities, some take place in spans of only two to three months, casting doubt on whether such short time frames can be considered as adequate consultation for such large, wide-reaching, and impactful events.
[19]
An additional concern with consultations is that women and underrepresented populations are often left outside during the process. Large-scale projects in Mozambique rarely included women in consultations and never presented official reports and documents for authorization by women.
[26]
This holds true when women are the primary workers on the land that is to be leased out to companies.
[27]
Meanwhile, pastoralists and internally displaced people were oftentimes intentionally excluded from negotiations, as investors tried to delegitimize their claims on land.
[10]
This led to a lack of awareness on the part of these vulnerable groups until lease agreements have already been signed to transfer land. This oversight in consultations further disenfranchises previously overlooked communities and worsens power inequities in local villages.
[edit]Displacement
Another criticism of investment in land is the potential for large-scale displacement and of local peoples without adequate compensation, in either land or money. These displacements often result in resettlement in marginal lands, loss of livelihoods especially in the case of pastoralists, gender-specific erosion of social networks.
[citation needed]
Villagers were most often compensated as according to national guidelines for loss of land, loss of improvements over time on the land, and sometimes future harvests.
[13]
However, compensation guidelines vary significantly between countries and depending on the types of projects undertaken. One study by the IIED concluded that guidelines for compensation given to displaced villagers in Ethiopia and Ghana was insufficient to restore livelihoods lost through dislocation.
[13]
There aret a number of issues with the process of relocating locals to other areas where land is less fertile. In the process of relocation, often changed or lost are historical methods of farming, existing social ties, sources of income, and livelihoods. This holds drastic impacts especially in the case of women, who rely greatly upon such informal relationships.
[28]
[edit]Employment
When not displaced, the conversion of local farmers into laborers holds numerous negative consequences for local populations. Most deals are based on the eventual formation of plantation-style farming, whereupon the investing company will own the land and employ locals as laborers in large-scale agricultural plots. The number of jobs created varies greatly dependent on commodity type and style of farming planned.
[10]
In spite of this volatility, guarantees of job creation are rarely, if ever, addressed in contracts. This fact, combined with the intrinsic incentives towards mechanization in plantation-style production, can lead to much lower employment than originally planned for. When employed, locals are often paid little: In investments by Karuturi Global in Ethiopia, workers are paid on average under $2 a day, with a minimum wage of 8 birr, or $0.48, per day, both of which are under the World Bank poverty limit of $2 per day.
[29]
[edit]Government negotiations
In addition to the lack of coordination between ministries, there is a wide knowledge gap between government-level offices and investors, leading to a rushed and superficial investment review. Many government agencies initially overwhelmed by the deluge of investment proposals failed to properly screen out non-viable proposals.
[10]
Due to the knowledge gaps between government agencies and investors, "in most countries it is implicitly presumed that investors will have the right incentive and be the best qualified to assess economic viability," leading to a lack of reporting requirements or monitoring arrangements, key information on land uses and value of the investment, and checks on economic viability.
[10]
The Sudanese government has been noted as having paid minimal attention to existing land rights and neglecting to conduct any economic analysis on potential projects.
[10]
In addition, many countries, including Cambodia, Congo, Sudan, and Ghana, have neglected to catalog and file even general geographical descriptions of land allocation boundaries.
[10]
One addition to many contracts between governments and investors is a Stabilisation Clause, which insulates investors from the effect of changed governmental regulations. Such clauses severely restrict the government's ability to change any regulations that would have a negative economic impact on the investment.
[13]
While advantageous for businesses, these stabilization clauses would severely hinder the ability of governments to address possible social and/or environmental concerns that become apparent after the beginning of the project.
[edit]Environmental impact
Land investment has been criticized for its implicit endorsement of large-scale
industrial agriculture
, which relies heavily on fertilizers, machinery and inputs, over smallholder agriculture.
[citation needed]
As foreign investors begin to develop the land, they will, for the most part, start a shift towards such large-scale agriculture to improve upon existing "unproductive" agricultural methods. The threat of the conversion of much of Africa's land to such large-scale agriculture has provoked a severe pushback from many civil society organizations such as GRAIN, La Via Campesina, and other lobbyists for small-scale agriculture.
[30]
Foreign investors, through large-scale agriculture, increase the effectiveness of underused resources of land, labor, and water, while further providing additional market connections, large-scale infrastructure development, and provision of seeds, fertilizers, and technology. Proposed increases in production quantity, as touted by investors and hosts, are exemplified by Ethiopia's Abera Deressa, who claims that "foreign investors should help boost agricultural output by as much as 40%" throughout Ethiopia.
[14]
However, large-scale mechanized agricultural production often entails the use of fertilizers and intensive farming techniques that have been criticized by numerous civil society actors as extremely ecologically detrimental and environmentally harmful over the long run.
[31]
Over time, such intensive farming threatens to degrade the quality of topsoil and damage local waterways and ecosystems. As such, civil society actors have widely accused land investors for promoting "not agricultural development, much less rural development, but simply agribusiness development."
[31]
This trend towards large-scale agriculture that overrides local knowledge and sustainable local farming runs directly counter to the recent IAASTD report, backed by the FAO, UNDP, World Bank, and others, that to increase food security over the long term, sustainable peasant agriculture must be encouraged and supported.
[32]
[edit]Neocolonialism
Foreign investment in land has been criticized by many civil society actors and individuals as a new realization of
neocolonialism
, signifying a renewed economic imperialism of developed over developing nations.
[33]
Critics have pointed to the acquisitions of large tracts of land for economic profit, with little perceived benefit for local populations or target nations as a whole, as a renewal of the economically exploitative practices of the colonial period.
[edit]Laws and Regulations Concerning Reporting of Foreign Investment in Land
A 2013 report found no available literature giving recommendations for how the UK could change its laws and regulations to require UK companies investing in land in developing countries to report relevant data.
[34]
The researcher looks at a literature review by
Global Witness
, the
Oakland Institute
, and the
International Land Coalition
from 2012
[35]
which states that there is little sustained focus on the extraterritorial obligations of states over overseas business enterprises.
[34]
The researcher found most available literature and policy on transparency in land investment focusing on: • Facilitating community engagement in planning decisions and enhancing community rights • Upgrading obligations/capacities of host governments to improve regulation of foreign-funded land deals. • Developing international frameworks to improve transparency in land deals.
[34]
He found this focus was confirmed by a range of other documents reviewing address international efforts to promote responsible investment in agriculture and recommended the International Working Group paper
[36]
and Smaller & Mann.
[37]
The researcher mentions a report by the
International Institute for Sustainable Development
stating a 'significant lack of concrete and verifiable' empirically-based policy and legal work on the issue of foreign investment in agricultural land
[34]
[38]
The researcher saw Smaller and Mann
[39]
note that in many host states like the UK 'there is either no, or insufficient or unclear domestic law concerning land rights, water rights, pollution controls for intensive agriculture, human health, worker protection and so on.
[34]
The researcher did find that international law framework provides hard rights for foreign investors with two primary sources of international law relating to this issue:
international contracts
, which are commercial in nature; and
international treaty law
on investment, with both bodies acting on a commercial perspective and focusing on economic interests of foreign investors, rather than social or environmental dimensions
[34]
[40]
He discussed the UN's Guiding Principles for Business and Human Rights
[41]
which address the extraterritorial obligations of states over overseas business enterprises and finds the principles do not provide any detailed discussion of the UK case, or of timeframes and costs.
[34]
[edit]Extraterritorial obligations of states over overseas businesses
The researcher studied a report by
Global Witness
, the
Oakland Institute
and the
International Land Coalition
which identifies four key entry points for improving transparency in large-scale land acquisition:
[35]
• transparent land and natural resource planning; • free, prior and 'informed' consent; • public disclosure of all contractual documentation; • multi-stakeholder initiatives, independent oversight and grievance mechanisms' • a range of additional entry points for future policy work and campaigning, which includes addressing the 'extra-territorial obligations of states over overseas business enterprises'.
[34]
He found the report stresses that 'further analysis is needed to identify the benefits and opportunities of each entry point, as well as potential limitations, challenges, and risks around future campaigns which would need to be addressed from the start' and notes that as of early 2013 there is a gap between the extent to which individual states fulfil their obligations to regulate businesses overseas, and 'the extent to which such regulations cover transparency and information disclosure'
[34]
[42]
The researcher found that the UN's Guiding Principles for Business and Human Rights, written by the former UN Special Representative to the Secretary General for Business and Human Rights, Professor John Ruggie
[41]
provide some discussion of how business enterprises need to undertake human rights due diligence suggesting that states 'should set out clearly the expectation that all business enterprises domiciled in their territory and/or jurisdiction respect human rights throughout their operations' and notes that 'at present States are not generally required under international human rights law to regulate the extraterritorial activities of businesses domiciled in their territory and/or jurisdiction.
[34]
He claims that they are not generally prohibited from doing so either, provided there is a recognised jurisdictional basis'
[43]
and says the report notes that some states have introduced domestic measures with extraterritorial implications. 'Examples include requirements on "parent" companies to report on the global operations of the entire enterprise; multilateral soft-law instruments such as the Guidelines for Multinational Enterprises of the Organisation for Economic Cooperation and Development; and performance standards required by institutions that support overseas investments.
[34]
The researcher found other approaches amount to direct extraterritorial legislation and enforcement including criminal regimes that allow for prosecutions based on the nationality of the perpetrator no matter where the offence occurs'
[34]
[44]
He read that the UN's Guiding Principles
[41]
propose that 'contracts should always be publicly disclosed when the public interest is impacted; namely cases where the project presents either large-scale or significant social, economic, or environmental risks or opportunities, or involves the depletion of renewable or non-renewable natural resources'
[34]
[45]
He found Global Witness et al
[35]
state that governments and businesses often claim that confidentiality is necessarily to protect commercially sensitive information contained in investment contracts.
[34]
[edit]Other relevant international Principles, Guidelines and Instruments
The researcher states that the Global Witness et al paper
[46]
details a number of international instruments that 'create obligations and responsibilities throughout all stages of decision-making around large-scale land investments', including the
International Covenant on Civil and Political Rights
; the
International Covenant on Economic, Social and Cultural Rights
; and the
Universal Declaration of Human Rights
.
[34]
He found several thematic binding agreements also examined in the report: the 1992
Convention on Biological Diversity
and the 1994
Convention to Combat Desertification
.
[34]
The UK encourages companies to abide by OECD guidelines for multinational enterprises which provide voluntary principles and standards for responsible business conduct for multinational corporations operating in or from countries adhering to the OECD Declaration on International Investment and Multinational Enterprises, including detailed guidance concerning information disclosure.
[47]
However they do not, provide any specific recommendations on land.
[34]
The researcher read the Global Witness et al
[35]
report also finds that 'a number of instruments offer companies the opportunity to associate themselves with a set of principles or goals that demonstrate
corporate social responsibility
' but most of these are largely 'declarative'.
[34]
Overall, he summaries that the report notes that although these various instruments 'recognise secrecy and lack of access to information to be a problem, they give almost no detail as to how it should be tackled in practice, nor do any mandatory provisions yet exist to ensure such an implicit aspiration is met'
[34]
[48]
[edit]Information issues
In a joint research project between the FAO, IIED, and IFAD, Cotula et al. found that the majority of host countries lacked basic data on the size, nature, and location of land acquisitions through land registries or other public sources, and that "researchers needed to make multiple contacts…to access even superficial and incomplete information."
[13]
The World Bank's own lack of land size information on over half of the reported land grabs that it researched points to the difficulties inherent in gaining access to and researching individual land acquisitions.
[10]
The European project
EJOLT
(Environmental Justice Organisations, Liabilities and Trade) is building a global map of land grabbing, with the aim to make an interactive online map on this and many other environmental justice issue by 2013. The project also produces in-depth resources on land grabbing, such as
this video on land grabbing in Ethiopia
.
[edit]Notable cases
In Madagascar, the anger among the population about land sales led to violent protests. The South Korean corporation Daewoo was in the process of negotiations with the Malagasy government for the purchase of 1.3 million hectares, half of all agricultural land, to produce corn and palm oil. This investment, while one of many pursued in Madagascar, attracted considerable attention there and led to protests against the government.
[49]
While some civil society actors claim that the Daewoo investment led to the fall of the Malagasy government, these claims are unsubstantiated.
In South Sudan, numerous large-scale land acquisitions have taken place in spite of the country's unresolved political and security situation. One of the most prominent, involving a former AIG partner named Philippe Heilberg, garnered attention in
Rolling Stone
for his provocative pursuit of land in conflict-ridden regions. Heilberg, who is planning to invest in 800,000 ha of land in partnership with many of South Sudan's top generals and civilian officials, attracted criticism with his remarks (regarding Africa and land grabbing) that "the whole place is like one big mafia — and I'm like a mafia head."
[50]
[edit]See also
http://en.wikipedia.org/wiki/Land_grabbing
World Bank policies "enabling" African land grab
News||14 September 2011
New research accuses the World Bank Group's policies of facilitating land grabs in Africa and favouring the interests of financial markets over food security and environmental protection.
Agriculture and the food crisis are a high-profile agenda topic at the upcoming World Bank annual meetings, and critical voices are growing on the Bank's approach to food price volatility (see Update
77
,
76
). Recent in-depth research by the US-based Oakland Institute raises further difficult questions on agriculture policy for Bank officials. The report implicates the World Bank Group (WBG) in the increasing acquisition of farmland in the developing world by private investors and wealthy nations, which critics are calling a global 'land grab' (see Update
76
,
72
,
71
,
68
). The investigative research, published between March and June, analyses a series of land deals in countries across Africa and finds that the purchases of land, often by large institutional investors, are mainly unregulated, produce few of the promised benefits to local people, and instead are forcing thousands of small farming communities off ancestral land, creating serious food insecurity and driving environmental destruction.
Writing in a blog for Reuters, Joan Baxter, a research fellow at the Oakland Institute, said that "more than any other institution or agency, the World Bank Group has been promoting direct foreign investment in Africa, and enabling the farmland rush." Their in-depth reports on Mali and Sierra Leone reveal how the WBG "has shaped the economic, fiscal, and legal environment … in a way that favours the acquisition of vast tracks of fertile lands by few private interests instead of bringing solutions to the widespread poverty and hunger."
The Oakland Institute finds that the WBG has, through an array of different policies, overseen a shift towards prioritising large-scale commercial agribusiness, achieved by attracting and promoting foreign agricultural investment. The Foreign Investment Advisory Service and the Remove Administrative Barriers to Investment program, both projects of the International Finance Corporation (IFC), the Bank's private sector arm, have "been working - often behind the scenes - to ensure that African countries reform their land laws and fiscal regimes to make them attractive to foreign investors" (see
Update 68
). The Bank has financed legal reform mechanisms that are promoting rapid changes in land tenure laws, "driven by a desire to facilitate large-scale agricultural investment".
The Bank has also been funding investment promotion agencies in African countries that place private sector advisors in key governmental ministries, including presidential offices. This was a key part of the Growth Support Project for Mali, financed by a loan from the International Development Association (IDA), the Bank's low-income country arm. The salaries of the directors of the Malian investment promotion agency are covered by the IDA loan. The agency also includes IFC consultants, and guarantees investments through the Multilateral Investment Guarantee Agency (MIGA), the Bank's risk insurance arm.
Baxter observes that these agencies "are developing and advertising a veritable smorgasbord of incentives not just to attract foreign investment in farmland but also to ensure maximum profits to investors. These include extremely generous tax holidays for 10 or even 30 years, zero per cent duty on imports, and easy access to very large tracts of land, sometimes over 100,000 hectares. Investors may pay just a couple of dollars per hectare per year for the land, and in Mali, sometimes no land rent at all."
RAI principles found wanting
The reports from both Sierra Leone and Mali also argue that the land deals facilitated by the Bank's investment promotion policies fail to comply with it's own large-scale responsible agricultural investment principles (RAI, see Update
76
,
71
). The report on Sierra Leone says the RAI principles are "vague and minimal", and are "based on the controversial assumption that industrial-style agriculture and land use can increase food production and fuel economic growth in host countries", and "do not consider the overall questions about the enormous risks and inherent injustices of the global rush by investors and nations for farmland". It argues that that land deals in Sierra Leone do not conform to the RAI principles, while the Mali report argues that the "Bank ignores its own principles by supporting institutions and policy reforms that disregard them."
The RAI's have also come under fire for legitimising corporate land grabs in a recent press statement by social movement Via Campesina. Released before the meeting of G20 agriculture ministers in June, it states that the "World Bank initiative to make land grabbing more socially acceptable is no solution at all. The Principles for Responsible Agricultural Investment (RAI) are set up to legitimise land grabbing from small holders."
Meanwhile, the IFC has dropped a controversial proposed investment in a company accused of land grabbing. It had planned to lend $30 million to Calyx Agro Ltd, an Argentinean subsidiary of a French owned commodities trading company. Calyx Agro holds farmland across South America. In June a group of NGOs and social movements, including Via Campesina and Focus on the Global South, sent a letter to IFC head Lars Thunell opposing the investment. The letter states that "at a time when social movements in Latin America and around the world are calling for a stop to the 'farmland grab' and where many of the region's governments are pursuing measures to restrict foreign investment in their farmland, it is unacceptable for a multilateral institution like the World Bank to be offering direct support to some of the world's leading actors involved in land grabbing."
Related articles
http://www.brettonwoodsproject.org/art-568890
Land grabbers get ready to drive their diggers across Africa. Photo: Oxfam
Taking land grabs campaigning to the heart of the World Bank
This week we're manically busy and absolutely loving it as we continue to make some noise about our
new land grabs
campaign.
It's the
World Bank
Annuals in Tokyo; not normally an event to get the pulse racing. However, even though it sounds a bit grey, it's majorly exciting to us
GROW
campaigners. We're taking our campaign to stop land grabs right to the heart of the World Bank. Bank staff, Directors and their new President Jim Kim are here to talk about their priorities in helping the world's poorest people. And as you might have seen in our brilliant
Thunderclap
earlier this week we're asking the World Bank to make a crucial step in sorting hunger and food prices.
With the support of thousands of people around the world we're calling on the World Bank to freeze their investments in big land deals for six months while they make sure that they work for the world's poorest people. Currently, rich land investors are buying up large tracts of land across Africa and beyond - an area the size of a soccer pitch is bought
every second
. Too many of these deals are tearing communities apart as people are thrown off the land that they rely on to grow food. Without proper oversight of these deals, we can expect more horrific examples like this
land grab in Guatemala
. That's where the Bank, as a major lender to investors and an international standards setter, plays a key part.
So yesterday we decided to give these shady land investors a face at the World Bank meetings and hosted a stunt where
Oxfam Japan
volunteers dressed up in suits, jumped on toy diggers, and drove wildly around a huge floor map of Africa, which was made of food. They dug into the food, and ran riot over the continent.
The stunt was a great way of engaging with Oxfam Japan's young volunteers, who were keen to ask questions about all the other great campaigning on land happening around the world - they couldn't believe we'd driven huge bulldozers round London last week!. As their Advocacy Manager Takumo Yamada noted, "I think today we witnessed the birth of six new young campaign addicts in a country where social activism has been forgotten for decades". That feels great!
It's exciting times as we urge the Bank to agree a land freeze and to do what it takes to reduce hunger and human rights abuses. if you'd like to get involved then
join the campaign
1304 - 1303 The World Bank and the private sector: partners in land grabbing?
The World Bank Group (WB-G) has been preparing the ground for the private investment in Africa by encouraging the commercialisation of farmland through its investment and structural adjustment programs in Africa. Equally, the World Bank has been supervising land reforms in several African countries, with the aim to establish a western-styled property system. The Millennium Challenge Account (MCA) is building on this preparatory work and promotes private sector interest in African agriculture. In what follows we offer a brief overview of the World Bank's role in the commercialisation of farmland and then an introduction to the MCA.
Since the end of the nineties, agencies of the WB-G, mainly the International Finance Corporation (IFC), its private sector branch, and the Foreign Investment Advisory Service (FIAS) have worked as advisors offering technical assistance and advisory services to African governments. They have been imposing their strategies under the pretext of facilitating and attracting foreign investments to the country. African governments have accepted these conditionalities to receive aid from the World Bank and other donors that channel their aid through it. The IFC has supported the creation of several Investment and Export Agencies (IEAs) and financed the establishment of National Access Leasing Companies in Africa. These structures focus principally on attracting foreign investors and urge them to take advantage of the opportunities linked to "unused" land; some IEAs even established a land bank to regroup such "idle" land suitable for investment.
Around the 80's, the WB-G started promoting land reform policies, with an emphasis on western-styled land titling and registration, in African countries. The WB-G philosophy focused on privatising land rights in order to make them compatible with the market economy and the western system of individual tradable property rights.
[1]
However, such a system is far away from the African reality; the African concept of "the land of the ancestors" that provides food and resources for the enlarged family stands in stark contrast with most business investors' view of land as a profitable production factor in the short term.
Another threat to African farmers and their farmland is the
Millennium Challenge Account
(MCA). The MCA is a US government programme which manages US foreign assistance and the
Millennium Challenge Corporation (MCC)
is the agency that administers the MCA-programs. The difference with a regular development agency is that private sector officials take part in the leadership structure. The MCA shares many characteristics with structural adjustment policies, in particular its mechanism of conditionality. The beneficiaries can receive grants on the
condition
that the country is endorsing neo-liberal policies, like eliminating all barriers to trade, creating an attractive investment climate and access to secure land tenure through the creation of a private land market. There are two types of funding mechanisms, the
Compact
and
Threshold
programmes. The Compact is the full funding programme for countries that have implemented the most neo-liberal policies. The Threshold awards smaller grants and incentivizes governments to implement more neo-liberal policies. Many Sub-Saharan African countries are lining up for these funding programmes: 13 countries have Compact programmes and 6 more are in the Threshold programme. The African governments implement the programmes with the assistance of assigned consultants mainly from USAID and multinational companies. Currently, most of the compacts focus on agriculture, which is currently an important target sector for foreign investors. The primary objective of the MCC is the privatization of land in order to make it a tradable commodity.
In several African countries, the local governments have delegated
the elaboration of land policy/system reforms to multinational companies
.
[2]
As such, there is a significant risk of corporate capture of African agriculture through these programmes.
Even when the population clearly rejects such a western-styled formal land reform promoted by international donors, as in Benin, the Millennium Challenge Account (MCA) continues to promote these reforms.
[3]
The main objective of the MCA-Benin is to facilitate investor access to land through private property laws with a focus on tradable title deeds
, re-allotment of land and digitalization of land data. In Benin, a multinational company is mapping the quality of the land, its resources and the availability of water and is compiling this data in a numerical database. The result of this mapping exercise will provide a digital tool allowing foreign land grabbers and speculators to buy land from behind their computers screens abroad. In Ghana, the compact of the MCC is focused on increasing pineapple production for export markets. For this purpose, Awutu Efutu Senya was designed as a pilot area and firstly consultants mapped the zone through satellite images. On the basis of this map, consultants started developing a land property system based on individual title deeds with a market value. Result: today local pineapples exporters have completely disappeared while in 2004 there were still 65 pineapple exporters. The export market is completely under the control of two multinational companies and three foreign subcontractors. Moreover, the local population's food production and access to land has diminished.
[4]
This foreign-promoted land reform is not suitable for the Africa; only a system that allows for collective registration of community lands that protect "customary" land rights is appropriate for Africa.
The WB-G strategy and the growing private sector involvement in African agriculture has increased foreign large-scale land grabs in Africa. These investments undermine the well-being of local communities, both in terms of land rights local food production, income and access to water and other resources. This perverse trend equally threatens global food security and livelihoods of family farmers. The EU has political weight in the WB-G structure through its close partnership with the WB-G and through the considerable voting rights of its member states. Therefore, we urgently call on the EU and its member states to change their stance and speak out at the World Bank to put a stop to WB policies and activities that promote land grabbing in Africa. Equally, private-public partnerships with detrimental effects should be avoided. In particular, the policy-makers of the G8's New Alliance on Food Security and Nutrition should prevent the multinational companies and agribusiness from taking over African agriculture, because this harms family farmers.
Begoña Iñarra Gino Brunswijck
Executive Secretary Policy Officer
---