Good move from the Congo Government. Cheers !!! Judy Miriga
Diaspora Spokesperson
Executive Director
Confederation Council Foundation for Africa Inc.,
USA
http://socioeconomicforum50.blogspot.com
Africa Gets Its First Computer Tablet--The Way-C
Wednesday, April 11, 2012
Africa has gotten its first computer tablet. Called the Way-C, the tablet went on sale in the Republic of Congo last month.
There has been much excitement about the Way-C. "People want just to touch and then compare it to products that are commercially available. They realize the Way-C offers the same features found in other tablets," says the 26 year-old Way-C inventor Verone Mankou, CEO of VMK. The only difference is the price. The Way-C is two or three times cheaper than others on the market. The choice is clear for users."
The Way-C, which means "the light of the stars" in a dialect of northern Congo, measures 19 x 17 x 1.2 centimetres and weighs 380 grams and has integrated Wi-Fi circuitry and a 4.0 GB memory. According to Mankou, it is equivalent to others currently found on the market, such as Apple's iPad.
"For a long time, I was looking for the best ways to democratize the Internet, without having to go through such "logical" means as PC, Notebooks, etc.," says Mankou. "Africans, though they don't have great buying power, want a product of the same quality as that available in the West for a very low price. This is where we think that we cannot only be in the game, but own the game. We will propose that products of very good quality at very affordable prices be available. Africa must also provide an alternative technology because the hi-tech market is growing; I would say it is the only market in the world where a four-digit growth is still possible." 

Conceived in the Congo and assembled in China, the Way-C was conceived in 2006 and publicly announced in September 2011.The product's financing of the project, costs more than 80 million CFA francs (around $150,000), mainly provided by VMK.
The Way-C sells for 150,000 CFA francs ($299). For now, the Way-C will be sold exclusively in Airtel Congo stores in Brazzaville and Pointe-Noire, a private mobile telephone company which is a subsidiary of the Indian group Bharti. Mankou's firm, VMK, inked a deal with Bharti. Eventually, the Way-C will be marketed in 10 West African countries, and in Belgium, France and India.
Mankou has major plans for the Way-C. "Our ambitions do not stop at the shelf, since the Way-C, followed closely by a Smartphone, "RS1" and its launch date announced for May 25... Also, we've thought, since the beginning of the adventure, about one day having an assembly plant here in Congo. This would make our country an exporter of computer products--a first in the region."
If Mankou VMK can make the Way-C in Africa, and export the tablet it could open up a lucrative industry for the Congo. According to IT research firm Gartner, worldwide media tablet sales totaled 63.6 million units in 2011, an increase of 261.4% from 2010 sales of 17.6 million units.
Congo issues warrants for former M23 rebel leaders
KINSHASHA, Congo (AP) — A government spokesman says Congo has issued international arrest warrants for four former leaders of the M23 rebel group believed to be in Rwanda.
In a statement published late Friday, Lambert Mende said the warrants for crimes against humanity, war crimes, torture and other offenses were transmitted to Kigali Thursday. The statement said Congo was ''awaiting with interest'' a response from Rwanda, which denies backing the rebel group despite evidence from United Nations experts and rights groups.
M23 formed in eastern Congo last year and briefly captured the city of Goma last November.
The leaders are former M23 president Jean-Marie Runiga and military commanders Baudouin Ngaruye, Eric Badege and Innocent Zimurinda. U.N. High Commissioner for Human Rights Navi Pillay has said Ngaruye and Zimurinda may be responsible for war crimes.
M23 Rebels Said to Flee Rumangabo After Congo Army Airstrikes
Congo News Agency - July 25, 2013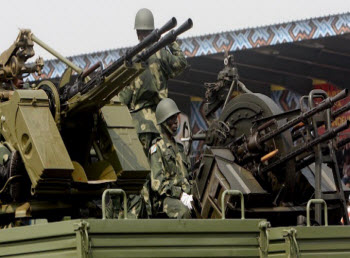 Congolese army soldiers, known as FARDC (File Photo) |
Enlarge
The M23 rebels are said to have fled from one of their main military bases in North Kivu province. The Rumangabo military base was shelled by Congolese army attack helicopters on Wednesday. The airstrikes are said to have inflicted heavy losses to the M23 rebels, who did not expect such an attack.
The loss of Rumangabo, a strategic military camp that the rebels took from the army a year ago, may prove a turning point in the Congolese army's push to regain more territories occupied by the rebels.
Multiple sources indicate that the rebels fled Rumangabo after the attack and are headed towards Kibumba, another rebel stronghold.
The M23 rebels have incurred heavy losses since fighting resumed this month and are said to be in disarray, while the Congolese army continues a slow advance towards their strongholds.
High-Level Debate on DR Congo at the UN
Today at 10 am EST
, the United Nations Security Council will host a debate on the crisis in the Democratic Republic of the Congo (DRC). The U.S. Secretary of State John Kerry will preside over the meeting. The council will be briefed by World Bank head, Jim Young Kim, UN Secretary General Ban Ki-moon, and the Secretary-General's Special Envoy for the Great Lakes region, Mary Robinson.
The meeting is expected to produce a presidential statement and reinforce support for the
February 24th peace framework
. Many developments have taken place since the first meeting of the regional oversight mechanism for the Peace, Security and Cooperation Framework for the DRC in Addis Ababa on May 26th. During the meeting President Jakaya Kikwete of Tanzania
called on Rwanda and Uganda to enter into dialogue
with their rebel groups (mainly FDLR and ADF-NALU) inside the DRC. President Kikwete's call for dialogue drew the
ire of Rwanda's President Paul Kagame
. During President Obama's visit to Africa in June, while in Tanzania he said "
The countries surrounding the Congo, they've got to make a commitment to stop funding armed groups that are encroaching on the territorial integrity and sovereignty of Congo.
"
This week, in conjunction with a
Human Rights Watch report
documenting continued support for the M23 militia by the Rwanda government, the U.S. government again called for Rwanda to immediately cease its support of the M23 militia. U.S. State Department spokeswoman Jen Psaki said
"We call upon Rwanda to immediately end any support for the M23 (and) withdraw military personnel from eastern DRC."
The Obama Administration is getting pressure to take greater action against its long-standing ally, Rwanda. The Washington Post Editorial Board in its July 24th Editorial said the
"U.S. needs to push for sanctions on Rwanda to help Congo."
U.S. law calls on the Obama Administration to hold its Rwandan ally accountable.
Section 105 of Public Law 109-456
, the law that President Obama sponsored as senator and co-sponsored by Hillary Clinton and John Kerry, authorizes the Secretary of State to withhold aid from Congo's neighbors, should they destabilize the country. The Obama Administration has yet to fully implement this law.
@@@@@@@@@@@@@@@@@@
Good People !!

Think your friends should see this? Share it with them!
Join with us to stop President Kagame of Rwanda with Museveni of Uganda from invading neighbours and killing with causing people pain
and suffering, stealing neighbouring land and resources. They must
also be charged for Human Rights Crime, Violation and Abuse including
pollution to the environment resulting to destruction of nature with bad
climatic condition.
Do what you can, how you can and engage in your own ways and means so we all can defeat evil and weakedness and achieve peace
and unity for common good of all; in pursuit for Liberty and happiness.
Yes, it is time for pay-back........!!!
Judy Miriga
Diaspora Spokesperson &
Executive Director for
Confederation Council Foundation for Africa
USA
Published: July 24, 2013 at 12:28 PM
WASHINGTON, July 24 (UPI) --
There is a "credible body of evidence" to support allegations Rwanda is aiding rebels fighting in the Democratic Republic of Congo, the U.S. government said.
Human Rights Watch published a report this week saying it had evidence taken from first-hand accounts of Rwandan support for the March 23 Movement, which last year occupied parts of eastern DRC.
The Rwandan government denies the allegations. Battle lines in eastern DRC are similar to those of the Rwandan genocide in the 1990s.
U.S. State Department spokeswoman
Jen Psaki
said Secretary of State
John Kerry
is expected Thursday to discuss the security situation in DRC with international and regional delegates during a meeting of the National Security Council.
Psaki said Tuesday the government was taking the allegations raised by Human Rights Watch seriously.
"We believe there is a credible body of evidence that supports the key findings of the Human Rights Watch report," she said during a press conference. "We call upon Rwanda to immediately end any support to the M23 [and] withdraw military personnel from eastern DRC."
U.S. Rep. Ed Royce, R-Calif., chairman of the House Foreign Affairs Committee, sponsored a successful resolution in June calling on President
Obama
to mobilize a "comprehensive response" to prevent the further deterioration of regional peace.
Read more:
http://www.upi.com/Top_News/Special/2013/07/24/US-wary-of-Rwandan-role-in-DRC/UPI-53091374683282/#ixzz2a7M7Uyn1
Take sides. Neutrality helps the oppressor, never the victim. Silence encourages the tormentor, never the tormented. E. Wiesel
On November 20th, the rebel army M23 took over Goma, a major city in eastern Congo. M23 has executed children in the streets and as a result of the fighting, 800,000 people are displaced.
They must be stopped.
Share your protest
Tweet this message to the US Ambassador to the United Nations, Susan Rice and the White House.
This year, two UN reports have provided overwhelming evidence that M23 is receiving funding, weapons and leadership from the governments of Rwanda and Uganda. 45% of Rwanda's funding comes from the U.S. and other western governments. To stop the march of M23, we must cut their funding. We are calling for international sanctions on Rwandan and Ugandan officials supporting M23.
We the people are asking for:
The U.N. Security Council to expand targeted sanctions against all officials and parties that are blocking peace – from M23, Rwanda, Congo, and Uganda.
The U.S. to freeze all bilateral military financing to the governments of Rwanda and Uganda until M23 leaves North Kivu.
Rwanda's Paul Kagame warned he may be charged with aiding war crimes
US tells president he could face prosecution for arming groups that carried out atrocities in Democratic Republic of Congo
guardian.co.uk
,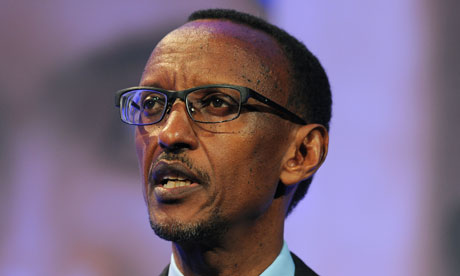 Paul Kagame can count on Tony Blair as one of his strongest supporters. Photograph: Wpa Pool/Getty Images
The head of the US
war crimes
office has warned
Rwanda
's leaders, including President Paul Kagame, that they could face prosecution at the
international criminal court
for arming groups responsible for atrocities in the Democratic Republic of Congo.
Stephen Rapp, who leads the US Office of Global Criminal Justice, told the Guardian the Rwandan leadership may be open to charges of "aiding and abetting" crimes against humanity in a neighbouring country – actions similar to those for which the former Liberian president,
Charles Taylor
, was jailed for 50 years by an international court in May.
Rapp's warning follows a damning
United Nations
report on recent Rwandan military support for M23, an insurgent group that has driven hundreds of thousands of people from their homes since April as it has seized territory in the eastern DRC.
The group is led by Bosco Ntaganda, known as the Terminator, who was indicted by the international criminal court six years ago for war crimes including the forced recruitment of child soldiers. The UN report accuses Rwanda of shielding Ntaganda from justice.
On Saturday,
Washington said it would halt some military aid to Rwanda after the UN report
.
The aid freeze and Rapp's public intervention mark a significant shift away from once-solid US support for Kagame, which was rooted in lingering guilt over international inaction during the 1994 genocide of Rwandan Tutsis.
Rapp, who previously served as chief prosecutor at the Rwanda genocide tribunal and later initiated the prosecution of Taylor over his crimes as president of
Liberia
in supporting rebels in neighbouring
Sierra Leone
, said Rwandan support for M23 and other armed groups "has to stop" because it "maintains the lawlessness and at the end of the day enables the ongoing commission of atrocities".
"There is a line that one can cross under international law where you can be held responsible for aiding a group in a way that makes possible their commission of atrocities," he said.
"Charles Taylor never set foot in Sierra Leone, and aided and abetted, and was convicted of aiding and abetting, the Revolutionary United Front with assistance that was substantial and, the judges said, without which the RUF could not have committed the atrocities to the extent they did commit them. Because of that evidence, Charles Taylor was convicted and sentenced to 50 years."
Rapp said the evidence by the UN group of experts of Rwandan government support for M23 and other armed groups, including sending weapons and troops into the DRC, exposed Kagame and other senior officials to investigation for war crimes.
"At this stage, I'm not sure if we are there in terms of criminal conduct," he said. "But if this kind of thing continued and groups that were being armed were committing crimes … then I think you would have a situation where individuals who were aiding them from across the border could be held criminally responsible."
The UN report, by a group of experts appointed by the security council, said it had "found substantial evidence attesting to support from Rwandan officials to armed groups operating in the eastern DRC", including shipping weapons and money to M23 in breach of a UN arms embargo and other sanctions.
"Since the earliest stages of its inception, the group documented a systematic pattern of military and political support provided to the M23 rebellion by Rwandan authorities," it said.
The report said the Rwandan government gave "direct assistance in the creation of M23 through the transport of weapons and soldiers through Rwandan territory", and recruited Rwandan youths, demobilised ex-combatants and Congolese refugees as M23 fighters.
It also offers evidence of "direct Rwandan Defence Forces (RDF) interventions into Congolese territory to reinforce M23" and "support to several other armed groups".
"RDF operational units are periodically reinforcing the M23 on the battlefield against the Congolese army," it said.
Many M23 members formerly served in another Rwandan-backed militia, the National Congress for the Defence of the People (CNDP), which was responsible along with other militias for widespread atrocities over several years, including ethnic killings and mass rape. Ntaganda was the CNDP's military chief.
The experts accuse Rwanda of shielding Ntaganda from prosecution by the ICC for war crimes.
"Rwandan officials have insisted on impunity for their armed group and mutineer allies, including ex-CNDP General Bosco Ntaganda," they said.
Earlier this week, Kagame denounced western criticism of Rwanda's role in the DRC and blamed the continuing conflict on foreign powers that "don't listen", as well as the continuing threat from anti-Tutsi extremist forces, led by Hutus responsible for the
1994 genocide
.
"This problem has not been caused by Rwanda and it has not been abetted by Rwanda," said Kagame. "Actually the problem of DRC came from outside. It was created by the international community, our partners, because they don't listen … and in the end they don't actually provide a solution. They just keep creating problems for us. We know better our problems, we know better about this region's problems."
Kagame also denied arming M23.
"The international community was saying that Rwanda is helping rebels, but helping them with what, and for what reason? They say we supply them with ammunition, but these people get guns from the Congolese army. The ammunition they have is from their Congolese armouries," he said. "We are not supplying even one bullet, we have not and we will not."
Kagame rejected accusations that Rwanda is shielding Ntaganda from the ICC. He said he told DRC's government that it should deal with the renegade general, but warned that arresting Ntaganda would only create more conflict.
"After that, members of the international community developed an idea that if Rwanda can't support them to arrest someone in another country, then they would put us together with those they want to arrest, and this is really how it turned out to be," he said.
The Rwandan leadership has faced accusations from the UN before, but the latest report has exposed it to unusual public criticism from Washington.
"We have a lot of influence with the Rwandans. We've been very supportive of them. We're prepared to speak frankly to them as we have privately in the past, and now publicly," Rapp said. "M23 was reinforced by Rwanda, and that has to stop. And that's the message we're delivering."
The US and Britain have long been accused of shielding Kagame from criticism over Rwanda's support for armed groups in the DRC and its plunder of minerals there.
Tony Blair, the former British prime minister, has been among the Rwandan president's strongest supporters
, praising him as a "visionary leader" for the reconstruction and economic development of his country after the genocide.
Rwanda's invasion of what was then Zaire in 1996 to clear out refugee camps sheltering armed groups responsible for the genocide two years earlier was quietly backed by Washington and London, which did not challenge a second invasion two years later and Kigali's attempt to create a proxy administration in eastern DRC using loyal armed groups.
But the solid public support of Kagame grew increasingly difficult to defend given the scale of the suffering in DRC, with hundreds of thousands murdered and millions dying from disease and malnutrition caused by the conflict, and untold numbers of women raped, often repeatedly.
Earlier UN reports accused Kagame's forces of war crimes, including possibly genocide, in the eastern DRC. Others have criticised the increasingly authoritarian nature of the Rwandan president's rule, including the effective barring of political opposition.
DRC Official Applauds US Aid Cut to Rwanda
M23 rebel fighters rest at their defense position in Karambi, eastern Democratic Republic of Congo (DRC) in north Kivu province, near the border with Uganda, July 12, 2012.
An official of the Democratic Republic of Congo said he hopes the U.Ss decision to withhold $200,000 of military aid to Rwanda will help enhance efforts to restore peace to the Great Lakes region.
The United States cut its military aid to Rwanda saying it had evidence that Kigali was supporting Congolese rebel groups, including M23. The Rwandan government has repeatedly denied helping the rebels.
Rwanda's Foreign Affairs Minister, Louise Mushikiwabo, told the French Press Agency (AFP) that "Rwanda is neither the cause nor the enabler of instability in the eastern Democratic Republic of Congo."
But, Congo's information minister, Lambert Mende, said the U.S. decision to cut its aid to Kigali reinforces his government's claim that Rwanda has been supporting Congolese rebel groups.
"We think that this is a very positive signal to have Rwanda cooperate with the pacification of this region that has suffered a lot. It is a good move because it is a matter of life of death for millions of Congolese, who have suffered a lot during the last 20 years," he said.
Although the U.S. action cuts off aid allotted to a Rwandan military academy, U.S. spokesman Darby Holladay reportedly said Washington will continue to provide assistance to Rwanda to enhance its capacity to support peacekeeping missions.
Mende said, even though the DRC has problems with some criminal elements, it does not want to see a cut-off of aid to Rwanda.
"For us, the problem is not to make Rwanda disappear. It's a neighboring country; they are brothers and sisters. Though we are having some criminal networks there, we have to live together. So, what we need is such [a] signal that a country like the United States sends such a message to tell Rwanda to be cautious with the security on the Congo and Rwanda border," Mende said.
The Rwandan government has repeatedly denied helping Congolese rebel groups. Foreign Affairs Minister Louise Mushikiwabo told the French press agency (AFP) that "Rwanda is neither the cause nor the enabler of instability in the eastern Democratic Republic of Congo."
Mende said Rwandan meddling in DRC is a known fact.
"I think that we are not the only one to have given such information. This information has been confirmed by many other sources, and now I think that the government of the United States is confirming this information," he said.
Washington's withholding of military aid comes a week after the presidents of Rwanda and the DRC agreed to the deployment of an international force to fight the rebellion in eastern Congo and to patrol their border.
Mende said it is time for Rwanda to move beyond denial to neutralizing the M23 rebels.
Butty interview with Mende
"We think that we [are] in a state of implementing what we have convened with Rwanda and nine other countries of the region in Addis Ababa," he said.
He said the DRC government has already written to the UN Security Council and the African Union to expedite the implementation of the task force as soon as possible.
"We have even proposed that the mandate of MONUSCO [the UN Stabilization Mission in the DRC] be transformed so as to give MONUSCO a way of being that force. But, we have to wait for feedback from New York and from Addis Ababa," Mende said.
Mende described the M23 rebellion as an aggression from abroad and that the Kinshasa government is not ready to negotiate with people he accused of trying to import ethnic war into the DRC.
"We have chased them from our army; we have launched even warrants of arrest against them, but they are not part of the problem and they are not going to be part of the solution," he said.
Congo DRC: News Update
By Tina, on June 24th, 2004
Waiting in the Wings As Congo Wobbles
The likelihood of open war breaking out in the Democratic Republic of Congo is increasing after ethnic tensions similar to those that sparked off the 1994 Rwandan genocide took hold of the southern city of Bukavu early this month.Monitor
Government Troops to Restore Order, Disarm Hutu Rebels
Loyal army troops in eastern Democratic Republic of Congo (DRC) will help disarm, demobilise and repatriate Rwandan Hutu militants implicated in the 1994 Rwandan genocide, DRC government spokesman Kudura Kasongo said Wednesday in Kinshasa; his nation's capital.
World Court Probes UPDF in DR Congo
Armies that participated in the DR-Congo war should be very afraid. The International Criminal Court has, in a move welcomed by Amnesty International and Human Rights Watch, announced it is starting investigations of war crimes and crimes against humanity during the DR-Congo conflict that has left at least 3.3 million people dead. IRIN
Government Names Suspects in March Coup Attempt
The government of the Democratic Republic of Congo identified on Wednesday 13 masterminds behind the March coup attempt in the capital, Kinshasa, many of whom were military and ex-presidential guards. IRIN
International Court to Investigate War Crimes
The chief prosecutor of the International Criminal Court, Luis Moreno-Ocampo, will open an investigation into alleged war crimes committed in the Democratic Republic of the Congo since 1 July 2002. Monitor
Is Kabila Stoking East Congo Fires?
On May 28, the Democratic Republic of the Congo (DRC) Foreign Affairs Minister Antoine Gonda told a news conference in Kigali that he had come to convey his President's message to President Paul Kagame, that the government in Kinshasa was satisfied that Rwanda had nothing to do the with fighting between the DRC forces and units of their own army in Bukavu, South Kivu.
- See more at: http://agonist.org/congo_drc_news_update/#sthash.wcLxsaD2.dpuf
Kerry to chair UN Security Council meeting to push for implementation of Congo peace deal
By EDITH M. LEDERER Associated Press
July 02, 2013 - 7:28 pm EDT
UNITED NATIONS — U.S. Secretary of State John Kerry will preside over a ministerial meeting of the U.N. Security Council this month to push for implementation of a peace accord signed by 11 African nations to end years of fighting in eastern Congo.
Acting U.S. Ambassador Rosemary DiCarlo, the council president for July, told reporters Tuesday that the United States wants to keep the spotlight on the Feb. 24 peace accord, encourage signatories to live up to their commitments and underline the need to tackle the underlying causes of the conflict in the region.
In a report to the council late Monday, Secretary-General Ban Ki-moon said the signing of the agreement and the diplomatic and political initiatives that followed have raised expectations that the crisis could be resolved.
The agreement has contributed "to containing the protracted crisis," he said. "However, the situation remains tense with episodes of deadly fighting indicative of its continuing volatility."
The Congo conflict is a spillover from the 1994 genocide in neighboring Rwanda. Hundreds of Hutus who participated in the mass slaughter escaped into Congo and still fight there.
DiCarlo said the July 25 council meeting chaired by Kerry will include briefings by the secretary-general, World Bank President Jim Yong Kim, U.N. special envoy for Africa's Great Lakes region Mary Robinson and representatives from Congo, Uganda and the African Union. Rwanda, which is serving a two-year term on the Security Council, is also sending a high-level representative, she said.
The signatories of the peace deal include Rwanda and Uganda, which were accused in a U.N. report last year of helping aid the M23 rebel group which swept through eastern Congo in 2012 and captured Goma in November but pulled out under international pressure. The M23, whose movement began in April 2012 when hundreds of troops defected from the Congolese armed forces, is an incarnation of a group of Congolese Tutsi set up to fight the Rwandan Hutu rebels in Congo.
Both Rwanda and Uganda deny aiding the M23. A report this weekend by U.N. experts monitoring sanctions against Congo said Rwandan support for the M23 movement has waned but not ended in the past six months.
The secretary-general's report said the recurring cycle of violence in eastern Congo "poses a major obstacle to the consolidation of peace and greatly undermines ... Congo's development prospects." This is compounded by years of mistrust between Congo and its eastern neighbors, which include Rwanda, Burundi and Uganda, he said.
Ban said he is nonetheless encouraged to see leaders in the region continuing to talk to each other. He also welcomed the resumption of talks in Uganda between the Congolese government and the M23, saying they remain "a viable option for finding a peaceful solution to the crisis."