ADECRU | 17 April 2013 |
food sovereignty
,
laws & policies
|
Mozambique
(Download a PDF of
the original declaration in Portuguese
)
ADECRU Position on "The New Alliance for Food Security and Nutrition in Africa"
On April 10 and 11, the G8 – the group of eight countries considered to have the world's most developed economies – the Government of Mozambique, transnational corporations and multilateral financial institutions met in Maputo to officially launch the latest and most violent phase of 21st century structural adjustment, masquerading as the so-called "New Alliance for Food Security and Nutrition in Africa".
The New Alliance arises from an agreement put forward by the President Barack Obama and the U.S. government at the G8 summit in L'Aquila, Italy in 2009, and signed by some 40 governments, financial institutions and multilateral organisations. The G8 argues that this initiative will allow it to cooperate with African governments to lift 50 million Africans out of poverty – including 3.1 million in Mozambique – in the decade between 2012 and 2022.
Six – out of an expected total of 20 – African countries have already signed up to the new agreement: Burkina Faso, Côte d'Ivoire, Ethiopia, Ghana, Mozambique and Tanzania.
In Mozambique, implementation of the New Alliance programme will be led by the World Bank, the World Food Programme, Japan's International Cooperation Agency (JICA), the U.S. Agency for International Development (USAID) and major transnational agribusiness corporations including Cargill, Itochu, Syngenta, Monsanto, Yara, Corvuns International, AGCO, Nippon Biodiesel Fuel Company, Vodafone, and SABMiller, as well as associations like the African Cashew Initiative, and the Competitive African Cotton Initiative.
Through the "New Alliance for Food Security and Nutrition in Africa", the world's eight most imperialist countries are moving towards the final subjugation of Africa and its people, declaring a new and effective attack on the continent's food sovereignty, cultural diversity and biodiversity which will transform Africa into an open market for genetically-modified seeds and massive transnational corporations involved in agribusiness and the industrial food system.
The entry strategy for the "New Alliance" is based on capturing the Comprehensive Africa Agriculture Development Plan (CAADP), in order to grant legitimacy to the G8's action. In Mozambique, this intervention is bolstered by the argument that it will align financial and technical support from G8 member states for agriculture in Mozambique with the priorities of the CAADP investment plan for the country, known as the National Agricultural Sector Investment Plan (PNISA).
ADECRU –
Academic Action for the Development of Rural Communities,
an important association of Mozambican students and young people, mostly from rural areas – has been recognised for its work on democratic engagement and the constructive inclusion of various community actors in the fight to prioritise, define, implement and evaluate an autonomous agenda for socio-political, economic and cultural development of rural communities.
The association rejects the implementation of the so-called "New Alliance for Food Security and Nutrition in Africa" for the following reasons:
The policy outlined here to "save" Africa represents an imperialist imposition, drawn up in the principal neo-liberal and neo-colonialist decision-making centres;
The basis, foundations and strategies of the New Alliance are a return to the colonialism and slavery of the past, a return to 500 years of domination and oppression endured by Mozambique and Africa as a whole. It will present a massive obstacle to the realisation of human rights, social and environmental justice;
The New Alliance will enable the most abusive and aggressive exploitation of Mozambique by mercantilist corporations, concealed under the philanthropic premise that it will liberate Africa from famine and misery, ignoring the failure of several similar initiatives carried out by the same multilateral agencies and imperialist powers in the past;
It fosters and facilitates changes to the legal framework governing land, allowing land to be leased and privatised under the pretext of improving transparency and efficiency in land administration and policy, legitimising the usurpation of land, communally-held land and the basic means by which communities and peoples sustain life;
To promote investment in agribusiness, it will speed up the issuing of DUATs (the rights to use and profit from land) by eliminating consultation with the community;
The "New Alliance" forces changes to the national policies on fertiliser and seeds to enable the entry and certification of Genetically Modified Organisms (GMOs) by multinationals like Monsanto;
The G8, through its corporations, wants to ensure control of the principal geostrategic and agroecological zones of Mozambique – in the development corridors of Beira, Nacala and the Zambezi Valley – which account for more than 70 percent of the country's potential natural and underground wealth;
The New Alliance gives priority to private companies, national and international commodity producers and banks with a focus on making these development corridors into zones for the free flow of capital and the export of primary commodities to global markets, in this way deepening the serious problems of land grabbing, the forced displacement and resettlement of millions of people, environmental degradation, and socio-environmental conflicts.
By intensifying use of land, water, energy and mechanisation, the New Alliance will inevitably contribute to the greater impoverishment of the population and rural communities.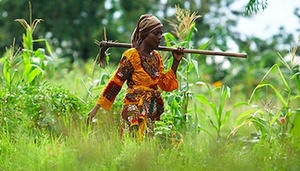 The New Covenant must be understood as a decisive step in improving and strengthening implementation of a strategy of structural adjustment on the African continent. Its conception and design are directly in line with the development model adopted by the Mozambican government, which prioritises attracting Foreign Direct Investment (FDI) and large-scale projects at the expense of domestic investment and the interests of the majority of farmers and rural communities. That is why ADECRU declares:
That the African people are capable of being the authors and protagonists of policies for self-sustaining development that responds to the priorities, dreams, aspirations and requirements of African people;
That African countries should increase the budget allocation to the agriculture sector by more than 10 percent, in line with the 2003 Maputo Declaration;
That the Mozambican government should prioritise food sovereignty, sustainable agriculture and agroecology as the only sustainable solutions to reduce hunger and promote proper nutrition;
That the Mozambican government should adopt policies for the agricultural sector that focus on support to peasants, whose priorities are based on access to credit for rual people, the extension of agricultural support by the government, micro-irrigation systems, the recovery of indigenous climate-resistant seeds, and infrastructure related to increasing productive capacity[
The current process of reform of the legal framework for land, seed and fertiliser headed by the World Bank should be suspended;
That land should not be privatised, regardless of the pressure brought to bear on the Mozambican government, since land represents the greatest achievement and the principal heritage of the Mozambican people.
Acknowledging the weaknesses and complicity of African states and the Mozambican government's institutions in the face of this onslaught by the imperialist G8 against people's sovereignty, Academic Action for the Development of Rural Communities (ADECRU) calls on all peasants, environmental and social movements, on rural communities, and all African people to mobilise broadly, organise and construct a popular national and continental movement to defend their rights and interests relating to access to and control of land, water, goods and cultural heritage and common history.
ADECRU also calls for a firm and vigorous resistance by all affected people against the "New Alliance for Food Security and Nutrition in Africa" and against all social and environmental injustice.
ADECRU commits to using all national and international legal instruments to stop the implementation of the New Alliance in Mozambique.
ADECRU
Maputo, 6 April 2013
Author:
ADECRU
Date:
17 April 2013
Short URL:
/e/4689
Comment on this article
Download PDF version (186 KB)
Print article
@@@@@@@@@@@@@@@@@@@@@@@@@@@@@@@@@
Let's talk land Tanzania
The gateway to Land related Information in Tanzania
This week's links (April 12th, 2013)
As rural women hit hardest by corporate land deals the World Bank promises to strengthen the focus on land rights to the poor:
About Rogers N. Ruhiye
Oxfam reaction to the World Bank's statement to build capacity and safeguards related to land rights
Published: 9 April 2013
In response to the World Bank's statement to build capacity and safeguards related to land rights, Oxfam's land grab campaign lead Hannah Stoddart said:
"The World Bank's acknowledgement of the risks of land grabs by unscrupulous investors is a welcome step in the right direction if today's words are acted upon. The Bank's president Jim Kim has identified that the World Bank has a role to play in tackling land grabs, and that it could also look at its own practices and safeguards. We are also encouraged by commitments to the Voluntary Guidelines on Land and to work with others on new UN principles of responsible agricultural investment, which are both vital to help protect poor communities from land grabs.
"However,
Oxfam is disappointed the Bank hasn't agreed to freeze its large-scale agricultural investments until it puts these new measures in place.
It has also failed to fully address some key areas like the need for transparency of financial sector investments by its private sector arm, the International Finance Corporation. Oxfam will be watching the Bank closely to ensure that it fulfils the commitments it has made today, and makes further progress because too many poor people are still acutely vulnerable to land grabs."
Contact Information
For more information contact Lucy Brinicombe on +44 (0)7786 110054 /
lbrinicombe@oxfam.org.uk
Take action
Sign the petition: tell the World Bank to make good on their word, and push the bar higher. Let them know: the world is watching.
World Bank to Strengthen Focus on Land Rights
- The World Bank will be placing stronger emphasis on issues of land tenure and socially and environmentally sustainable agricultural investing, it announced Monday.
The bank, one of the world's largest development lenders, also formally reiterated its concern over the large-scale corporate "land grabbing" that has affected vast swathes of Africa in recent years.
Without these guidelines, we'd be left with anarchy.


"The World Bank Group shares these concerns about the risks associated with large-scale land acquisitions," World Bank President Jim Yong Kim said in a statement from the bank's Washington headquarters Monday.
"Securing access to land is critical for millions of poor people. Modern, efficient, and transparent policies on land rights are vital to reducing poverty and promoting growth, agriculture production, better nutrition and sustainable development."
Following on decades in which agricultural sectors were almost completely bypassed by international investors – including bilateral donors and multilateral lenders such as the World Bank – recent years have seen a surge of interest across all types of investors and development institutions.
On Monday, Kim noted that the World Bank, too, had stepped up its agriculture-related investments, but warned that "additional efforts must be made to build capacity and safeguards related to land rights – and to empower civil society to hold governments accountable."
Ahead of a four-day annual World Bank conference on land and poverty here this week, the institution stated that it expected the global population to grow by two billion by 2050, requiring an expansion of global agricultural production of 70 percent.
While the institution is reiterating longstanding calls for significant new public and private investment in both small-scale and large agricultural operations, it has warned that "investment alone will not be enough" to attain these levels.
Rather, citing spiking food and fuel prices coupled with the looming uncertainties of climate change, the bank is urging the adoption of stronger national and international standards on investments and land rights as a way of helping farmers across the globe raise yields.
"Usable land is in short supply, and there are too many instances of speculators and unscrupulous investors exploiting smallholder farmers, herders and others who lack the power to stand up for their rights," the bank notes. "This is particularly true in countries with weak land governance systems."
As such, the bank will now be strengthening efforts aimed at improving land governance, protecting the rights of landowners, and promoting policies "that recognise all forms of land tenure and help women achieve equal treatment in obtaining land rights".
Growing global discussion
Particularly following the rise in both global food-price volatility and demand for biofuels over the past half-decade, agricultural land has become a lucrative commodity for international investors, who have focused particularly on Africa.
According to 2011 research by the bank, some 60 million hectares of land in developing countries were purchased or leased by private sector investors in 2009 alone, a process that has continued. In many cases, local civil society organisations have warned that these transactions are being carried out with government complicity and without following international standards on stakeholder inclusion.
"There's been a tendency recently towards governments giving large plots of land to international investors for free or at concessional rates, thinking that doing so will fast-track development," Nicholas Minot, a senior research fellow with the International Food Policy Research Institute, a Washington-based think tank, told IPS recently.
"To some degree there's logic to that, but there is a huge question as to whether that land was owned by the government or whether it was previously occupied by small-scale farmers without titles. Establishing secure land rights for people in rural areas is a massive but critical issue."
Organisers say that this week's World Bank conference on land and poverty – the 14th – is the largest they've ever put on, and includes participation by government officials from several countries. Bank officials also say that the conference's focus, titled "Moving towards transparent land governance", is indicative of a new global discussion on the issue.
"This year we have dozens of sessions on issues of land governance, transparency and implementation of the Voluntary Guidelines, which wouldn't have been as prominent four years ago," Jorge Munoz, a land tenure adviser for the World Bank, told IPS.
"This is not a new subject for the bank, but it has become much more prominent globally – though clearly some countries are much more interested in increasing transparency for improving land governance than others."
As part of the bank's scaling-up on the issue, Munoz points to the institution's rollout of a new tool with which governments are able to get a snapshot analysis of their current land tenure and related laws. Called the
Land Governance Assessment Framework
, Munoz says 33 countries have now started to use it.
In addition, the bank is now assisting in implementing new international guidance, approved in May under the auspices of the U.N. Food and Agricultural Organisation (FAO), called the
Voluntary Guidelines
for the Responsible Governance of Tenure of Land, Fisheries, and Forests in the Context of National Food Security.
According to USAID, the Untied States' central foreign assistance agency, at least 22 countries have now requested technical assistance on implementing the Voluntary Guidelines. Although the project is still in a pilot phase, a "zero draft" of the guidelines is to be released within the coming month.
"Voluntary regulations don't always work, of course, but in this case these guidelines may be the only way to solve the problem of ensuring that small-scale farmers don't get abused and are able to access lands they may have used for generations," Danielle Nierenberg, co-founder of Food Tank, a Washington think tank, told IPS.
"Without these guidelines, we'd be left with anarchy. Still, governments and consumers now need to take the initiative to push corporations to take this seriously."
The bank is also involved with another FAO process to develop an international set of
Principles for Responsible Agricultural Investment
, aimed at offering global guidelines on socially and environmentally sustainable investments in agriculture.
In recent years, some civil society groups have questioned the bank's own part in facilitating large-scale land acquisitions (including
here
and
here
), particularly that of its private sector arm, the International Finance Corporation (IFC). Yet Munoz says much of this criticism has overstated the institution's role, which he suggests has focused less on financing than on offering technical assistance on reforms.
"There is a major global problem with land-grabbing," says Munoz. "The bank's role is, essentially, to be leaders in assisting countries in improving land governance and improving the behaviour of private investors."
Curbing Tanzania's "Land Grabbing Race"
- From January 2013, Tanzania will start restricting the size of land that single large-scale foreign and local investors can "lease" for agricultural use. The decision follows both local and international criticism that major investors are grabbing large chunks of land here, often displacing small-scale farmers and local communities.
The Permanent Secretary in the Prime Minister's Office Peniel Lyimo confirmed that the government would limit the amount of land leased to investors in this East African nation. Previously, there were no limits.
"For a large-scale investor who wants to invest in sugar, the ceiling has been put at 10,000 hectares. (The limit for) rice is 5,000 hectares. The ceiling for sugar is significantly higher due to the fact that it may also produce electric power," Lyimo told IPS. Sugarcane fibre is used in the generation of electricity.
According to official documents, seen by IPS, from the Tanzania Investment Centre, a government agency set up to promote and facilitate investment: "Even within a seven-year period, an investor would not be able to use more than 10,000 hectares…"
The move will come as a relief to land rights organisations that have continually called for the government to curb the land grabs here.
In 2008 the Tanzanian government launched the Kilimo Kwanza (Agriculture First) initiative in order to increase private sector investments in agriculture.
And when the World Economic Forum took place in Dar es Salaam in 2010, the Southern Agricultural Growth Corridor of Tanzania (SAGCOT), a multi-stakeholder partnership to rapidly develop the country's agricultural potential, was formed and the government began to invite foreign companies to invest in crops like sugarcane, maize, rice and cassava.
However, civil society organisations like the Tanzanian NGO Land Rights Research and Resources Institute (LARRRI) and the Oakland Institute, an independent policy think tank in the United States, called on the government to review its investment policy to limit the amount of land given to foreign investors.
"Giving tens of thousands of hectares to large-scale investors was hurting small-scale farmers," said LARRRI executive director Yefred Myenzi.
To date, he told IPS, the government has given 80,000 hectares of land to large-scale investors.
"Land conflicts pitting poor villagers against powerful investors now number more than 1,000 reported incidents. On average, there are five land disputes daily in the country and three of these involve powerful investors," said Myenzi.
In Tanzania's northern Loliondo district, which is known for its wildlife, much of the land has been leased out to international hunting concessions, which has resulted in the large-scale eviction of the local population – although the government refutes this. A major U.S. energy company, AgriSol Energy, has also been accused of
engaging in land grabs
in Tanzania that would displace more than 160,000 Burundian refugees, according to a
report
by the Oakland Institute. The report states that AgriSol is benefiting from the forcible eviction of the refugees, many of whom are subsistence farmers, and leasing the land — as much as 800,000 acres — from the Tanzanian government for 25 cents per acre.
Myenzi said that of the 1,825 general land disputes reported in 2011, 1,095 involved powerful investors.
"The country has unbearable land (disputes). This calls for concrete remedial actions. Government actions currently focus on large-scale farming, but there should be a clear plan on how they can coexist with the small-scale farmers who are in the majority," he said.
According to Tanzania's Ministry for Agriculture, Food Security and Cooperatives, small-scale farmers produce over 90 percent of the country's food.
Of Tanzania's 94.5 million hectares, only half – 44 million hectares – is arable land. And according to the National Sample Census for Agriculture of 2002/2003, only 9.1 million hectares is under cultivation.
"Only a few own huge land resources (in Tanzania). What is happening now is that the well-to-do from within and outside the country are in a land-grabbing race," Myenzi said.
Damian Gabagambi, an agricultural economist at Sokoine University of Agriculture, the largest agricultural university in Tanzania, said that major investors should provide for the inflow of technological solutions and the creation of markets for small-scale farmers.
"While we encourage large-scale investors in the agricultural sector, Tanzania must limit the amount of land they can acquire, so that they rely on small-holder farmers for most of their supplies. Small-scale traders are more important for the country's food security," Gabagambi told IPS.
Tanzania has an estimated population of 42 million people and 12,000 villages, but only 0.02 percent of its citizens have traditional land ownership titles.
Advocate Harold Sungusia from the Legal and Human Rights Centre told IPS that in order for the government to control conflicts with investors over land, it should create an equitable balance between the interests of its people and those of investors.
He said the role of state machinery such as laws, institutions and resources have changed from protecting the majority of smallholders interests in the 1970s and 1980s, to facilitating the acquisition of land from communities by a few elite and foreign companies.
"In Tanzania from 2001 to date, the land laws have been changed eight times, for whose interest?"
However, director general Aloyce Masanja of the Rufiji Basin Development Authority, a government organisation that manages the 183,000 square kilometre basin, issues water permits to both large-scale and smallholder farmers along the basin area, and mediates in conflicts, said the government largely depends on the private sector to make SAGCOT a success.
"Land is given out to a private investor after careful evaluation. The private sector can perform better… it has strong links with other areas of economic activities that are linked to agricultural development," he told IPS.
Why the World Bank is wrong (so far) on large land deals
Oxfam's
land grabs campaign,
launched on 4th October, highlights the alarming increase in the speed and scale of large land deals in the past decade. It calls on the World Bank – as an investor in land deals, as a global standard setter and as an adviser to developing countries on their land policies – to freeze those of its agricultural investments that involve large land deals for 6 months while it reviews its policies and practices to ensure land grabs are prevented.
The World Bank has responded to Oxfam's campaign raising a number of challenges, through
official statements
,
blogs
and through interventions on panels. Here's Oxfam's response to some of the main challenges:
Extent of World Bank involvement in land-grabbing
Some at the
World Bank
have suggested that it is not the right target - it is only involved in a 'few cases' that could potentially constitute land grabs and at any rate it is not as bad as most other investors. Oxfam stands by its focus on the Bank for a number of reasons. First, given the Bank's mandate for poverty alleviation, even one land-grab case is a case too many.
Secondly, in reality we know that there are very likely more than a few controversial cases relating to land. 21 cases involving land disputes have been brought by communities since 2008 (Oxfam is involved as a complainant in a number of them).
We also know that between 2000 – 2012, 56% of the complaints to the Compliance Adviser Ombudsman (CAO) have been in relation to land. The CAO also confirms that in the past 4 years there has been a growing number of complaints in relation to agri-business. Lastly, while the World Bank may not the worst culprit when it comes to land-grabbing, it IS the only global bank with a mandate for poverty alleviation and it is a crucial institution for setting the bar high in this area.
In other words, we believe that if Oxfam can't convince the World Bank to raise its standards, we have no hope of getting other financing institutions to do so. If the Bank takes leadership, we hope we can leverage change in other institutions as a result, from regional development banks to private investors.
World Bank's role in agriculture
In reaction to our call for an investment freeze, the World Bank contends that it has increased its agricultural investments precisely in response to calls from organizations such as Oxfam for it to focus on a sector that has been neglected for too long. Therefore it suggests that to suspend its agricultural investments – which overwhelmingly benefit smallholders - will only end up harming the very people that Oxfam seeks to support. In response, we have never argued – and never will – that the World Bank should not be investing in agriculture.
We welcome increased investment in agriculture by the Bank that genuinely benefits smallholders. This is why we are not arguing that the Bank should get out of agriculture altogether. And this is also why we are not calling for a freeze of all agricultural investments. On the contrary we are calling for a
temporary 6 month freeze on agricultural investments
that involve large-scale land acquisition - which the Bank acknowledges is not the majority of its investment portfolio.
To put it another way, we're invoking the precautionary principle - something the Bank has done itself in the past when it froze lending to the palm oil sector as a result of a controversial case in Indonesia.
As the World Bank's investment in agriculture has increased from $2.5 billion in 2002 to
$6-8 billion in 2012
, the risk of some of these investments involving problematic land acquisition is heightened (for the record, this figure was misquoted by some media as being up to $8 billion in land investments, Oxfam has always been clear that the overall figure is for agriculture more broadly, some of which will involve land acquisition).
We welcome models of agricultural investment
- both large-scale and small - that benefit communities and genuinely lead to shared benefits based on consultation and consent. We have recently published a paper outlining
models of positive agricultural investment
, and Oxfam GB CEO Barbara Stocking reiterated this message recently in the
Financial Times
(you have to register to view).
What we oppose is a model of agricultural investment that involves the mass
transfer of land rights
away from poor farmers and communities, a model which frequently leads to conflict and for which there is very little evidence of pro-poor outcomes.
Transparency
The Bank has suggested that it is a leader in the area of transparency. Whilst Oxfam agrees that it has made great advances over the years, we feel that there are still some real areas of concern.
First, we can't even tell the full extent of the Bank's investment in this area: there is no clarity on the overall
size of its land portfolio
. For an institution that rightly prides itself on the huge advances it has made in allowing its data to be accessible to all, this is disappointing.
Second, we know that 17 of the 21 complaints involving land raise issues relating to
inadequate transparency
.
Third we know that over 50% of lending through the International Finance Corporation (the private sector lending arm of the World Bank) is channeled through financial intermediaries: these investments are far more opaque, and these bodies are also not subject to the same standards as the World Bank. And it makes it almost impossible for Oxfam to judge whether the Bank's claim is true that '
only 2% of IFC agribusiness loans in the past financial year involved land acquisition
'. Furthermore, the trend towards new lending instruments and technical assistance makes it far more difficult to hold the World Bank accountable for cases where it might not have directly funded a project that results in controversy, but has provided the advice that made it possible.
So if the Bank wants to know
#whatwillittake to end poverty
, Oxfam thinks taking leadership on stopping land grabs is a great place to start.
Get involved: sign the petition to get the World Bank to freeze their large land deals.
Originally posted on the From Poverty to Power blog
.
Added by
Head of Economic Justice Policy Team
@@@@@@@@@@@@@@@
PRESS RELEASE
World Bank Group Statement on Oxfam Report, "Our Land, Our Lives"
October 4, 2012
By 2050, there will be two billion more people in the world; a 70% increase in global food production will be needed to feed them. Food prices are rising, pushing many people back into poverty. Addressing this challenge will require major new investment in agriculture to improve the productivity of large and small farmers while protecting the environment and existing users' rights.
We share the concerns Oxfam raised in their report "Our Land, Our Lives" regarding the potential risks that can be associated with large-scale land acquisitions and the need for appropriate governance, transparency, and participation of local land holders and other stakeholders in the land acquisition process. However, we disagree with Oxfam's call for a moratorium on World Bank Group ("Bank Group") investments in land intensive large-scale agricultural enterprises, especially during a time of rapidly rising global food prices.
A moratorium focused on the Bank Group targets precisely those stakeholders doing the most to improve practices – progressive governments, investors, and us. Taking such a step would do nothing to help reduce the instances of abusive practices and would likely deter responsible investors willing to apply our high standards.
Now, more than ever, the world needs to increase investment in agriculture, which is two to four times more effective in raising incomes among the very poor than growth in other sectors. Both smallholder and large-scale agriculture are necessary to boost productivity and produce enough food to feed the world's poor.
In order to move from subsistence to commercial farming, 1.5 billion people who rely on small farms need access to knowledge, assets, credit, markets, and risk management that can come from larger-scale agricultural enterprises. We believe a holistic, multi-stakeholder approach is the only way to address the challenge of food security and help to feed the world's poor in a sustainable manner.
The World Bank (IBRD and IDA) interacts primarily with governments to strengthen land tenure policies and improve land governance. More than 90% of our agriculture portfolio focuses on the productivity of and access to markets by smallholder farmers. In addition, 10% of our projects focus on the governance of land tenure. The World Bank has actively supported the "Voluntary Guidelines on the Responsible Governance of Tenure of Land, Forestry and Fisheries" approved by the Committee on Food Security (FAO, Rome) in May 2012. In partnership with many stakeholders, such as the Grow Africa platform, we are now actively engaged in disseminating and operationalizing these guidelines at the regional and country levels. They are an essential element in our policy dialogue with governments and interaction with the private sector. For project examples, click
here.
The International Finance Corporation (IFC), the Bank Group's private sector arm, works with client companies to raise agricultural productivity in developing countries while also supporting policies to protect land rights for the most vulnerable small farmers and helping governments put transparent laws in place. IFC invests in environmentally and socially sustainable private enterprises in all parts of the value chain (inputs such as irrigation and fertilizers, primary production, processing, transport and storage, traders, and risk management facilities, including weather/crop insurance, warehouse financing, etc.). IFC investments made directly in the agricultural sector have already delivered substantial economic benefits, including helping provide jobs for 37,000 people, including 11,000 women, and reaching 4.2 million farmers. For project examples, click
here
.
We agree that instances of abuse do exist, particularly in countries where governance is weak, and we share Oxfam's belief that in many cases, practices need to ensure more transparent and inclusive participation in cases of land transfers. This is precisely the role that the Bank Group undertakes through application of its environmental and social standards as well as its work with host governments on land tenure and other essential reforms.
The Bank Group does not support speculative land investments or acquisitions which take advantage of weak institutions in developing countries or which disregard principles of responsible agricultural investment.
The World Bank supports and consistently recommends government policies that implement systematic land surveying and titling programs that recognize all forms of land tenure: public and private; formal and customary, including those of pastoralists or others with weak formal rights; collective and individual, including women's rights; and rural and urban. IFC follows its own Performance Standards, which address issues ranging from environmental and social impacts, to labor practices, to community engagement and consultation, to assuring future livelihoods for existing users, and are acknowledged by a wide range of stakeholders as leading global standards. We recognize that implementing projects to meet high standards is challenging. In this regard, IFC's commitment to publicly disclose information on a regular basis following Board approval is an important step in promoting transparency and accountability.
Prudent risk assessment and management and capacity building are the tools to achieve sustainable practices, and we are continually learning and refining our approach with input from stakeholders and our own experience. For example, IFC has enhanced its due diligence and early risk assessment procedures to assess local food security impacts of potential agricultural investments requiring large land areas and is piloting new requirements for contract transparency in cases of government- to-private sector land transfer. The World Bank plans to launch this month a multi-stakeholder consultative process to review and update its environmental and social safeguards policies. The main objective of the review is to strengthen the effectiveness of the safeguard policies to enhance the development impact of Bank-funded operations.
We believe in working with organizations like Oxfam regarding how best to address the challenges of food security and economic development but reject the call for a moratorium. Rather, the best way to address such broad and complex issues is to work in partnership with stakeholders through the appropriate multi-stakeholder forums, while continuing to offer advice and assistance to governments and investors to ensure positive outcomes and encouraging responsible investments. We welcome engagement that will keep investors and governments honest and that can help us work together on issues prompted by the land rush.
@@@@@@@@@@@@@@@@@@
The Great Africa Land Grab
by Phil Bloomer
13th November, 2012
Oxfam's Phil Bloomer reports on the shocking scandal of (mostly) secretive land-grabbing, usually from those least able to defend their rights.
Land grabbing has fast become a major threat to poor communities in Africa, Asia and South America. Poverty-stricken women and men are being driven from their homes and the land they rely on to grow food to eat and make a living, usually without compensation. In many cases this is often in violation of national laws and international standards for investment. Many end up destitute, living under plastic at the sides of roads, or migrating to urban slums to eke out a living. The shift from thriving rural communities to landless labourers brings untold misery and suffering to these displaced families.
This scandal has worsened in the last decade. The most extensive recent research points to a staggering 203 million hectares changing hands in around 2,000 mainly secretive land deals.
The drivers of this new land rush are numerous but come down to three major factors: foreign governments increasingly anxious to secure their food supplies, triggered by the two food-price spikes of 2008 and 2011; speculators who see African land as a one-way bet – prices can only go up in the next decade as demand for food, and food-price volatility increase; and companies who see guaranteed market opportunities in Europe through the 'biofuels mandate' that promises a major market but diverts grain from food into fuel tanks. In fact, the latest research points to biofuels being a major driver for around two-thirds of large land deals between 2000 and 2010. What links them all is rising competition over finite natural resources.
There is now a steady dawning amongst politicians, investors, business leaders and the public that we are at, or have now passed, a number of critical planetary boundaries – land use, freshwater use and climate change being amongst the most critical. We either now pursue a 'winner takes all' approach as exemplified by land grabs, or we seek a future of shared prosperity with greater equality and better care of our natural resources.
More is also now being revealed about the disappointing results of large-scale land investment, with some African governments actively encouraging secretive land acquisition in the hope that commercial farming will bring food security, energy security, jobs and tax revenues. Under the right conditions, of course, large-scale agriculture might be of some benefit to poor countries. In combination with smallholders, large-scale farms can enhance productivity.
Unfortunately, the World Bank and civil society studies point to very few benefits so far from the great majority of recent land deals. Leases are often at low or zero rent. Extensive tax holidays are common. The jobs created are scarce and low-paid. And the food security safeguards that should and would ensure that the lease-holders sell the food grown in national markets when world food prices spike are usually non-existent.
African governments have found themselves hostage to long-term leases where the human costs outweigh any economic benefits. The fact that too many of these deals are not open to public scrutiny also provides an opportunity for corruption. For both smallholder farmers and pastoralists these vanishing national benefits are minor compared to the experience of dispossession of their lands, their water and their commons: grazing and hunting grounds.
For many poor and vulnerable people, their land title is 'customary': despite living on the same plots for generations, they still have no formal documents. This has led the World Bank and governments to speak of vast areas of Africa as being 'unoccupied'. The very presence of people living in poverty – let alone their indigenous rights – goes unrecognised. Then tragedy results with people being evicted without compensation. Women are particularly vulnerable thanks to discrimination, cash poverty and the ever-present threat of violence.
One piece of good news is that the new 'scramble for land', with all its colonial connotations, is now gaining increasing media attention, and this in turn is raising the reputational and political risks for unscrupulous governments, speculators and businesses.
Oxfam, Action Aid, the Oakland Institute and the International Institute for Environment and Development, together with a host of other extraordinarily brave national organisations, are exposing cases in order to call for stronger national laws and international standards for investors. And in May 2012, the Africa Progress Report of Kofi Annan and other African leaders highlighted the growing threat to African food security and prosperity from unfettered land grabs.
A number of African governments are now looking for ways to address this problem, and the African Union last year signed up to the Nairobi Action Plan to tackle some of the problems associated with large land deals in Africa. Equally, in May this year, governments around the world signed up to the Voluntary Guidelines on the Responsible Governance of Tenure, which strengthens the obligation to consult communities in relation to land deals and ensure their participation prior to decisions being taken. This was ground-breaking because free, prior and informed consent has the potential to empower communities to demand that any investment will work for their interests, as well as for those of the investors.
These improved measures have been welcomed by responsible international investors who are now working with international institutions to develop principles that distinguish good and bad land investment, and to provide incentives for and accountability from fund managers. The UN Principles for Responsible Investment, and the Performance Standards of the World Bank's business investment arm (the IFC) are examples of standards that – if followed by investors – will help avoid the damage to people living in poverty, and seek to promote shared prosperity and sustainability (although too often implementation of these standards falls short of the ideal).
Oxfam's own reflection on our recent land work is that, despite recent efforts, the global and national governance of land, especially in poor countries, remains simply too weak, diffuse and without teeth. And given the scale and speed of large land deals, there is an urgent need for action by governments, responsible business and civil society to protect poor and vulnerable people from the resulting eviction and destitution.
It is the 500 million smallholder farmers who feed the great majority of the poorest 2 billion people on our planet. They deserve better, and have the potential to be a vibrant, thriving sector delivering food security to over a third of the world's population.
To achieve this they need investment in their productivity, not the theft of their lands.
Phil Bloomer is the Director of Campaigns and Policy at Oxfam GB.
http://www.theecologist.org/News/news_analysis/1676932/the_great_africa_land_grab.html
Campaigners claim World Bank helps facilitate land grabs in Africa
Food shortages and rural deprivation exacerbated by World Bank policy, says NGO ahead of land and poverty conference
John Vidal
and
Claire Provost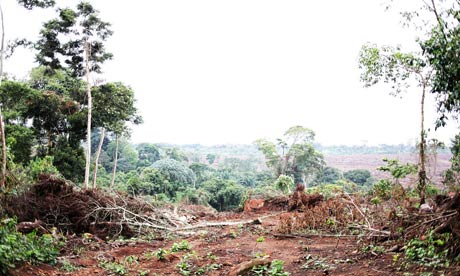 The
World Bank
is helping corporations and international investors snap up cheap land in
Africa
and developing countries worldwide at the expense of local communities, environment and farm groups said in a statement released on Monday to coincide with the bank's annual land and poverty conference in Washington DC.
According to the groups, which include NGO Friends of the Earth International (FOEI) and international peasants' group La Via Campesina, decades of World Bank policies have pushed African and other governments to privatise land and focus on industrial farming. In addition, they say, the bank is playing a "key role" in the global rush for farmland by providing capital and guarantees to big multinational investors.
"The result has often been … people forced off land they have traditionally farmed for generations, more rural poverty and greater risk of food shortages", said FOEI in a
separate report
launched ahead of the World Bank conference.
The event, which promises to focus on "land governance in a rapidly changing environment", is billed as a forum to discuss "innovative approaches" to land governance challenges including climate change, the growing demand for key natural resources, and rapid urbanisation. But campaigners say the conference mistakenly focuses on how to improve large-scale land deals rather than on helping local communities to secure or retain access to their land.
The FOEI report suggests land grabbing is intensifying and spreading, especially in rural areas of Africa and Asia. "High levels of demand for land have pushed up prices, bringing investment banks and speculators into farming," it says.
"The World Bank's policies for land privatisation and concentration have paved the way for corporations from Wall Street to Singapore to take upwards of 80m hectares (197.6 acres) of land from rural communities across the world in the past few years," said the groups in a statement accusing the bank of promoting "corporate-oriented rather than people-centred" policies and laws.
In 2010, the World Bank spearheaded the development of new principles for responsible agricultural investment to better ensure that land deals respect local rights, livelihoods and resources; these guidelines have also been criticised for legitimising, rather than challenging, the global rush for land.
Allegations of land-grabbing have hit countries around the world and have been accompanied by growing concern about whether large-scale land deals are delivering promised income and employment for local people. This week, a coalition of NGOs and research institutes is expected to release the latest findings of the Land Matrix project, which has attempted to systematically document recent land acquisitions.
Current estimates suggest that 80-230m hectares of land have been leased or bought in recent years, largely to produce food, feed or fuel for the international market.
World Bank money has been involved in many recent
international land deals
, says the FOEI report. In Uganda, the International Finance Corporation (IFC), the bank's private sector lending arm, contributed $10m for a project to clear 10,000 hectares of land for palm oil plantations on Bugala Island in Lake Victoria.
But FOEI research has shown that local people were prevented from accessing water sources and grazing land, suggesting that – despite promises of employment – many people have lost their means of livelihood.
Resistance to land grabs is growing: Harvard University has come under intense pressure to ensure its investments do not contribute to land grabs in Africa, while Iowa State University has withdrawn from a deal in Tanzania that could have displaced an estimated 160,000 people. In South Sudan, the government halted a land deal after local communities erupted in protest, saying their lands had been secretly leased to an American company.
This month, farmers and
land rights
activists from across Sierra Leone converged on the country's capital for a
national assembly of communities affected by large-scale land deals
, where groups launched a new civil-society watchdog to monitor agribusiness investments. The meeting followed the first
international farmers' conference
to tackle land grabs, held in Selingue, southern Mali, in late 2011.
On Tuesday, food justice activists, environmental organisations, students and Occupy Wall Street groups are set to gather in front of New York's Waldorf Astoria hotel to challenge the fourth annual Global AgInvesting (GAI) conference, where institutional investors and fund managers are meeting to discuss opportunities for agricultural investments overseas.
"Governments around the world need to stop land grabbing, not just try to mitigate its worst impacts. Governments must abide by their human rights obligations on land and drastically reduce demand for commodities such as palm oil from the west," said Kirtana Chandrasekaran, FOEI's food sovereignty co-ordinator.
David Kureeba, from the Ugandan national association of professional environmentalists, said: "People's rights to land [in Uganda] are being demolished. Small-scale farming and forestry that protected unique wildlife, heritage and food is being converted to palm oil wastelands that only profit agribusinesses."
Government officials, civil society, experts and the private sector will gather at the World Bank conference, which ends on Thursday, to discuss large-scale land aquisitions, land governance in the context of climate change, and rapid urbanisation.