UN urges Cambodia to hold companies to account over land disputes
UN's special rapporteur says misconduct including land grabs, evictions and environmental degradation must be addressed
Mark Tran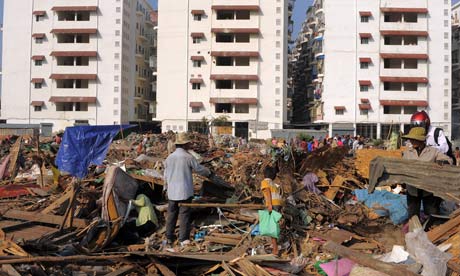 Companies that have seized land, confiscated livestock and destroyed homes and property have gone unpunished, the UN special rapporteur for
Cambodia
has said. Surya Subedi, professor of international law at Leeds University, said all the communities he had met raised the issue of misconduct by concession companies or their subcontractors, as did written submissions.
"In some cases the authorities have held the companies to account for their actions,"
Subedi said in a preliminary assessment
after a recent eight-day visit. "One example is the
shooting incident at the TTY concession in Kratie province
this year. However, in many cases, there remains impunity for violations committed by the companies."
Subedi, who visited concession areas in the provinces of Ratanakiri, Kratie and Stung Treng, urged the Cambodian government to: act with more transparency when granting and managing economic and other land concessions; oversee companies involved with concessions more closely; and make the process more inclusive for affected individuals and communities.
More than 400,000 Cambodians have been affected by land "grabs" and evictions since 2003
, according to the Cambodian league for the promotion and defence of human rights (
Licadho
), which works in 12 provinces across half the country. Last year there was a big increase in land disputes, the group said, with an additional 11,000 families affected.
Land ownership was abolished under the communist reign of the Khmer Rouge (1974-79), leaving millions of Cambodians without title deeds and therefore vulnerable to domestic and foreign land grabs, as well as agriculture, mining and real estate projects.
In January, 300 families were dispersed without warning from the downtown slum of Borei Keila in the capital, Phnom Penh. Last year,
the World Bank froze its loans to Cambodia over the forced removal of 10,000 residents of Boeung Kak lake
, who were moved to build luxury flats and high-end shops for the development firm, Shukaku, owned by a senator from the ruling People's party.
Subedi, voicing concern at the levels of protests linked to land disputes, called for dialogue. "Some forms of protest, for example road blockages by communities, greatly impact on other individuals who have no involvement in the dispute," he said. "People have a right to protest, but I urge all involved – communities, authorities and companies – to do their utmost to avoid violent protests. Dialogue is key."
Subedi said he was struck by repeated calls for attention to be paid to environmental degradation caused by the alleged mismanagement of land under concession, unsustainable exploitation of natural resources, and the sheer size of forest cover affected by land concessions. He said the claims deserve immediate attention from the authorities.
The UN special rapporteur welcomed the decision to postpone the granting of new economic land concessions, announced by the Cambodian prime minister Hun Sen on 7 May, and called for a review of all existing concessions with a view to protecting the interests of communities.
"This is a good step in the right direction. As ever, the focus must be on the implementation of this new regulation," he said. "It is clear that all Cambodians want to see economic development flourish, but this development should always be conducted in a sustainable manner, creating the least negative impact on communities as possible, whilst upholding the human rights of the individuals involved."
Conflict over land in Cambodia is taking a dangerous turn
As land grabs marginalise those evicted, Cambodian authorities are increasingly using violence to keep a lid on things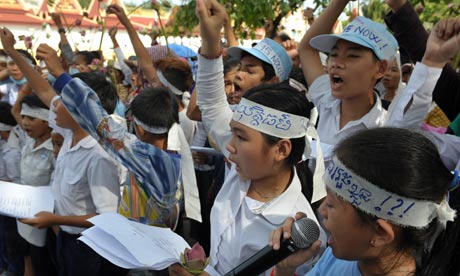 In the first nine months of the year, we have seen the
killing
of
Cambodia
's leading environmental activist, a
journalist
and a 14-year-old girl whose community faced eviction. We've also seen the conviction of
13 land activists
for legitimate protests; a
judicial move against
one of the country's most respected human rights activists; the
harassment
of politically active monks; and the arrest of an independent radio station owner on charges of
secessionism
. And these are just the most outlandish and publicised incidents.
As disparate as these cases may seem, there is a common thread that runs through each of them: conflict over natural resources.
Cambodia is in the grip of a land-grabbing crisis that has seen more than
2m hectares
(5m acres) of land transferred mostly from subsistence farmers to agribusiness. And as good land becomes scarce, the battle for it is becoming increasingly intense. An estimated
400,000 people
have been affected by land disputes since 2003.
This massive transfer of natural resources has been accomplished mostly through Cambodia's economic land concession (ELC) scheme, in which the government leases large plots of land to companies that agree to farm them. Those evicted to make way for superfarms are entitled to compensation, but rarely get it. Cambodia's land title system is in shambles, and poor farmers rarely hold deeds for their land – even if they are legally entitled to them, based on possession rights.
Even a so-called
moratorium
on new ELCs in May has
failed to stem the tide
. International donors and civil society groups have long pushed for a ban, but since the moratorium, news of at least another 12 concessions, totalling more than 80,000 hectares, has emerged.
The moratorium contains a little-noticed
loophole
– one so big that it swallows the ban itself. It allows the government to award ELCs that were "agreed in principle" prior to May. Of course, there is no public list of the ELCs "agreed in principle", so we simply have to take the government's word for it.
In other words, it's business as usual – there's just a new gloss to
distract
confused foreign donors.
The driving force behind Cambodia's land crisis may be shortsighted greed, but its legacy could be long-term social and environmental catastrophe. The land grab is creating an underclass of landless citizens who have no stake in society and nothing left to lose.
Recourse to the law is not an option. In fact, the law is often used against victims of land grabs, as in the case of the 13 women activists of the Boeung Kak lake community. They were arrested and convicted in May after taking part in a peaceful demonstration over a land dispute
land dispute
that led to the forcible eviction of more than 3,500 families. The women were released in June after
international outcry
, but three months later,
two more
land activists – including another Boeung Kak community leader – were arrested.
For the average Cambodian, the only avenues that offer the prospect of success are public protest and individual action. The government is well aware of the desperation, and this fact helps explain the recent spate of arrests, killings and harassment. The authorities are increasingly using violence to keep a lid on things. If evictees don't go peacefully, private firms are willing and able to tap the resources of the state to forcefully capture land.
The violence and arrests are symptoms of an accelerating breakdown in Cambodian society. People need outlets for complaint. They need recourse and accountability. Cambodia increasingly has neither. Pressure is building and the system is having difficulty keeping discontent bottled up.
On Wednesday, officials will gather for a major conference in Phnom Penh between the Cambodian government and aid partners. At the last conference, in 2010, donors pledged
$1.1bn
in assistance – half of Cambodia's national budget. This year presents an opportunity for donor governments to take action to ensure Cambodia addresses the root causes of this breakdown – from the culture of impunity and corruption to the lack of a proper system of land titles.
The first step would be to call for the loophole in the ELC moratorium to be closed – before more Cambodians are marginalised and it becomes too late. Only when this is done can the country begin its long journey towards transparency and fairness in land rights.
http://www.guardian.co.uk/global-development/poverty-matters/2012/sep/25/conflict-over-land-cambodia