Tanzanian relations with Rwanda 'difficult': Kikwete
ARUSHA, Tanzania (AFP) –
Relations between Tanzania and neighbour Rwanda are strained, Tanzanian President Jakaya Kikwete has acknowledged against a backdrop of conflict in eastern Democratic Republic of Congo.
"Since the end of May, our relations with Rwanda have gone through difficult times," Kikwete said in a frank speech to the nation late Friday, criticising "statements by the leaders of Rwanda against myself and against our country".
At an African Union summit meeting in Ethiopia in May, Kikwete advised Rwanda, Uganda and DR Congo to open negotiations with rebel forces.
But in response, Kigali angrily suggested that Kikwete was speaking for the Democratic Forces for the Liberation of Rwanda (FDLR), a Rwandan Hutu rebel group based in DR Congo.
"The relationship (with Rwanda) became difficult after my advice to the Rwandan government to talk to his opponents," said Kikwete, speaking in Swahili.
"I gave the same advice to the governments of Congo and Uganda," Kikwete added.
Tanzania has sent troops to join the UN peacekeeping force in eastern DR Congo, taking part in a special brigade to target multiple rebel forces there, including the FDLR as well as the M23, a mainly Tutsi group founded last year.
UN experts have accused Kigali of backing M23 fighters, claims that Rwanda strongly denies.
But Kikwete said he wanted to ensure "good relations" with Kigali.
"I would like to reiterate that I and the Tanzanian government have no bad intentions against Rwanda," Kikwete said.
Some accuse Tanzania of being close to the Rwandan opposition in exile, including Colonel Patrick Karegeya, Kigali's former intelligence chief now based in South Africa.
Karegeya and former army chief of staff Faustin Kayumba Nyamwasa, also exiled in South Africa, formed the opposition Rwanda National Congress three years ago, which calls for their former comrade President Paul Kagame to step down.
Congo rebels threaten main eastern city, say they want progress on talks with government
KINSHASA, Congo –
The M23 rebel group in eastern Congo has said it will not rule out retaking the city of Goma unless there is progress on negotiations with the government.
A statement signed Saturday by M23 president Bertrand Bisimwa said that if the government does not respect its vow to hold talks, which have repeatedly stalled, rebel fighters could be redeployed to the same positions they held last November when insurgents briefly captured Goma.
Fighting between rebels and Congo's army resumed last month after a period of calm. Last week, the United Nations peacekeeping mission announced plans to disarm anyone outside the security forces in and around Goma, where it said M23 has attacked army positions since mid-May.
Government spokesman Lambert Mende on Sunday dismissed M23's latest threat as "nonsense."
Congo rebels threaten main eastern city
Posted: Aug 04, 2013 9:44 AM CDTUpdated: Aug 04, 2013 9:44 AM CDT
Congo: UN security council condemns Goma takeover by M23 rebels
Vote calls for rebels to pull back and disarm, while
France criticises United Nations force for surrendering city
Staff and agencies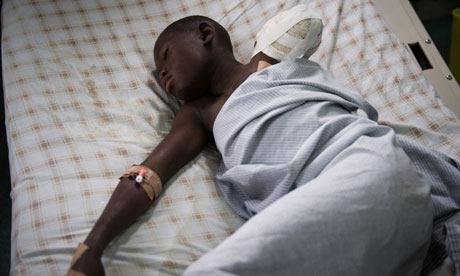 The security council approved a resolution drafted by France, releasing a statement that "demands the immediate withdrawal of the M23 from Goma, the cessation of any further advances by the M23 and that its members immediately and permanently disband and lay down their arms".
Copyright 2013 The Associated Press. All rights reserved. This material may not be published, broadcast, rewritten or redistributed.
The council expressed "deep concern at reports indicating that external support continues to be provided to the M23, including through troop reinforcement, tactical advice and the supply of equipment, causing a significant increase of the military abilities of the M23, and demands that any and all outside support to the M23 cease immediately".
Hundreds of rebels, who took up arms in April complaining that Kinshasa had failed to comply with the terms of a deal that ended a previous rebellion in 2009, poured into the lakeside town on Tuesday. After sporadic gunfire, government troops melted away to the west.
UN peacekeepers who had launched helicopter gunships to back the army did nothing to stop rebels moving into town.
The French foreign minister, Laurent Fabius, said: "Monusco is 17,000 soldiers but sadly it was not in a position to prevent what happened. It is necessary that the Monusco mandate is reviewed."
A senior UN official, who spoke to Reuters on condition of anonymity, said the withdrawal of civilian and military Congolese officials had left a void it could not fill alone. "We're not the army of any country, let alone the Congolese army, and it's not for us to take positions by ourselves to stop a rebel attack or the movement of rebels," the official said. "Our job is to protect civilians."
The M23 rebellion has aggravated tensions between Congo and its neighbour Rwanda, which Kinshasa's government says is orchestrating the insurgency as a means of grabbing the chaotic region's mineral wealth that includes diamonds, gold and coltan, used in mobile phones
.