Kagame should be charged for Genocide with invasion in Congo.


Judy Miriga
Diaspora Spokesperson &
Executive Director for
Confederation Council Foundation for Africa
USA
Why Blair and Buffett are wrong about giving international aid to Rwanda
By criticising the UN expert report, the former British prime minister is hampering the peace process in the eastern Congo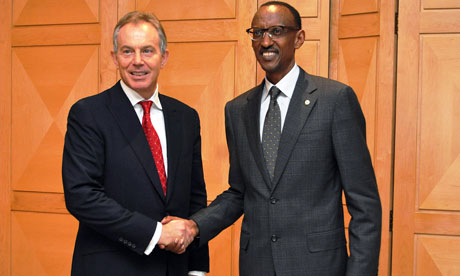 Tony Blair with Paul Kagame, the Rwandan president in 2011. Photograph: Steve Terill/AFP/Getty Images
When a UN Group of Experts
report
found that
Rwanda
was supporting rebels fighting a deadly conflict in the eastern Democratic Republic of the Congo (DRC), a number of countries including the US and
Britain cut or suspended foreign aid in protest
.
Rwandan President
Paul Kagame
steadfastly denied supporting the Congo militias that have been wreaking havoc along the Rwanda-Congo border, but the evidence was strong enough to convince even some of Kagame's biggest supporters that the western powers needed to send a message of disapproval.
That didn't include Howard Buffett,
Warren Buffett
's son, or
Tony Blair
. Buffett and Blair argued against the move, contending that reducing
aid
to Rwanda would just cause more harm than good to the unstable Great Lakes region of central Africa.
"Cutting aid does nothing to address the underlying issues driving conflict in the region, it only ensures that the Rwandan people will suffer — and risks further destabilizing an already troubled region,"
Blair and Buffett wrote
in a recent Foreign Policy article
This was followed by a
report
from the
Howard G Buffett Foundation
echoing the same points. The report went further by questioning the reliability of the UN experts – the group that originally reported evidence that the Rwandan government was supporting rebels in the eastern DRC.
It's worth noting that the Buffett Foundation report was written by unknown authors and using unnamed sources. It attacks the UN experts and then makes the case that pointing fingers is counterproductive. Says the report; "Our Foundation is not interested in apportioning blame for what we view is a fundamental failure in the GoE process in 2012…."
"We will let the report – and the information on our website – speak for itself," replied the foundation's chief of staff, Ann Kelly when asked about the unnamed contributors.
Lake Partners Strategy Consultants and the Crumpton Group LLC are listed as organisations that worked on the report, but they too were unwilling to talk about the report or how they reached their conclusions.
So, I spoke to regional experts about the report both on and off the record and a consensus emerged. The Buffett Foundation report is simply inaccurate, they said. Despite its imperfections, the UN expert report provides sufficient evidence to prove Rwanda's connection to the armed rebels in the DRC. Since the US and British governments have long been big supporters of Paul Kagame's Rwanda, it's reasonable to conclude it would have taken convincing evidence to prompt a suspension of foreign aid.
Many east Africa experts say Rwanda continues to destabilise the region and sap resources for reform. The actions by the international community and the ongoing UN peace talks and framework provide an opportunity to engage in meaningful change for the DRC, many say. Ensuring its success means preventing rebellion and holding all supporters accountable, these experts told me.
Meddling in the DRC
Accusations have been leveled at Rwanda in the past for its meddling in the region. Former Rwandan ambassador to Washington, Theogene Rudasingwa,
explained to Newsweek
in a January article how the Rwandan government extracted money out of the DRC:
"After the first Congo war, money began coming in through military channels and never entered the coffers of the Rwandan state," says Rudasingwa, Kagame's former lieutenant. "It is RPF (Rwandan Patriotic Front, Kagame's party) money, and Kagame is the only one who knows how much money it is—or how it is spent. In meetings it was often said, 'For Rwanda to be strong, Congo must be weak, and the Congolese must be divided.'"
In 2012, the anonymous group of UN experts found evidence that the M23 rebels benefited from coordination with and support from the Rwandan military. Further, the report cited that the level of support went all the way up to the Rwandan defence minister. The UK reacted promptly by withholding £16 million in aid promised to Rwanda. International development secretary Justine Greening
announced
the suspension of £21m in planned budget support for Rwanda at the end of November.
Military aid totaling $200,000 was
withheld
by the United States when the information first emerged in July, but sanctions stopped there. Human Rights groups joined members of Congress in December imploring the Obama Administration to
put pressure
on Rwanda. Germany held back €21 million in planned aid and the EU
suspended
€70 million in planned budgetary support.
"This is not a matter of aid stopping because of advocacy efforts, explained Aaron Hall, associate director of Research for the Enough Project. "Aid stopped because there was credible information from state intelligence reports that showed these connections are real and that Rwanda was in violation of the UN Arms Embargo on Congo and implicated in destabilising a neighboring state."
A reliance on aid likely affords Rwanda the opportunity to spend money on arming and supporting the M23 rebellion, said academic Laura Seay in a
blog post
responding to Blair and Buffett's FP article.
Blair and Buffett also ignore the fact that having so much aid support frees up other resources for the Rwandan government to use in its military adventures in the Congo. Were Rwanda not wasting money on supporting the M23, Kigali would be able to fund many of the excellent development initiatives that were previously funded with aid dollars.
Other nations reacted to the report by withholding or delaying portions of aid to Rwanda. For a country that relies on foreign aid to account for over 40% of its budget, the cuts were a significant action by the international community. According to experts that I spoke with, the disruption in aid flows to Rwanda are working to the extent that Rwanda is no longer supporting the M23 rebels and is participating in the regional peace framework.
The aid cuts are having a direct economic impact. The Rwandan finance ministry revised its GDP growth expectation down from 7.8% to 6.3%, reported
the Economist
.
Too Much Finger Pointing?
The Buffett Foundation report makes it clear that it does not have interest in assigning blame.
"Our Foundation is not interested in apportioning blame for what we view is a fundamental failure in the GoE process in 2012; we will leave the point-counterpoint on questions of fact to others," says the only bold section in the report's introduction.
It calls for the cooperation between regional, state and international actors in order to resolve the many problems that exist in the DRC. Kagame has taken a similar tactic when asked about the issue of Rwanda's involvement in the M23 rebellion.
"The blame game doesn't help anyone," said Kagame to Christiane Amanpour when she
confronted him
about Rwanda's involvement. "It's not just an issue of M23 or one other problem. It's a number of problems that are together that we need to sort out."
Former US assistant secretary of state for African affairs Jendayi Frazer made the
same case to Al Jazeera
saying, "I think the key issue here is to look forward and see how to resolve this. The pointing of fingers has never helped to resolve the crisis in the Great Lakes region."
According to the Buffett Foundation report, the UN experts place too much attention on the role of Rwanda and not enough on the systemic problems in the region. Hall refuted this, saying that the mandate of the UN experts is to track illegal arms trafficking and trade to rebel groups.
Jason Stearns, director of the Rift Valley Institute's Usalama Project, agreed with Hall, adding: "The (report) does place most weight on the M23, but I think that is fair, given that this rebellion was the largest source of instability in the region in 2012. But the GoE does spill a lot of ink discussing criminal networks within the Congolese army, as well as support to other armed groups."
Stearns added that there are questions to be raised about the lack of collaboration with the UN peacekeeping mission and the governments of Uganda and Rwanda. However, the Buffett Foundation does nothing to carry out a "serious" evaluation of the UN report. There is room for improvement in the report, he says, but the broad conclusions are basically sound.
The Buffett report also points to the breakdown of the relationship between the UN experts and the governments of Rwanda and Uganda. "It is not significant who was first to withdraw cooperation," it says. "The failure in process undermines the credibility of the findings, limiting potential policy prescriptions that could reduce violence in the Great Lakes region."
Stearns refuted this, saying that the breakdown of the relationship may have been tied to the fact that the experts uncovered information that Rwanda and Uganda did not like. Journalist David Aronson took a stronger tone in accusing Rwanda for the breakdown in its relationship with the group:
"[T]here's zero doubt about who broke off the relationship between the GoE and the Rwandan government. The Rwandans did," wrote Aronson in his
blog
.
The Way Forward
The attempt to discredit the experts' report and shift the conversation away from Rwanda's involvement in the DRC has worked to some extent. Donors are responding by channeling aid through non-government actors. Greening announced at the start of March that £16 million in UK aid money will make its way to
humanitarian groups
working in Rwanda rather than the government. Germany also
reversed course
and unblocked the $26 million it suspended in 2012.
Critics of the Buffett Foundation report agree that the causes of instability in the DRC are multifaceted and require a host of solutions. "The Congolese government has certainly played a very negative role in the conflict, often arming armed groups and failing to crack down on criminal networks within its own security forces," explained Stearns.
That means that any lasting peace deal will require engagement from a diverse sets of interests with the Congolese government. "It appears as if the government in the first line is not interested in reforms. The non-existence of any meaningful security sector reform approaches tells the tale," said Christoph Vogel, Mercator Fellow on international affairs.
"I have not witnessed any peace effort in DRC so far, that has tried to – either by carrots or sticks – seriously embrace political elites that have been engaging in incitement, funding, or protection of illegal and armed activity in the DRC."
Congolese experts argue that the continued rebellions make it difficult for such reforms. "[I]gnoring Rwanda's role in the Kivus as a source of conflict will make the situation worse, not better. And continuing to fund a government that spends its own resources on rebels who rape women and conscript child soldiers is unconscionable for most taxpayers in donor states," said Seay.
A UN led regional framework was signed in Addis Ababa by 11 African countries, including the DRC, Rwanda and Uganda, in February. Despite the challenges, there is a feeling of optimism in response to the UN framework. With neighbouring countries participating and the global community engaged, it appears that now is the time to take permanent steps towards peace.
"There is a unique opportunity given the engagement locally, regionally and internationally to change the security situation in the DR Congo through the UN framework," says Hall.
Congo's Virunga national park under threat from oil exploration – video
Source: WWF
Length: 2min 36sec
Thursday 1 August 2013
Oil exploration a threat to African mountain gorilla
Published on

Aug 2, 2013
August 2 - The World Wildlife Federation is calling for an immediate halt in oil exploration in the Virunga National Park. It borders on the DRC and Rwanda and is Africa's oldest national park.
Congo's Virunga national park under threat from oil exploration – video
Published on

Jul 31, 2013
Help us draw the line - please add your name to our urgent Virunga campaign at
http://www.wwf.org.uk/virunga
Join the conversation on twitter: #sosvirunga
Heard of Virunga? It's Africa's oldest national park, and a treasured World Heritage Site. Rainforests, volcanoes, rare and beautiful wildlife - Virunga has it all. People who live and work there know it's a very special place.
But Virunga is at risk of becoming Africa's newest oil field. When we heard UK oil company Soco might explore for oil inside Virunga, we had to draw the line. Some places are just too precious to exploit.
Fay Kelly Tuncay
2 weeks ago
WWF-UK propaganda emotionalise and romanticises nature to hide their anti-capitalist and anti-development agenda - which aims to protect the old worn out land-based oligarchies in the USA and Britain, who hate the competition posed by newer rising elite groups from developing countries. So save yourself Africans - act now ban the WWF!
WWF is an organisation that supports development when it meets the needs of people while managing the environment sustainably. We do not support development which undermines the natural environment on which people rely for their livelihood. The park's incredible natural environment has the potential to be developed into a sustainable economy-from hydropower to fishing and ecotourism. If the park remains a World Heritage Site it can be of lasting and repeated value by developing these activities.
Thanks maureen. It certainly is a beautiful place. The louder we shout, the more people will hear.
Thanks for your message of support. Some places are just too special to exploit and Virunga is one of those.
WWFunitedkingdom
3 weeks ago
deadpool7292 and deeganmurray you are so right. It's a World Heritage site so certainly something special. Only around 0.7% of the land surface of the world is designated as World Heritage sites. If we can't protect 0.7 what can we protect?
WWFunitedkingdom
3 weeks ago
It's a beautiful place, full of life but full of peace as well. Lets hope it stays that way. Thanks for watching!
Why would any sane person want to do away with such beautiful nature! Let Virunga be! Please!

Congo's rare mountain gorillas could become victims of oil exploration
WWF warns of environmental disaster and permanent conflict if British firm begins drilling for oil inside Virunga national park
Monday, 4 March 2013
Can Tony Blair and Howard B. Buffett be racist?
Can Tony Blair and Howard B. Buffett be racist?
Contrary to all expectations, in their joint recently
published
position, the two personalities are calling governments which had cut their financial support to Rwanda to resume their assistance because, in their strong views, the cuts were unjustifiable and most importantly not reaching the intended objectives. I would agree on the second point of their argument: effectively, according to recent information from the ground in Eastern Congo, in their ongoing rumbling over the leadership of the M23 rebel movement, General Macyenga is accusing Bosco Ntaganda of allowing the continued presence of 1,000 Rwandan soldiers in North Kivu.
We remember that aid suspension had been triggered by the revelations by the
UN Group of Experts
stating that tangible evidence had been gathered showing that Rwanda was comprehensively supporting the Congolese rebel movement through provision of funding, technical assistance, military equipment and intelligence, and recruits.
Surprisingly, while
Tony Blair
and
Buffett B. Buffett
advocate strongly for the resumption of aid, they don't offer any credible solutions to stop Rwanda from continuing meddling in Congolese affairs. And this has been ongoing since 1996. The death toll stands in the millions of civilian victims, hundreds of thousands of raped women, and millions of displaced families chased from their homes since that time.
Why raising the question of racism?
At the centre of the raised question lies the leadership of the Rwandan president Paul Kagame and his unquestionable responsibility in the persistent and deliberate insecurity in Rwanda and the Democratic Republic of Congo which is sustained through the support of advocates such as Blair and Buffett, and tens of others across the world who are profiting from his criminal activities in the region.
In 1994, more than 500,000 people were killed through what the general public has come to agree as genocide against Tutsi. Hutu who died targeted as an ethnic community at the same period and well after inside Rwanda and DRC, and probably in a bigger number, have not even been acknowledged as victims of genocide. More than 6,000,000 of Congolese have been killed and continue to be massacred because of Paul Kagame's unstoppable interferences in DRC. And these victims are treated that way only because of who they are: Congolese. Isn't this the essence of racism?
What is racism?
On 3 May 2010 Michael Fairbanks, Co-Founder of The SEVEN Fund and Senior Advisor to President Paul Kagame, in an
article
which appeared first in the Huffington Post, tried to defend the Rwandan leader against repeated attacks from human rights organizations. They were accusing his government practices not in favor of political opponents prior to the general. It was meant to be held on August 9
th
of the same year. While doing so, Fairbanks defined how racism was expressed.
This is his view on that concept:
"Racism doesn't have to mean you hate those who are different than yourself. It can mean the subtle, pernicious accumulation of unconscious prejudices against those who see the world differently."
Nothing reprehensible to such view of racism can be raised, except that the author's argument aimed at deterring those among the general public particularly non Africans who had a negative attitude towards the Rwandan president because of his critical record on the human rights front and democracy.
According to Michael Fairbanks, and probably the two personalities referred to in this note, as long as the Rwandan president massacres Rwandans and Congolese, those who oppose him might look as racist, since they would have some "unconscious prejudices against those who see the world differently."
Why questioning Tony Blair and Howard H. Buffett's views from a racist perspective?
If someone is associated with a thief or a murderer, one way of understanding such rapport is by analyzing commonalities between the personalities' involved. Lies, greed and lack of humanity are critical characteristics of the Rwandan president Paul Kagame.
If people remember, back in October 2010, when the
Mapping Report
came out, it demonstrated that his forces had been responsible of atrocities against Hutu refugees and Congolese populations which could be of genocide nature if brought in front of a court. And there cannot be act of committing genocide without element of racism towards the victims.
In addition to what the UN report revealed, an
ex-agent
of the Rwandan Department of Military Intelligence indicated recently how particularly Hutu were systematically massacred as an ethnic group in Rwanda and DRC.
In my final point, the question which comes to mind on behalf of Congolese survivors of almost 20 years of lack of peace in their country accompanied with more than 6 millions of victims, the plundering of minerals resources, or Rwandans who have become citizens of second class in their own country, all this because of Paul Kagame and his external supporters like Tony Blair and Howard B. Buffet, is this:
"Aren't these unconditional backers of the Rwandan president simply racist?"
I don't think that even King Leopold II, during his exploitation of Congo, which saw the decimation of millions of its populations to achieve his business aims, was convinced of being racist in his pursuits. It was the concerned observers who pointed to his dehumanizing practices towards Congolese people and advocated against them.
Paul Kagame: I asked America to kill Congo rebel leader with drone
19 May 2013: Rwanda's president denies backing accused Congolese war criminal and says challenge to senior US official proves his innocence
46 comments

19 May 2013: In the second part of his special report,
Chris McGreal
meets President Paul Kagame in Kigali – and finds him angry
30 comments
12 Apr 2013: By criticising the UN expert report, the former British prime minister is hampering the peace process in the eastern Congo, says
Tom Murphy
18 comments
Tony Blair, trips to Africa and an intriguing friendship
Questions raised over former prime minister's links to Rwandan regime accused of human rights abuses
Tony Blair and Rwanda's President Paul Kagame Photo: REUTERS
By
Robert Mendick
, in Kigali, Rwanda
9:00PM GMT 12 Nov 2011
When André Kagwa Rwisereka's body was finally found near a river in southern Rwanda, his head was almost completely severed from his neck.
His attackers had repeatedly hacked at him with a machete which had been left at the scene. While the Rwandan police force suggested at the time that robbery may have been the motive, human rights campaigners suspected Mr Rwisereka, vice-president of an opposition party in this densely populated state smack in the heart of Africa, was actually the victim of a state-orchestrated execution.
Three weeks earlier, Jean Léonard Rugambage, a journalist who had ignored advice to flee Rwanda, was shot in the face and killed outside his house. Mr Rugambage had been investigating the attempted assassination of a dissident Rwandan general living in exile in South Africa.
The finger of blame for the killings has been widely pointed in the direction of the all-powerful Rwandan Patriotic Front (RPF), led by autocratic president Paul Kagame. The RPF seized power in the aftermath of the 1994 genocide in which about a million people — mostly Tutsis — were murdered in a 100-day killing spree by the Hutu majority.
And while Mr Kagame, himself a Tutsi, and the RPF deny responsibility, the murders — accompanied by the jailing of other opposition leaders, journalists and even a priest — have prompted serious concern about Rwanda's future.
Not least for Tony Blair, Rwanda's and Mr Kagame's cheerleader-in-chief. Mr Blair has enjoyed a close friendship with Mr Kagame, 54, visiting six times since leaving Downing Street in June 2007.
Britain's former prime minister acts as personal adviser to Mr Kagame, while one of his charities, the Africa Governance Initiative (AGI), employs about 10 people inside the Rwandan government, helping it to run more effectively. AGI, run by Kate Gross, a former Downing Street aide based in London, also has offices in Sierra Leone and Liberia and is looking to expand into other African countries.
Since the genocide, Rwanda under Mr Kagame's stewardship has made spectacular progress in part because Britain and the US — largely out of guilt over their abject failure to intervene to prevent the genocide — have committed huge sums to rebuilding the country.
Kigali has established a reputation as the safest city in Africa, making it a comfortable environment in which charities — including a social action project run by the Conservative Party — can operate. The Tories' team leader on the Rwanda trips, the MP Stephen Crabb, said last week his group kept a "healthy and appropriate distance between ourselves and the government of Rwanda".
The human rights abuses have cast a long shadow over the country's progress. Mr Kagame's carefully built reputation as a moderniser has been further damaged by a 550-page United Nations report last year which accused the Rwandan army, under his control, of horrific war crimes in the Congo in the mid-1990s, including mass murder and rape of tens of thousands of Hutus, in revenge for the genocide. The Rwandan government "categorically rejects" the report.
Mr Blair's faith in Mr Kagame appears undiminished. A fortnight before Mr Rugambage's death in June last year, Mr Blair and his team enjoyed a three-night stay in the presidential suite at the Serena Hotel in Kigali, on one of his many visits to Rwanda's capital. With its master bedroom and en-suite Jacuzzi, two further bedrooms, and views across the Rwandan hills, the suite is entirely suitable for a figure of Mr Blair's stature. The suite can cost as much as £2,000 a night.
"Mr Blair is always very polite when he comes here," said a concierge at the hotel as he showed The Sunday Telegraph around the presidential suite via a secure lift to the fifth floor retreat, "It is very nice for Rwanda to have a good friend like that."
Mr Blair, who is said to have earned as much as £50 million since quitting Downing Street, insisted last night that he had "covered his accommodation costs before he left".
In a country where half the population gets by on just 80p a day, Mr Blair has enjoyed other presidential comforts. Mr Kagame has also paid for a private jet, leased by the Rwandan government, to fly Mr Blair in and out of the country.
Mr Blair refused to say last week on how many occasions he had flown in a private jet paid for by the Rwandans.
Young, bright and very eager, Team Blair on the ground in Rwanda has staff in the president's and prime minister's offices as well as in the Ministry of Finance and in the Rwandan Development Board. Chauffeur-driven around Kigali in new Toyota Corollas, they mentor local workers and help them draw up and implement policy.
AGI's previous Rwandan head, Jon Reynaga, another former Downing Street aide, quit in the summer, moving to Los Angeles to work on, among other things, the US version of The X Factor. His leaving party was combined with an Office of Tony Blair party — or "OTB" as it said on the invitation — and urged guests to come dressed as "Hollywood glamour and trash".
"The Blair bunch are an interesting group," said one aid worker in Rwanda last week. "They are very guarded about what they do. They want to have their cake and eat it. They want to be on the inside of the Rwandan government but only in a technical capacity. They won't get into sensitive government issues."
In 2009, not long after AGI was established in Rwanda, Mr Blair led a delegation to Kigali which included Christian Angermayer, a founder of one of Germany's largest financial services groups. Mr Angermayer also acts as an adviser to Mr Kagame. Mr Blair is in a good position to introduce Rwanda to a lot of wealthy people although there is no suggestion that Mr Blair has benefited financially from his dealings in the country.
He doesn't need to. Mr Blair earns his money elsewhere. He is paid £2 million to advise the US investment bank JP Morgan and a further £500,000 for consultancy work for Zurich International, the Swiss insurer. He also advises the Kuwaiti government, the United Arab Emirates' sovereign wealth fund, Mubadala, and most recently the Kazakh government, itself no stranger to accusations of human rights abuses.
AGI's funding is not entirely clear, although none comes from the Rwandan government. Bill Gates's charitable foundation has made a sizeable donation and so too has the Gatsby Charitable Foundation, which was set up by the Labour peer and former minister Lord Sainsbury of Turville. AGI's latest accounts show an income of £3.2 million with half that — equivalent to £57,000 each — paid to its 22 employees, seven secondees and subcontractors.
In one of the few deals in Rwanda in which Mr Blair is known to have played a major role, he was instrumental in persuading ministers to rent out 10,000 hectares of mainly scrub and bush to a British company with plans to grow a controversial crop called jatropha, which potentially can be harvested and turned into biofuel.
At a time when the deal was in danger of stalling, Mr Blair and his team at AGI stepped in to push it ahead, getting the Rwandans to agree to lease the land to the company Eco-Positive for a rent of a few thousand dollars a year. By 2015, the company hopes to supply one fifth of the country's diesel, equivalent to about 20 million litres.
Simon Page, one of the shareholders of Eco-Positive, is a senior executive at JP Morgan although there is no suggestion that Mr Blair, who is a paid adviser to JP Morgan, was ever aware of that fact.
What other deals Mr Blair has worked on is hard to know. His friends Sir Evelyn de Rothschild, a philanthropist and senior figure in the banking industry, and his wife Lady Rothschild, visited Rwanda in September, staying in a suite at the Serena Hotel. "They came accompanied by presidential guards," said a source. "They are looking to invest in a game lodge in Rwanda — to buy one and modernise it."
The Rothschilds refused to comment last week on their four-day trip and any deals being struck in Rwanda.
Mr Blair also held talks with Gaddafi in 2008 after leaving Downing Street about "good worthwhile projects for investments" in Africa at a time when Libya had set aside billions of pounds for deals on the continent. It is not clear how much, if any, made its way to Kigali nor whether Mr Blair had any involvement. In 2008, the Libyan regime bought a Rwandan telecoms company while also taking control of a luxury hotel, the Laico Umubano, which, through a quirk of fate, happens to be the preferred lunchtime watering hole for Team Blair on the ground in Kigali. The international community has expressed its revulsion at the killings and other human rights abuses in Rwanda, such as the closure of independent newspapers and the jailing of Mr Kagame's critics, including a Catholic priest who on Christmas Day last year condemned the regime's family planning policies. However, Mr Blair, in public at least, has been unwavering in his support.
A little over a month after the killings in September 2010, Mr Blair delivered a congratulatory message to Mr Kagame, following his re-election with 93 per cent of the vote.
"The popular mandate received by President Kagame in the recent Presidential election," declared Mr Blair at the time, "is testament to the huge strides made under his formidable leadership."
It is suggested that the relationship with Mr Kagame was put under strain by an alleged plot by the state, uncovered by the Metropolitan Police in May, to assassinate two Rwandan exiles on British soil. Had the killings gone ahead, according to diplomatic sources, all bets would have been off, including £80 million a year in aid given to Rwanda by the British government.
Carina Tertsakian, a senior researcher at Human Rights Watch who was forced to leave Rwanda last year, said: "To suggest Tony Blair is helping to prop up Kagame is putting it mildly. He has been very supportive of the Kagame regime from the beginning.
"We are not aware of Tony Blair nor any of his staff working in Rwanda raising the problem of human rights abuses. This effectively is sending a message to Kagame that these human rights violations don't matter."
Supporters of Mr Kagame point to the remarkable progress Rwanda has made since the genocide. Sir Tom Hunter, a Scottish billionaire and philanthropist who sits on the presidential advisory council along with Mr Blair and other dignitaries, said last week: "There are many colours of democracy and coming out of a genocide in the near history of 1994 when a million people died in 100 days we cannot expect the democracy we enjoy in Britain to suddenly happen magically in such a short period of time."
In a statement, Mr Blair's office defended his role in Rwanda. "Since 2008 the Africa Governance Initiative has supported President Kagame and the government of Rwanda in its efforts to create an effective public administration capable of delivering public services to its citizens and driving the country's development," it said.
"Rwanda has made a remarkable recovery from the tragedy of the 1994 genocide in which 800,000 people were murdered … This would not have been possible without the hard work of the people of Rwanda and the vision and leadership of President Kagame and his government."
The statement went on: "AGI is proud to join them in supporting Rwanda on this journey. This journey is not complete: 50 per cent of Rwandans still live on less than $1.25 a day. President Kagame, his government and its partners recognise that the country's political development must ultimately go hand in hand with its social and economic development. Tony Blair regularly raises these issues in his discussions with President Kagame."
Mr Blair will be hoping that the Kagame regime, at least in the future, embraces democracy rather than clamps down on it further. Mr Blair was quick to bring Gaddafi in from the cold, only to see the tyrant revert to type and massacre his own people. He will just have to hope that Mr Kagame, despite Rwanda's bloody past, can be steered by his team of enthusiastic charity workers down the democratic path. Mr Kagame's opponents have their doubts.
Tony Blair defends support for Rwandan leader Paul Kagame
President under pressure after over Congo allegations, but Blair says Rwanda is still coping with the fallout from 1994 genocide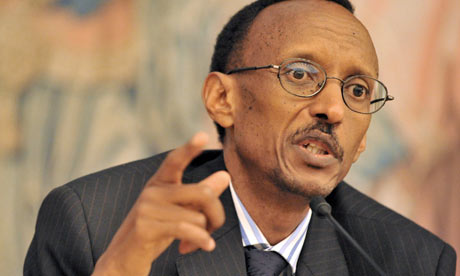 Paul Kagame has faced charges that his regime is increasingly authoritarian after the opposition was effectively barred from challenging him in August's presidential election. Photograph: Uwe Anspach/EPA
Tony Blair
has defended his close personal and working relationship with one of
Africa
's most controversial leaders,
Rwanda
's
Paul Kagame
, even as foreign governments distance themselves over accusations of war crimes and the suppression of political opposition.
Blair has described Rwanda's president as a "visionary leader" and a friend after making the central African country the focus of the work of his charity, the Africa Governance Initiative (AGI), to turn around the continent's fortunes.
The initiative includes placing officials hired by Blair in Rwanda's institutions such as the president's policy unit, the prime minister's office, the cabinet secretariat and the development board to assist with administration. Blair is leading a similar programme in Sierra Leone and Liberia, and says he intends to expand it to other African countries.
But the relationship has come under increasing scrutiny following a UN report that accused Kagame's forces of war crimes, including possibly genocide, in the east of Democratic Republic of Congo, and charges that the Rwandan government is increasingly authoritarian after the opposition was effectively barred from challenging Kagame in August's presidential election. The White House has criticised Kagame for the suppression of political activity and made clear that it does not regard Rwanda as democratic.
But Blair said allowances have to be made for the consequences of the 1994 genocide of hundreds of thousands of Tutsis and suggested that Kagame's economic record outweighed other concerns.
During a recent visit to Washington to meet the US secretary of state, Hillary Clinton, and promote his Africa initiative, Blair told the Guardian: "I'm a believer in and a supporter of Paul Kagame. I don't ignore all those criticisms, having said that. But I do think you've got to recognise that Rwanda is an immensely special case because of the genocide. Secondly, you can't argue with the fact that Rwanda has gone on a remarkable path of development. Every time I visit Kigali and the surrounding areas you can just see the changes being made in the country."
Kagame, pictured below, has been a particular favourite of Britain. Blair's former development secretary, Clare Short, directed large amounts of aid to Rwanda and lavished praise on Kagame. Rwanda also recently joined the Commonwealth.
For many years, Kagame, a Tutsi who led the forces that ended the genocide, was praised by other leaders – Bill Clinton called him "one of the greatest leaders of our time" – amid continuing guilt over the major powers' failure to stop the murder of the Tutsis and out of a belief that he had brought relative stability to a troubled region.
But the publication of a UN report in October accusing Rwanda of war crimes in eastern Congo, including the wholesale massacres of Hutu civilians and the plunder of minerals, tarnished Kagame's image. He has vigorously denied the accusations but human rights groups have been documenting such crimes for years.
Blair rolled his eyes at mention of the UN report, which he questions, and suggested that Rwanda's occupation of eastern Congo for many years was justified by the continuing threat from Hutu extremists.
"He (Kagame) and I specifically discussed this," Blair said. "They [the Rwandan government] very strongly push back against the allegations that are made.
"You've got to understand that it's a very difficult situation in Congo because you've got the rival forces fighting each other and that's spilling across into his territory."
Kagame has also been forced on the defensive over his re-election in August, with 93% of the vote, after his main rivals were jailed and barred from running after being accused of stirring up ethnic hatred between Hutus and Tutsis after what Human Rights Watch called "persistent harassment and intimidation" of their parties by the government, and the curbing of criticism in the press including the banning of two newspapers. The deputy leader of a third opposition party was murdered in July.
There is a growing perception among human rights groups that Kagame has used accusations of "divisionism" and "genocide ideology" to suppress legitimate political criticism. But Blair said the Rwandan government's sensitivity is justified because of the country's recent history.
"When they get upset about any form of politics that leaches at all into ethnic rallying cries, it's for a reason," he said. "You can't just dismiss that reason. I don't ignore these criticisms at all. Indeed, I've discussed these with the president. He's someone I've got to know well and I'm a believer in him, and I believe I won't be disappointed.
"You've got to make a judgment about this, and my judgment, rightly or wrongly, is that he is somebody who does want to do his best for his country, is doing his best for his country, and is a huge focus of stability in a place that still desperately needs it when we're only 16 years after the genocide."
However, there is also concern that a rising generation of Hutus will increasingly feel shut out of the political process, deepening ethnic divisions once again as extremists revive accusations of Tutsi domination.
Governing principles
Tony Blair's Africa Governance Initiative (AGI) is one of a series of programmes the former prime minister is juggling on the world stage, along with his duties as a Middle East envoy, for his faith foundation, a climate change initiative and a foundation to promote sport.
The AGI, a registered charity, launched its first project in Rwanda in 2008 and provides the model for similar programmes in Liberia and Sierra Leone, both rebuilding after devastating civil wars. It involves placing Blair's staff in high government offices, such as presidential policy units and cabinet secretariats, to build "effective governance" through "a combination of on-the-job coaching and support and formal and informal training".
Blair says a key to its success is a new generation of African leaders not hidebound by history.
"There is a clear sense by this generation of African leaders that the future of Africa is in their hands and they're not interested in a debate about the colonial past," he said. "They're very much eager to get their countries sorted out. They're perfectly willing to listen and learn from the outside. They're also keen on bringing in quality private sector investment and that is the way you build a country."
But the initiative is open to criticism for promoting a model that pressures African states to again surrender political and economic autonomy.
Berkshire Hathaway and Warren Buffett: capitalism at its best and worst
There's no doubt Buffett and his business partner Charlie Munger are great investors, but they can also make you queasy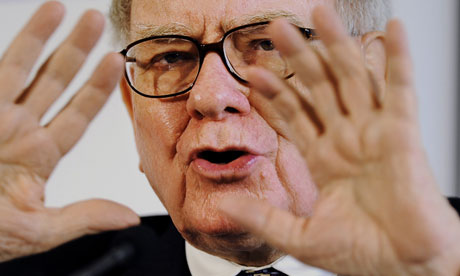 Investor Warren Buffet Photograph: Thomas Lohnes/AFP/Getty Images
On May 4, thousands of Berkshire Hathaway shareholders, accompanied by scores of journalists, will gather in an Omaha arena for
the company's annual meeting
. The event has become known as the the "Woodstock of capitalism" – a living shrine to Berkshire CEO
Warren Buffett
, widely regarded as the best investor of all time.
I've been a Berkshire shareholder since the late 1980s, and have followed Buffett's career with more than a casual interest. But I'd never attended an annual meeting until three years ago – in the depths of the Great Recession and at a time when Buffett's halo was showing some tarnish. What I saw and heard that weekend in 2010 was mostly enthralling but occasionally repellent.
Berkshire and Buffett are the face of modern capitalism at its best and worst, though the former greatly outweighs the latter. The company is a complex, sprawling collection of businesses and investments, vastly more successful than most. Buffett and his longtime (and under-appreciated by the general public) partner, Charlie Munger, are beyond brilliant as investors and overseers of a vast empire. They find what they consider great businesses and, with little interference, let the managers manage. They're in it for the long term; this makes them actual investors, in contrast with the speculators who populate and pollute much of Wall Street today.
Buffet, too, is enormously complicated, sometimes contradictory. He has earned enormous respect, but not the near-worship that characterizes so many shareholders' – and fawning journalists' – attitudes.
I deeply admire Buffett's common-sense approach to business and investing. Read his
annual report
, especially the entertaining and nuanced letter to shareholders, to get a feel for why.
Every year
as I scour it, at least one new light bulb goes off in my head. He cheerfully admits when he screws up, as he did some years back after
wrongly that deciding the airline industry made sense
. (I expect a similar admission in a few years about his new hobby of
scooping up newspapers
, unless he's prepared to make radical – and necessary – changes in how they operate. Still, I wish us all well in this particular move).
For years, Buffett fretted loudly about the dangers Wall Street's financial engineering, especially its growing reliance on derivative "instruments" that spawned massive profits for a tiny few at the expense of so many others. These were,
he accurately warned
, "financial weapons of mass destruction". When the economy imploded in 2008, he was almost alone in having credibility as he reassured the public, and the teetering markets, that we could avoid a replay of the Great Depression.
I've been especially charmed by Buffett's ability to induce frothing nonsense from the denizens of the Wall Street Journal's opinion pages and their right-wing fellow travelers. They can't fathom a capitalist favoring policies that do anything but reward the rich and powerful, and they hold him in special contempt for his well-founded
belief in a fair, progressive tax system
including, "omigod", a stiff tax on inherited mega wealth. Unlike them, of course, Buffett understands the long-range folly of a system that's rigged to give the wealthy – and especially their heirs – overwhelming advantages, fueling a plutocracy that leads society down a cruel and ultimately unsustainable path. As he
famously said in 2006
:
"[T]here is class warfare, all right. But it's my class, the rich class, that's making war, and we're winning."
Over the years, however, Buffett has said and done more than a few things that made me queasy. At one point, for example, he was positioning David Sokol as heir apparent. That prospect ended after it emerged that Sokol had bought shares in a company he was recommending that Berkshire buy. The purchase did take place, at a premium, and Sokol made millions for his personal account. He resigned, and Buffett said he'd done nothing wrong. Then a Berkshire audit committee filed what
BusinessWeek called
a "scathing"
report
about Sokol's actions (the ever-cautious Securities and Exchange Commission, surprising no one,
declined to pursue the matter
). For someone who's talked incessantly about ethics, Buffett's blind spot was disappointing, even if he later acknowledged the impropriety of the dealings.
My misgivings verged on disillusionment at the 2010 meeting. It had been about 18 months since the meltdown. Back in 2008, Buffett pulled off one of his standard moves: an investment –
this one in Goldman Sachs
, one of Wall Street's threatened investment banks – under terms that, barring an absolute collapse of the economy, pretty much ensured high profits for Berkshire. This opportunistic move reeked of hypocrisy. The good kid was joining the gang.
In Omaha, some of the shareholders wanted to know how the investor who'd warned so presciently about Wall Street's screw-the-world financial engineering – and who'd long cultivated a cleaner-than-thou image for himself – could invest in and stand by companies that represented some of the financial industry's worst predatory and unethical ways. He retort
went something like this
: anyone who got conned by Wall Street's sharks should have done more homework, and besides, the robber barons (my description, not his) in charge were exemplary business leaders.
Then Buffett was asked about Berkshire's large holdings in Moody's, one of the financial ratings companies that proved so useful to the bubble makers by giving cynical Grade A blessings to financial instruments that were blatantly inferior and which predictably crashed. Moody's,
he insisted
, was a fine, upstanding company run by fine, upstanding people.
I wanted to throw up.
Munger, it turned out, had little good to say about Wall Street in any capacity. This was a surprise, because as he makes clear in public statements his politics are far to the right of Buffett's. But he was caustic about the sleaze. He suggested, for example, that the accounting profession – so massively culpable in the disaster – "
behave like real men instead of dishonorable twits
". And he suggested that prosecuting the corrupt engineers of financial catastrophe would do wonders to prevent a recurrence. (Too bad Buffett's pal, Barack Obama, hasn't taken that advice.)
After the formal meeting, shareholders tromped around a huge room in the Qwest Center arena where various products from the Berkshire companies were being touted, and, in many cases, offered for sale. And the next day, shareholders
mobbed local Berkshire-owned properties
, including an Omaha jewelry store, spending wildly and boosting the company's prodigious cash flow. Shop, shop, shop: was this closer to the real meaning of Berkshire? At least they got a discount.
I won't be at this year's annual meeting, and unless I write a book about Berkshire, I doubt I'll ever go back. As usual, I will pay attention from afar, not so much to keep tabs on the investment as to hear what a couple of incredibly smart people say about the economy they understand so well.
Berkshire has not made me rich. My holding is one share, which I bought when I was looking for a good mutual fund and discovered something better. Even the single share carved a non-trivial chunk out of my bank account at the time that I bought it. In hindsight, of course, I wish I'd scraped up every possible dime and bought more. I wasn't – and will never be – that smart. As even the most minor of shareholders, though, I've gotten quite an education.
Thailand denies paying Tony Blair £410,000 fee to attend unity forum
Blair to attend on 'pro bono basis' forum Thai opposition says costs too much and fears may be used to rewrite constitution
Kate Hodal
in Bangkok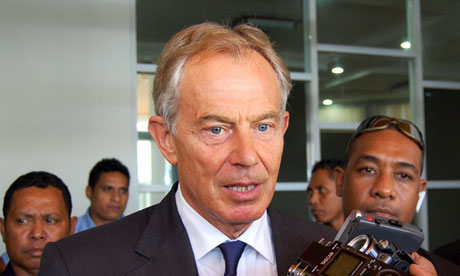 Tony Blair and most of the other high-profile speakers will only have their travel and accommodation costs covered, says Thailand's foreign ministry. Photograph: Antonio Amaral/EPA
The Thai deputy prime minister has denied paying
Tony Blair
20m baht (£410,000) for participating in a reconciliation forum next month in Bangkok, despite a
local news report
claiming that the latter's attendance would cost that much in fees and expenses.
Blair will instead see only his travel and accommodation costs covered,
Thailand
's ministry of foreign affairs told the Guardian, in keeping with most other speakers.
The former British prime minister is one of a number of high-profile leaders to be invited to discuss peace and negotiation at the Uniting for the Future forum in September. Joining him on stage will be Priscilla Hayner, an expert in truth commissions and transitional justice, and Martti Ahtisaari, the former Finnish president and Nobel laureate who is noted for his international peace work. The former UN secretary general Kofi Annan declined the invitation.
The Thai prime minister, Yingluck Shinawatra, has said the forum, which is to include local and foreign leaders, could help "introduce a positive and forward-looking climate" to Thailand, which deeply divided between those who support her government and those who fear her party is merely attempting to bring back her brother and former premier Thaksin.
Thaksin is a deeply divisive figure who has been living in self-imposed exile since he was ousted in a military coup in 2006 and charged with conflict of interest. A recent amnesty bill absolving those arrested, charged and prosecuted for any political activities after the coup
triggered thousands to protest in the streets in Bangkok last week
, amid fears that the legislation would pave the way for Thaksin's return.
Next month's forum has been condemned by Thailand's opposition party, which claims it is costing too much money and may be used to rewrite the constitution.
But the foreign ministry has said the state is only paying for travel, accommodation, security and reception expenses of those invited – in addition to any organisational or public relations fees. The ministry added that it will also be covering a daily fee for Hayner .
A spokesman for Blair said the former prime minister was delighted to accept an invitation to a forum "in support of the Thai government's ongoing peace and reconciliation initiatives. This is an important time for Thailand's economic, social and democratic development and Tony Blair is very happy to help in whatever way he can.
"This is being done on an entirely pro bono basis; there is no fee and there never was."
Blair is one of the highest-paid public speakers in the world, once earning £364,000 for two 30-minute speeches on leadership in the Philippines in 2009.