East Africa is very important and is a focal point for Emerging Markets in the world.
Political Leadership engagements to providing Responsibility with integrity, Security, Law and Order as the genesis drivers to Unity and Peace in pursuit for happiness; is therefore extremely very important for moving forward progressively.
While I stand tall in supporting President Kikwetes stand over President Kagames' instigation bully in the Region, the following should be observed:
1) providing security for all is crucial. Shoot to kill by police is unacceptable. The Police must not take laws in their own hands. The law must charge the Police who shot the Radical Preacher Ponda and the law should instead be applied to charge Ponda.
2) Dar could take the lead in East Africa's Industrial Hub progressiveness for the World Emerging Markets, and Public Corporations system must be made functional through strict Government Departments' Regulations that put Public Mandate and needs top of any negotiation deals. This includes observing all tenets of Human Rights, Security and protection.
3) Since Kagame and Museveni are both sneaky bullies, we all must unite to put them on checks. As much as Kagame wants to provide for his Rwandese people, all other leaders too have responsibilities to provide for their people. So all want a freer conducive environment where all play fair for the goodness of all and Museveni and Kagame must not be given chance to steal or acquire Port Kismayu and Migingo for their evil plan of selfish greed. We must not allow Museveni and Kagame to acquire the Port of Kismayu and Migingo for Salim Saleh to destroy East Africa for their selfish greed.
4) All Rebel Groups and Mercenaries including

Salim Salehs'

must be condemned and be forced to face justice for all evils with instability caused in the Great Lakes of East Africa.
5) United Nations led by Ban-Ki-Moon must show Responsibility with Integrity by pushing for quick Returns with good Results, instead of compromising and playing dummy in slackness that fuel rising of insecurity, loss of Lives and rapping of women and children. This is abuse of Sovereign territorial invasion, that have been witnessed and believed to have been a long engineered conspiracy planned to open opportunity avenues that aids evil to benefit Special Business Interest greed. This is unacceptable and we all will stand against this type of behavior.
People of Africa too want to enjoy Liberty in pursuit for happiness and when this is achieved, the world will be a happy place to live. We must all face reality and know that, Unity for Peace is crucial to all....
Cheers everybody.......!!!
Kikwete : This is my position on Rwanda
In Summary
He accused Rwanda's leaders of making inflammatory statements that have sent engagement between the two members of East African Community to its lowest levels
In an address to the nation, Mr Kikwete expressed concern about Rwanda's unease with him
By Songa wa Songa The Citizen Reporter (
email the author
)
Posted Saturday, August 3 2013 at 08:37
In Summary
He accused Rwanda's leaders of making inflammatory statements that have sent engagement between the two members of East African Community to its lowest levels
Dar es Salaam. For the first time, President Jakaya Kikwete yesterday admitted that relations between Tanzania and Rwanda were tense but maintained it was not in the interest of his government to escalate the situation.
In a carefully worded address to the nation, Mr Kikwete expressed concern about Rwanda's unease with him personally and the leadership of Tanzania in general, but played down fears that the matter could further strain the two countries' relations.
The President said any hard feelings against him in the neighbouring country were misplaced and amounted to unfair and unwarranted criticism of a friendly nation such as Tanzania.
The head of state used the traditional end of the month speech to speak out on a matter that has in recent months raised political temperatures in the region and there were fears thatit could boil over into a full-blown conflict.
"I have been shocked and dismayed at the verbal attack and criticism levelled against me by Rwandan officials," Mr Kikwete said. "What they are doing and saying does not reflect the true position …. (it is) completely out of proportion and out of context."
He accused Rwanda's leaders of making inflamamatory statements that have sent engagement between the two members of the East African Community to its lowest levels. Without naming them, the President said: "Utterances of Rwandan leaders towards me and our country is evidence of that (turbulent relations)."
The origin of the war of words between Kigali and Dar would appear to be President Kikwete's recent suggestion that Rwanda should negotiate with the rebels fighting it from bases in the Democratic Republic of Congo.
Kigali has been greatly offended by Mr Kikwete's call during the last AU Summit in Addis Ababa, with state officials and the ruling Rwanda Patriotic Front operatives going into overdrive in their rejection of the appeal.
Rwanda's minister for Foreign Affairs, Ms Louise Mushikiwabo, was the seniormost official to speak against Mr Kikwete. She equated Mr Kikwete's remarks with defending those accused of the 1994 genocide against the minority Tutsi. Bloggers from both sides have also traded barbs and taken the stand-off to a higher level--which probably explains Mr Kikwete's move to break the ice.
In his address yesterday, Mr Kikwete declared that his call for dialogue had been misunderstood. He said he had restrained himself as there was no reason to jump on each other's throats or escalate a non-issue. "Two wrongs do not make a right," he added.
The President said he had chosen to ignore insults from Rwanda in the best interest of the people of the two nations.
"It is not because I do not know how to speak or that I do not have anything to say," he added. "I haven't done so because I do not see its benefit.I want to assure my fellow Tanzanians and our Rwandan friends that I, my government and the people of Tanzania want to have good relations and close cooperation with Rwanda as we have with all our neighbours."
He pledged that Tanzania would continue pursuing and nurturing good neighbourliness and foreign policies.
Dar could become industrial hub: Japan
In Summary
During the Tokyo talks, Kikwete reportedly asked Abe to consider investing in Africa which is a growing market for Japanese products which span from motor vehicles to electronics devices.
Dar es Salaam. In what appears to be a new engagement strategy, Japan yesterday announced an ambitious investment initiative aimed at turning Tanzania into a trade and industrial development hub in Africa further down the road.
As Japan's "strategic partner", Tanzania is poised to benefit from construction of infrastructure and heavy investment in industries that will see Japanese internationally acclaimed brands manufactured in the country.
The plan was unveiled in the city yesterday by Japan's minister for Economy, Trade and Industry, Mr Toshimitsu Motegi, during talks with President Jakaya Kikwete at State House.
According to a statement released by the Directorate of Presidential Communication at State House, Mr Motegi's visit and sweet-sounding announcement comes as a result of President Kikwete's visit to Japan in June, in which he held talks with his host, Prime Minister Mr Shinzo Abe, in Tokyo.
During the Tokyo talks, Kikwete reportedly asked Abe to consider investing in Africa which is a growing market for Japanese products which span from motor vehicles to electronics devices.
As Premier Abe's emissary, Mr Motegi informed President Kikwete that his country had chosen Tanzania as key partner, not only in East Africa, but also in the entire continent and was determined to make the East African member state a success story.
Mr Motegi announced that to start with, Japan will revamp the central railway line by replacing the German-colonial-era narrow rails with modern standard railroads that will boost business within the country and between Tanzania and landlocked countries such as Uganda, Rwanda and Burundi which depend on the port of Dar es Salaam. Japanese experts should be expected in the country soon for feasibility study on the rail project, he promised.
The Foreign minister, who was flanked by an army of Japanese businessmen and women, also promised that the revamping of the central railway line that goes to lake-Tanganyika town of Kigoma on one branch and the Lake Victoria city of Mwanza on the other, will go hand in hand with yet another expansion project at the port of Dar es Salaam.
Mr Motegi told President Kikwete that two Japanese giant firms, Honda and Panasonic, had agreed to set up manufacturing plants in Tanzania. "Mr President, this is just the beginning because, as I said, we want to do more and make Tanzania the best practice in Japan's foreign investment in this part of the world which, in turn will create lots of jobs for Tanzanians," he said.
According to Mr Motegi, after motorcycle and electronics factories, the next sector that should expect a shot in the arm from Japanese investors is agriculture, especially cotton which he said will be followed naturally by yet another heavy investment in textile.
The meeting was also attended by the minister of State in the Prime Minister's Office charged with Investment and Empowerment affairs, Ms Mary Nagu, minister for Industry and Trade, Dr Abdallah Kigoda, and minister for Transport, Dr Harrison Mwakyembe.
It is vital for Japanese to set up automobile manufacturing with state of the art technology. What is Toyota and Nissan waiting for? Assembly plants should line up along Bagamoyo road similar to Pataya in Thailand. Japan should think big of Africa and restrain from depending on exports of finished products to Africa. The new era of international business is for foreign companies to invest in a host country to create highly needed jobs. As employee become middle class will defensively purchase the goods produced by foreign company. Japan should not wait for Revamping railway, should start now to set up car manufacturing and electronic chips, including computers, etc. This is the way forward.
Ha ha ha haaaa! I dont know how many will laugh with me. Waswahili tundanganyika na pipi kama watoto. Why cant we examine where we have been? Scandinavians have helped, then Chinese 'brothers' now we have a Japanese cousin? Come on guys, lets be serous and know that we have to work for our developement. No country has developed by begging!
Radical preacher wanted over Zanzibar acid attack shot in police raid
A radical Muslim preacher wanted for questioning over the acid attack on two British tourists in Zanzibar was shot on Saturday night as he fled police trying to arrest him.
nimeiukuta fb hii picha
Inshalaah....!
On Aug 11, 2013 1:52 PM, "Katulanda Frederick"
Radical preacher wanted over Zanzibar acid attack shot in police raid
A radical Muslim preacher wanted for questioning over the acid attack on two British tourists in Zanzibar was shot on Saturday night as he fled police trying to arrest him.
Ponda earlier this month met with the imprisoned leaders of Uamsho Photo: ITV
By Mike Pflanz, Stone Town
6:24PM BST 10 Aug 2013
Sheikh Issa Ponda is understood to have survived the raid and was on the run but injured, police sources told The Daily Telegraph.
He had visited Zanzibar in the weeks running up to the attack on Katie Gee and Kirstie Trup, both from north London, who were on Saturday still in hospital being treated for their injuries.
Ponda earlier this month met with the imprisoned leaders of a Muslim separatist group, Uamsho, who police believe may have inspired the attack on the two women.
Tanzania's director of public prosecutions, Elieza Feleshi, on Friday ordered that the cleric be arrested after accusing him of inciting violence, for which he was convicted earlier this year and given a 12 month suspended sentence.
"He narrowly escaped from the police in Morogoro, he was shot by our officers, but we are pursuing him," said Faustine Shilogile, a senior police commander in Morogoro, the town 110 miles west of Tanzania's commercial capital, Dar es Salaam, where Ponda was shot.
Ponda in shooting drama

Posted Sunday, August 11 2013 at 11:51
In Summary
Reports that could not be independently verified suggested the cleric sustained bullet wounds during the confrontation and that he had been rushed to the regional hospital for treatment.
Dar es Salaam. There were conflicting reports last night on the health condition of controversial Muslim cleric Sheikh Ponda Issa Ponda who was reportedly shot and injured by police in Morogoro.
Morogoro Regional Police Commander (RPC) Faustine Shilogile, however, said he had no information on the said shooting of the cleric whose whereabouts were unknown by the time of filing this report.
"I do not know if Ponda was shot although that rumour has spread in Morogoro," RPC Shilogile told The Citizen on Sunday in a telephone interview.
But Mr Shilogile confirmed that armed police had attempted to arrest Ponda in the town, leading to a confrontation with his supporters who spirited him away in a motorcycle.
"There was a fracas as the mob blocked the police from arresting him, prompting them to open fire. They shot in the air to disperse the rowdy crowd," said the RPC. Sheikh Ponda was addressing a religious gathering.
Reports that could not be independently verified suggested the cleric sustained bullet wounds during the confrontation and that he had been rushed to the regional hospital for treatment.
According to the reports, the people escorting him to the hospital sneaked him out to escape a police dragnet. Mr Shilogile denied knowledge of this information, saying neither the police nor the hospital officials had information about his whereabouts.
An arrest warrant was early in the week issued for the arrest of Sheikh Ponda over incitement in Zanzibar. The order was issued by the Director of Public Prosecutions.
Mr Ponda is on a one-year suspended sentence relating to a destruction of properties case which requires him not to commit any offence.
Confession of a drug trafficker
In Summary
His recruiter, Michael (not his real name), was by then a notorious retailer, supplying drugs to addicts in the streets of Magomeni Mapipa and Mwembechai.
Dar es Salaam. At only 24, Juma (not his real name) is an experienced drug peddler, with seven years to his experience in the underworld of the illicit business.
Juma resides in the Magomeni Mapipa suburb. Alongside Magomeni-Mwembechai, Kinondoni and Ilala neighbourhoods, they are worst affected by the growing drug trade in Dar es Salaam. The number of young men and women involved in drug dealing from these areas is shocking.
Reports on incidents of Tanzanian youths arrested and jailed overseas for drug trafficking have been on a trajectory, with warnings that drug lords were endangering the wellbeing of the nation and threatening the country's stability.
In June this year, the Immigration department released a list of 35 Tanzanians who had finished serving jail sentences in Lahore and Rawalpindi prisons in Pakistan for drug offences and had been stuck there awaiting repatriation. Out of the 35, seventeen are from Dar es Salaam, with Ilala alone accounting for nine of these convicts.
Following a leaked letter by a Tanzanian drug courier imprisoned in Hong Kong in which he listed reported drug barons and warned the youth against joining the trade, The Citizen on Sunday traced Juma who gave an account of how youth were recruited and hooked into the trade.
He pointed out that winning the war against traffickers whom he said were well established, would be an extremely uphill task. Juma was recruited in 2006 aged only 17 by a close friend and neighbour. He was still a secondary school student. "We knew each other very well, he was more of a brother to me," said Juma.
His recruiter, Michael (not his real name), was by then a notorious retailer, supplying drugs to addicts in the streets of Magomeni Mapipa and Mwembechai.
Juma's first task in the business was to unpack 'the stuff' from 100 grammes bundles and re-package them into small plastic bags to be sold for Sh1000 to Sh1500.
"The job was not as easy as it may sound, just packing and repackaging. It is very difficult, I know of people who quit after their first experience," he said.
The repackaging process is done in a room with poor circulation of air to prevent the expensive drugs from being blown away. It also must be done in a mirror, preferably a windscreen, where the drugs are placed and repacked into small bags using sharp razor blade thin-sidebars.
Juma says the logic of using a windscreen is to avoid contaminating drugs and preserving its quality. Unpacking and repackaging of one bundle could take an amateur up to two hours and only half an hour for a pro.
"I was paid Sh25,000 per bundle at the beginning and the amount reached Sh35,000 when I stopped repackaging in 2009." Juma was making good money, ending with Sh150,000 on a good day. "But it is not an everyday work, it really depends on supply, and you can go dry for a whole week without any assignment."
As a teenager, the cash inflow was more than enough for Juma to afford small luxuries. He eventually failed in his form four exams and with nothing to do in the streets, he took drug peddling seriously as his sole engagement.
The business, he says, requires loyalty and trust than capital. With the interactions he made in the business circles in the neighbourhood, he quickly rose from peddling to trafficking by the time he was aged 20. His maiden journey took him to South Africa. It was an arduous five day trip on the road with drugs in his belly.
Since then he has made numerous trips to South Africa, Brazil, Italy, India and Pakistan. He couldn't openly reveal his current fortune but admits that he is leading a comfortable life that most of his agemates can't afford.
The role models
Drug traffickers are apparently known and respected by many youths in the estates. Their neighbourhoods are predominantly resided by poor and middle class families. Their standards are measured through lavish lifestyle, dressing in designer clothes, driving flashy cars and flying overseas frequently.
"I know there are a number of young men who envy me, some have come to me and asked for help. But I am always careful; this is not an easy thing that anyone can do," he said.
"You know majority of us down here didn't receive good education, and as such, the unemployment rate is very high. It is very understandable to see other young people attracted to this trade because of our lifestyle."
Juma's recruiter (Michael) fell in the same trap; he was running a small retail shop in the street and struggled to make ends meet. His friends however were transporting drugs in and out of the country. They had money, cars and had built houses.
Michael grew up and went to school with the now wealthy friends; they were always available to help and every time he experienced financial difficulties he sought their assistance.
Slowly, he grew accustomed to the business. He started by hiding the drugs brought in by his buddies for a handsome payment. Later he became part and parcel of their cartel.
A 25 year old university student and resident of Ilala, labelled notorious by the traffickers, believes that with the influence the traffickers enjoy, it would be impossible to keep them off the streets.
"Look, you have this friend of yours; you are all poor, uneducated and unemployed. He decides to join the business, next thing you hear from him is that he is going overseas; he comes back loaded with cash, courting beautiful ladies, driving and buying all that you can imagine. What happens next is this other poor fellow joining him and that way the chain continues to lengthen." "The money-bagged drug lords are not coming to recruit down here, many of my friends who are in the business have not met the real players in the market, and some don't even know them. It is these middle agents and traffickers who are used to attract more youths to the business."
The university student confessed he was approached by one courier who told him that with his English proficiency, he would hit it big as it was easy to beat all immigration blocks at international airports. "I however refused and was very angry with the suggestion. I am told he is currently jailed in China."
The worst part of the business, according to Juma, is that society embraces them: "Some of us are very committed to our families, providing daily bread, good health care and education. Who doesn't need that? At the end we are loved and accepted by our own and other beneficiaries."
At Michael's neighbourhood in Ilala, there is a story of how a religious leader was excommunicated for associating himself with drugs. His brother is a well-known notorious trafficker and the cleric not only failed to stop him but was seen openly driving his cars and getting well with him.
A very dangerous business
"When you join this business at any level, the first thing you should expect is to spend some time of your life in jail, secondly being crossed and even killed or finally land success," says Juma. "If you will be blindly driven by success and ignore the hard part of the game, this is not for you and the reality will soon knock you down."
As a courier, his worst fear is falling in the hands of security forces abroad and thrown into jail. "Most families of those arrested or jailed abroad suffer double tragedy by not having their kin around and the sketchy information about their cases and legal assistance.
The news of arrests is mostly broken to families through other couriers. The matter often ends at that as those back home don't alert authorities for fear of landing in trouble. According to Juma, hosts in the foreign countries usually take off once they fail to makecontact at the airport.
He points to information from Tanzania Drugs Control Commission showing there are more than 200 Tanzanian prisoners in China, 90 per cent of the cases involving drugs. "No one there would attempt to inquire about their fate because they will likely be arrested for association and collusion.
In his maiden international trip, Juma swallowed pellets of heroin and crossed three borders from Dar es Salaam to Johannesburg. Due to stomach complications, he was forced three times to eject and swallow them again. "Can you imagine how hard and irritating the whole process is- some people are dying in the process- but in the name of money that is very possible and a routine experience for couriers."
Juma's last overseas tour was to Italy in early February this year. He was arrested and put behind bars for five months. "Police raided the area; luckily I had no drugs at the time. They took me to my hotel room and found nothing; they detained me for questioning but I maintained that I was innocent and was lucky that no one from their list of suspects came to enquire about me. At last they released me and compensated me for all the time I spent in jail."
According to Juma, when he arrived back home in July, he had to rethink about his future and now wants to transform his life. "I thought I was so smart, but I am not. I don't have colossal amounts of money to shape the market, and I have realised at my age, the money I have made is enough to exit the door."
Juma admits he will still be in the business for a while but at a retail level that doesn't entail frequent travel and much easier to conduct. He has established a hardware shop and a second hand vehicle import businesses that are doing better than drugs.
"A rapid transformation is impossible, I am no longer transporting drugs, next time we talk I promise I will be completely off the hook," he offered with a big smile.


Police ask for people's support in crime fight



By Rosina John, The Citizen Reporter (
email the author
)
In Summary
Such cooperation will help improve security for the people and their properties, especially now when such incidents are on the rise.
The Tanzania police have asked citizens to cooperate by providing tips and information about crimes that have been or are about to be committed.
Such cooperation will help improve security for the people and their properties, especially now when such incidents are on the rise.
Zanzibar Police spokesman Inspector Mohamed Mhina told The Citizen over the phone, that it was not possible to deal with crimes without the support of the people -- particularly those related to terrorism.
"This is a new challenge we are facing because it is very difficult to recognise a person who is plotting an acid attack, unless there is a tip from someone," said Inspector Mhina.
Meanwhile, Inspector Mhina has warned tourists not to walk in the streets at night without being guided.
Two young British women on Wednesday were seriously injured after being attacked with acid as they were at Stone Town in Zanzibar.
The information said that the volunteers were on their usual walks around the town on Wednesday night, when suddenly unidentified person riding a motorbike threw some acid on them and escaped.
Salim Saleh named in Somali 'mercenary' deal
By John Stephen Katende
31st January 2011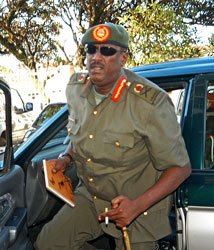 Gen. Salim Saleh: Is he a suspect?
President Yoweri Museveni's young brother Caleb Akandwanaho aka General Salim Saleh may be linked to possible involvement in mercenary activities in war-torn Somalia, Uganda Correspondent can exclusively reveal.
The details emerged after Saracen International; a company associated with Gen. Salim Saleh, lost a lucrative contract to undertake some work in Somalia. Our source in Mogadishu said the Transitional Federal Government [TFG] of Somalia declared last week, Thursday 27th January that it had severed its relationship with Saracen International.
The decision, we are told, came after a closed door cabinet meeting chaired by Prime Minister Mohamed Abdullahi Mohamed in the capital Mogadishu. Somalia's Deputy Security Minister Ibrahim Mohamed Yarow confirmed that cabinet had indeed cancelled the agreement that the TFG government had signed with Saracen International to train Somali troops and to revive social services including building health facilities in Mogadishu.
The decision, he said, was reached after Somalia's TFG government landed on evidence which suggested that Saracen International may have been involved mercenary activities. "…The cabinet has today overwhelmingly voted against Saracen International on the basis of mercenary acts. So the cabinet has revoked the agreement with this company", Ibrahim Mohamed Yarow said.
The Deputy Security Minister added that while there is no doubt that his government requires assistance, as government, he said, the TFG will only enter into contractual agreements with distinguished and clean companies. He also said the cabinet's decision on Saracen International was "irrevocable".
The TFG's decision to revoke Saracen International's contract follows widespread expression of concern by several foreign governments including the US. Philip J. Crowley, a US State Department Spokesman, said in December that the American government was "…concerned about the lack of transparency" of Saracen's financing and plans.
According to a New York Times report of 20th January 2011, "…at least one of Saracen's past forays into training militias drew an international rebuke. Saracen's Uganda subsidiary was implicated in a 2002 United Nations Security Council report for training rebel paramilitary forces in Congo".
Is war a lucrative source of business for powerful men?
Other than Burundi, Uganda is the only other country in Africa that has contributed thousands of soldiers to the AU's AMISOM peacekeeping mission in Somalia. The same New York Times report identified one of Saracen Uganda's owners as Lt. Gen. Salim Saleh, the retired half-brother of Uganda's President Yoweri Museveni.
Salim Saleh's possible conflict of interest also highlights some crucial things in this terribly complex story. One of the things is that the lines that separate government security officials and owners or leaders of private armies have become so fuzzy that you can never really be sure as to the motivations of any individual player.
As mercenary forces become more and more prominent in armed conflicts around the world, the profit motive becomes almost impossible to rule out. In other words, it's almost impossible to know the real reasons that fuel the conflicts in which mercenaries play a role. UPC party President Dr. Olara Otunnu for example, has accused some UPDF soldiers of having had vested interests in prolonging the Kony war in northern Uganda.
The UPDF of course denied Otunnu's claims. But the New York Times report also accused General Saleh and other top Ugandan army officers of using their ties to paramilitaries to plunder Congolese diamonds, gold and timber. But what exactly is Saracen International? Who really owns it? Our efforts to get a comment from Saracen International were futile by press time.
So for the time being, it may be fair to say that no one really knows for sure what Saracen International is, and who owns it. What one can say however is that Saracen International is definitely a murky trade name that is shared by a number of private security companies across Africa, Europe, the Middle East and North America. Whether that is a coincidence or not, no one really knows.
What we can confirm without fear of contradiction is that
Saracen International
is fully established in Uganda; see
http://saracen.co.ug/index.php
. Most of the other companies however deny or downplay any financial or managerial relationships between them. A few have however been linked to the infamous South African mercenary firm called
Executive Outcomes
; the same company that allegedly tried to send mercenaries to overthrow the government of Equatorial Guinea in order to tap into the country's oil and mineral wealth.
Saracen International has also been linked to a certain Erik Prince; the man whose company Blackwater is allegedly financing a "Counter-Piracy" mercenary squad in Somalia. Both the New York Times and Associated Press have carried similar allegations against Saracen International on the strength of "confidential" reports leaked from the African Union.
Somalia has been without a proper central government since 1991 when President Siad Barre was overthrown by armed warlords. That incident effectively condemned Somalia to decades of civil war. END. Please log into
www.ugandacorrespondent.com
every Monday
to read our top stories
and anytime mid-week
for our news updates.