December 29, 2013
Press Release
Alliance for South Sudanese in Diaspora (ASSD) Condemns Ugandan Yoweri Museveni Involvement in South Sudanese internal Affairs
Alliance for South Sudanese in Diaspora (ASSD) condemns the Ugandan President Yoweri Museveni for his involvement in the internal South Sudanese Affairs. ASSD urge all Eastern African Countries to stay neutral without meddling in the South Sudanese internal affairs as this may complicate and widen this conflict to the entire region.
ASSD specifically urge Kenya and Ethiopia to stay neutral and not follow what Yoweri Museveni of Uganda is doing in South Sudan. We urge President Museveni to stop using latest weaponry to massacre innocent South Sudanese in the Greater Upper Nile Region and immediately stop aiding Kiir's militants with air support.
We would like to ask the UN, United States of America, African Union, Canada, United Kingdom, and Norway to intervene and ask Uganda to leave South Sudanese alone.
The Alliance urge Ugandan forces in South Sudan's soil to leave immediately and failure to do so constitute an invasion and meddling in South Sudan's internal affairs.
Department of Information and Public Affairs
Alliance for South Sudanese in Diaspora (ASSD)
Washington, DC, USA
+1(202) 709-7322
About the ASSD: ASSD is an umbrella organization for South Sudanese organizations and individuals championing the causes for freedom, democracy, human rights, governance and development in South Sudan.
South Sudan fighting intensifies
Published on

Dec 28, 2013
South Sudan fighting intensifies as regional leaders meet. CNN's Arwa Damon reports.
Fighting intensifies between rebels and government forces in Sudan
Published on

Dec 20, 2013
For more on this and other stories please visit
http://www.enca.com/
Fighting has intensified between rebels and government forces in Juba, South Sudan. There are fears that the country is sliding towards a civil war.
African leaders broker South Sudan government ceasefire - video
BANGLADESH ARMY UNIT in South Sudan
Published on

Dec 29, 2013
A delegation of African leaders who are trying to broker a peace deal in South Sudan, claim on Friday that South Sudanese president, Salva Kiir, has agreed to an immediate cessation of hostilities. The US envoy to South Sudan, Donald Booth, says the South Sudanese government will also release 11 politicians who were arrested after violence erupted on 15 December



=================
South Sudan on brink of civil war
Published on

Dec 24, 2013
A former negotiator for South Sudan speaks with CNN about what must be done to avoid civil war.
Obama keeps eye on tense situation in South Sudan where Americans were fired upon
A CV-22 Osprey aircraft of the 8th Special Operations Squadron (SOS) "Black Birds" comes in for a landing during a local training mission at Hurlburt Field, Florida in this 2011 file photo released by the U.S. Air Force.
HONOLULU — President Barack Obama said Saturday that continued violence and militancy in South Sudan would cost the world's newest country the support of the United States and other nations.
Obama said South Sudan's leaders have a responsibility to help protect Americans, who came under fire hours earlier during an evacuation attempt.
While vacationing in Hawaii, Obama spoke by telephone with national security aides, the White House said. He told his team to work with the U.N. to keep evacuating Americans from Bor, where some of South Sudan's worst violence over the last week has played out.
Among those briefing the president was his national security adviser, Susan Rice, who a day earlier recorded an audio message to South Sudan's leaders urging them not to allow the nation "to be torn apart by violence and suffering."
"This conflict can only be resolved peacefully through negotiations," the White House said in a statement Saturday. "Any effort to seize power through the use of military force will result in the end of longstanding support from the United States and the international community."
Secretary of State John Kerry called President Salva Kirr to urge the South Sudanese leader to avoid ethnic conflict, preserve the welfare of those fleeing the conflict and protect U.S. citizens there. Kerry was sending a special envoy to the region and told Kirr that South Sudan's challenges require leadership and political dialogue, the State Department said.
The U.S. has been working to evacuate American citizens and nonemergency government personnel from the African country, and last week shut down most embassy operations in the capital of Juba after what South Sudan's president described as an attempted coup.
On Saturday, gunfire hit three U.S. military aircraft trying to evacuate Americans in a remote region that has become a battle ground between the country's military and renegade troops, officials said. The three CV-22 Ospreys were about to land in Bor when they were hit and subsequently diverted to Entebbe, Uganda.
Four U.S. troops wounded in that incident are in stable condition, the White House said.
The violence has killed hundreds and has world leaders worried that a full-blown civil war could ignite in South Sudan. The South fought a decades-long war with Sudan before a 2005 peace deal resulted in a 2011 referendum that saw South Sudan break away from the North, taking most of the region's oil wealth with it.
In the call with U.S. officials, Obama directed his team to keep him abreast of developments in South Sudan. Even when on vacation, the president travels with senior-level national security aides who keep in close contact with Washington and brief him regularly on issues of concern.
"The president underscored the urgency of helping to support efforts to resolve the differences within South Sudan through dialogue," the White House said. "South Sudan's leaders must know that continued violence will endanger the people of South Sudan and the hard-earned progress of independence."
UN Concerned by Reports of 'White Army' Near S. Sudan Town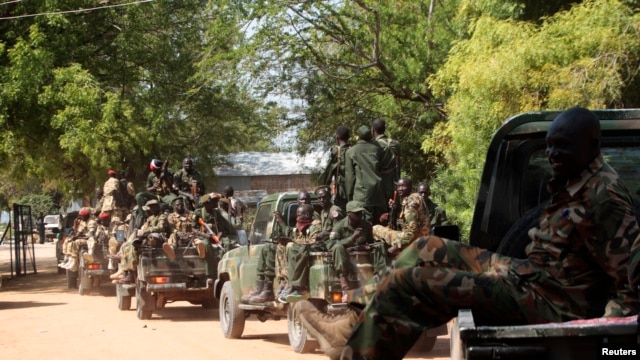 South Sudan army soldiers hold their weapons as they ride on a truck in Bor, Dec. 25, 2013.
December 29, 2013
The United Nations says it is concerned by reports that thousands of armed youth loyal to former Vice President Riek Machar are preparing an attack on a South Sudan town.

A spokesman for the U.N. mission in South Sudan says a U.N. reconnaissance mission spotted a group of armed youths about 50 kilometers northeast of the central town of Bor. He says however that U.N. officials could not confirm how many people were in the group.

South Sudan's government claims that some 25,000 armed fighters from the Machar-backed force - the so called "White Army" - planned to attack the town, which was retaken by government forces this past week. The youth, like Machar, are ethnic Nuers while President Salva Kiir and his loyalists are ethnic Dinka.

Claims of the mobilization come as regional leaders attempt to broker a ceasefire.

The tribal violence erupted earlier this month, when the president accused Machar of attempting a coup.

The United Nations says the fighting has left more than 1,000 people dead and displaced tens of thousands.

A grouping of East Africa leaders announced Friday that South Sudan had agreed to a "cessation of hostilities" and the start of peace talks. The government also agreed to release eight of 11 political prisoners suspected of plotting the coup.

But Saturday, Machar ally Rebecca Nyandeng told VOA that Machar forces will not agree to cease-fire terms until the government releases all 11 prisoners.

Machar on Saturday stopped short of accepting the government offer. He told British radio the "mechanisms for monitoring" any agreement must first be established.
Dozens of troops dead in S Sudan
Juba - At least 66 soldiers have been killed in battles raging for the past two days in the South Sudanese capital, a military hospital doctor said on Tuesday.
"So far we have lost seven soldiers who died while they were waiting for medical attention and a further 59 who were killed outside," doctor Ajak Bullen said on Miraya FM radio, adding the men would be given a mass burial.
Another medical establishment, Juba Teaching Hospital, had earlier reported 26 dead, a mixture of civilians and military.
It was not clear whether there was any overlap between the figures.
South Sudan's hospitals, for a variety of logistical and cultural reasons, suffer from a shortage of blood, meaning that many patients in need of a transfusion die.
Military spokesman Philip Aguer declined to comment on the casualty figures, telling AFP only: "The soldiers are controlling the situation."
Sapa-AFP
Kenya deploys troops to South Sudan
Nairobi - Kenya said Saturday it will send troops to troubled South Sudan to evacuate some 1 600 citizens, with many trapped in the flashpoint rebel-held town of Bor.
President Uhuru Kenyatta has "ordered the KDF (Kenya Defence Force) to commence immediate evacuation of the 1,600 Kenyans stranded in South Sudan", presidential spokesman Manoah Esipisu said in a statement.
Fighting broke out in South Sudan's capital Juba between army factions last Sunday, and it has since spread to other regions.
"Despite the relative calm in Juba, a number of other South Sudan towns have come under fire," he added, saying that Kenyans "are mainly in the town of Bor".
Others, in the towns of Rumbek, Ayod, and Panyabol "will also be airlifted to safety."
Military flights of aid supplies to Juba began Saturday, Esipisu added.
"The president has also ordered the immediate delivery of food, water and medicine to South Sudan (to help) tackle the emergency," he said.
"The delivery of these emergency supplies started this morning. Kenyan military aircraft are delivering consignments to South Sudan."
Kenya, which hosted the long running peace talks that ended the 1983-2005 civil war in Sudan - and which paved the way for South Sudan's independence two years ago - is also supporting peace efforts to end this crisis.
Several nations have sent in emergency flights to evacuate citizens, while Uganda on Friday deployed troops to South Sudan, to boost security and help its people leave safely.
Sapa-AFP
Uganda Denies Troops Supporting South Sudan Leader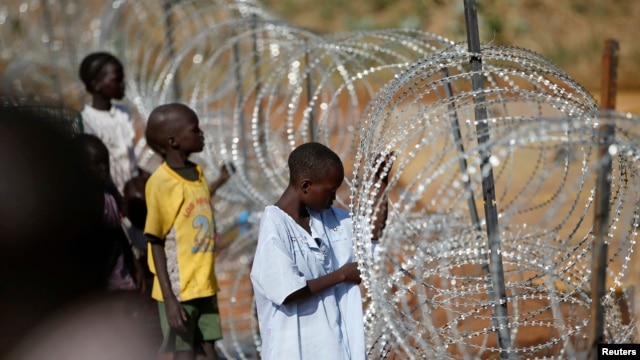 Internally displaced boys stand next to barbed wire inside a United Nations Missions in Sudan (UNMIS) compound in Juba December 19, 2013.
Clottey interview with Fred Opolot, Uganda foreign ministry spokesman
Playlist
Last updated on: December 22, 2013 1:10 PM
A spokesman for Uganda's Foreign Ministry has denied reports that the government in Kampala sent troops from the Uganda People's Defense Force (UPDF) to support South Sudan's President Salva Kiir in the ongoing conflict in Africa's newest nation.

Fred Opolot said the UPDF troops would this week attempt to rescue about 2,000 Ugandan citizens trapped in South Sudan. The conflict there between supporters of President Kiir and the former vice president, Riek Marcher has reportedly left more than 500 people killed, and has forced tens of thousands of people to flee from their homes.

"Our major concern is to ensure that [our citizens] are safe, and if not they are evacuated so that process is ongoing," said Opolot. "Uganda People's Defense Forces [are] in Juba to secure the airport, in order to ensure that the evacuation process goes very smoothly."

The violence in South Sudan erupted after President Salva Kiir, a Dinka, accused former vice president Riek Machar, a Nuer, of attempting a coup. Machar, who is in hiding, denied the accusation.

Opolot rejected suspicions that President Yoweri Museveni supported South Sudan's leader in the conflict.

"Those suspicions are completely unfounded," said Opolot. "We have a lot of Ugandans in South Sudan and their security is of the most importance for us right now. It is our focus. So in as far as the UPDF is in South Sudan to prop up Salva Kiir, that is not true, and they are unfounded."

Last week, President Barack Obama sent 45 U.S. service personnel to the region on a mission he said is aimed at protecting U.S. personnel and the U.S. embassy. In a White House statement issued during the weekend, President Obama stressed the importance of the U.S. evacuation mission and said South Sudan's leaders had a responsibility to assist U.S. efforts.

Opolot said the government in Kampala was ensuring that citizens trapped due to the conflict in neighboring South Sudan are safe and would evacuate those directly affected by the conflict.

He expressed concern about the safety of Ugandan citizens trapped in Jonglei state at the U.N. base where there have been reports of fierce fighting. Opolot said Uganda troops would this week attempt to evacuate citizens from the U.N. base.

"UPDF will attempt to make sure that they are rescued. But obviously, they have been facing some fire from the fighters there," said the spokesman.

He said Uganda wanted to be part of the solution to help resolve the conflict in South Sudan.

"At the onset of these troubles, President Museveni did try to engage Salva Kiir," said Opolot.

He said Uganda's minister for international relations was part of the African Union-led delegation that held a series of meetings with both warring parties as part of an effort to resolve the conflict.
Uganda Sends Troops to Help Citizens in South Sudan
In this photo taken on Dec. 18, 2013, and released by the United Nations Mission in South Sudan, civilians fleeing violence seek refuge at the UNMISS compound in Bor, capital of Jonglei state, in South Sudan.
December 20, 2013
KAMPALA — Ugandan soldiers have flown to South Sudan to help evacuate their citizens, an army spokesman said on Friday, although two military sources said the troops would also help secure the capital, which lies about 75 km (50 miles) from Uganda's border.

Uganda has said it is worried by fighting that erupted this week and which threatens to plunge the new nation into an ethnic war.

Uganda backed the SPLM/SPLA insurgency led by Salva Kiir - now president of South Sudan - before it won independence in 2011.

Like other neighbors, Uganda hosted many refugees from the decades of civil war in pre-partition Sudan and worries about the two-year-old nation next door collapsing into chaos.

"We have military personnel in Juba but they are there strictly to help rescue and evacuate stranded Ugandans, some of whom are injured, and our personnel are there at the request of South Sudan government," army spokesman Paddy Ankunda said.

"We're not involved in any military activity there."

He denied a report in a state-owned newspaper that the troops would also help secure Juba. But two military sources, who spoke on condition of anonymity, told Reuters securing the capital would be part of the mission.

"Some troops from Special Forces Command - I can estimate in hundreds - left for Juba yesterday," said a source in the Special Forces Command, a unit led by Ugandan President Yoweri Museveni's son.

"They will mainly be involved in securing the capital," he said, adding that some had gone by plane while others were expected to travel by road.

"They're not going to participate in the skirmishes between Kiir and Machar," he said, referring to South Sudan's former vice president Riek Machar.

Kiir, from the dominant Dinka ethnic group, has accused Machar, a Nuer, of attempting to stage a coup. The two ethnic groups have clashed in the past.

Uganda's minister of state for international affairs, Okello Henry Oryem, joined a mission of African ministers and other mediators who held talks with Kiir in Juba on Friday to try to broker peace.
====================
News
/
Africa
Uganda Increases Troop Presence along South Sudan Border
In this handout image provided by the United Nations Mission in South Sudan, Dec. 17, 2013, a United Nation soldier stands guard as civilians arrive at the UNMISS compound adjacent to Juba International Airport to take refuge.
Last updated on: December 18, 2013 4:33 PM
Uganda has increased its troop presence along the border with South Sudan due to the deteriorating security situation there.

The violence has led to an upsurge in people trying to cross into Uganda says Lt Col Paddy Ankunda, spokesman for the Uganda People's Defense Force (UPDF).

Uganda temporarily closed its border with South Sudan following the violence there, but has since re-opened the border allowing traffic to flow "smoothly" from South Sudan, according to Ankunda.

He says there has not been any incidence of violence along the border with South Sudan after Uganda ended its temporary closure.

Ankunda says soldiers from the national army have been put on alert to prevent individuals or groups who he says might want to take advantage of the security situation in South Sudan to create chaos in Uganda.

"Uganda soldiers are there to defend our borders. We've been there under the circumstances we are not taking anything for granted. We don't want wrong characters crossing into our country and causing havoc," said Ankunda. "We are alert and the soldiers are on standby, traffic is flowing, fortunately the borders were open today so we are managing the situation."

Ankunda said the increased troop presence along the border will enable the army to monitor and conduct surveillance along the 435 kilometer-long border with South Sudan.

The U.N. estimates that up to 500 people have been killed in four days of fighting in South Sudan.

Ankunda says some foreign nationals fleeing the violence have crossed the border into Uganda.

"Over 400 Kenyan citizens have crossed into Uganda, and several Uganda citizens are coming back home as a result of the situation. We have increased the flow of people from South Sudan into our country. About 1,400 people crossed the border today. They used buses [and] they were received at the border and they are back to Kampala," said Ankunda.

He says Uganda has assured its citizens that the army has secured the border with South Sudan and on standby to prevent any violence on Ugandan soil.

"We will ensure that our side of the border is secure. We are working together with our embassy in South Sudan to extract our people who are still holed up there," said Ankunda.

Foreign affairs spokesman Fred Opolot was quoted by the Daily Monitor Newspaper as saying Uganda temporarily closed its embassy in South Sudan and ordered the staff to seek refuge at UN offices due to the violence.

"It's increasingly becoming difficult to communicate with our staff who have been told to seek sanctuary at the UN base. Those in the outskirts have been told to stay indoors," said Opolot.

Clottey interview with Lt. Col. Paddy Ankunda, Ugandan army spokesman