7 Things You Need to Know Now About the Escalating Violence in South Sudan
Posted: 12/22/2013 8:14 pm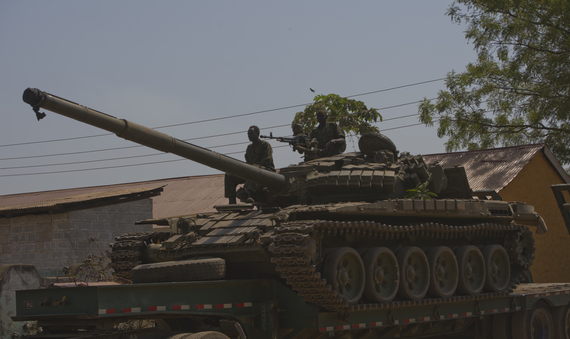 Photo: Ally Ngethi
In the past week, what started as a political confrontation in South Sudan has descended into serious violence with the potential for mass atrocities. But continued fighting and civil war is not inevitable. This crisis, which began as a contentious politics struggle within the country's ruling elites, can end through a political solution.
1. Why are people fighting in South Sudan?
South Sudan, the world's youngest country is now seeing some of the worst fighting in a decade. The situation is complex and rumors are rampant. What is currently happening in South Sudan is and was not a tribal conflict at the outset. It stems from a power struggle within the ruling Sudan Peoples Liberation Movement. Nevertheless, as former vice president Riek Machar challenges sitting president Salva Kiir, ethnic differences are being exploited and used as propaganda to rally and in some cases force support.

2. Is it serious?
This situation is the worst and most dangerous seen in the region since the peace deal that ended civil war in Sudan in 2005. UN bases have been stormed by armed youth, resulting in the deaths of scores of civilians and peacekeepers who dies while trying to protect them. Others are surrounded by hostile militias. U.S. helicopters trying to evacuate American citizens were shot at, resulting in casualties.
Human Rights Watch has collected evidence confirming the government troops involvement in abuses in Juba. At least 42,000 civilians are seeking refuge in the UN mission's compounds across the country and 62,000 have been displaced already. Unfortunately, those figures for displacement are going to increase as the conflict spreads. Thousands have fled from their homes to the bush, where they face harsh conditions with little food and water. Their fate is uncertain and precarious as major towns and civilian centers remain the primary battleground.
3. Where is the worst fighting?
According to the UN, violent clashes have broken out in five of the country's ten states, but unconfirmed reports say that fighting has spread to at least two more, The regions of Jonglei, Unity and Upper Nile are currently the scenes of the worst fighting. This is largely due to the defection of two military leaders: Peter Gadet and Maj. Gen James Koang Chuol. Bentiu the capital of Unity State continues to face insecurity and violence due to its proximity to the oilfields, the main income for the country and government. Oil workers from the region have been evacuated and there are worrying reports of attacks on civilians in a bid to control the oil wells. Riek Machar, the country's former Vice President told the BBC on Saturday that his troops were now in control of "much of the country." While some major areas have been rendered insecure and conflict ridden the government of South Sudan remains largely able to assert itself throughout the country but are no doubt facing major threats and pressure.
The government has declared that the situation in Juba has returned to normal, but many continue to fear a counterattack by rebel forces. South Sudan's second and third largest cities Malakal and Wau remain relatively calm. Upper Nile State is also currently calm. Western and Eastern Equatoria states are largely calm as well. Worrying politics from Aweil, the capital of Northern Bahr El Ghazal suggests some groups looking to remove their current governor are trying to take advantage of the current pressure on the government in Juba to extract concessions. There is a risk of many other actors with little direct interest in or support of the groups currently fighting the government will try to use this as an opportunity to impose their interests on the central government.
4. Who is doing the fighting and can the UN peacekeepers contain them?
Despite some initial fears that the South Sudan army, the SPLA, would fracture, at the moment, the majority of its officers and the rank and file have held together. Nonetheless, significant defections have strengthened the forces in opposition. Now, government forces have surrendered Bor in Jonglei state to Peter Gadet and Bentiu in Unity State to James Koang Chuol. Ugandan troops were dispatched to the capital at President Kiir's invitation and are supporting the SPLA in their effort to regain control of Bor and Jonglei state.
UN peacekeepers are struggling to protect civilians and contain the armed factions. However, Toby Lanzer of the UN worries, "as in Akobo," where a base was stormed by thousands of armed youth, "if there are few peacekeepers inside and two thousand outside there's little we can do." Clearly more peacekeepers are required, even if from regional actors interested in maintaining stability, particularly Ethiopia, Kenya and Uganda. The Ugandan have already intervened and more can be expected from them.
5. Should we focus on the ethnic dimensions of the conflict?
Old animosities and grievances are being reflected in the narratives communicated by many political leaders in South Sudan, and this is dangerous. Many of those involved in directing the violence are clearly interested in driving political contestation into the space of ethnically defined war. This is a dangerous strategy indeed and is similar to what transpired in the run-up to the Rwandan genocide.
The international media, humanitarians, rights groups and other actors are also contributing to the ethnically framed rhetoric. Some of the reports focused singularly on targeting of some groups have spread like wildfire through the local media and are being tweeted and posted widely. This has combined with the widespread commentary of well-known South Sudanese figures and many in the diaspora. This has tangible consequences on the ground with individuals using such reporting as justification for retaliation and anger, which is much more complicated. At the very least those engaged in commentary and interested in seeing this crisis end must take the utmost care and avoid contributing to this very dangerous dynamic.
6. Is a political solution still possible?
As long as the core of the army can hold together there remains the possibility for a political solution to the crisis. President Kiir has indicated his willingness to talk with any of those in open rebellion and such mediation is essential. A secure space along with a trusted mediator is critical for this.
The president has agreed to dialogue as suggested by international actors, however many of the key dissident leaders accept talks under the condition that the detained politicians are first released. This may be too large a demand for the government since they believe these individuals were plotting a coup. Some kind of accommodation in between this demand and the position of the government is possible and needs to be explored. At the same time, the commanders in the field need to be reigned-in to stop further violence and escalation also to give confidence that the rebel leaders are in-fact in control of those they claim are their supporters. Its essential to understand who is in control of which groups so that all relevant actors can be included in the mediation.
7. What needs to be done?
The UN has capacity and mandate to act the need to be assisting those in need more widely. It must act more aggressively to provide protection.
We are at a critical moment when our actions can change the course of the history of this nation and prevent a return to war. We are peering over the precipice into civil war and worse. Massive investment has been made in South Sudan for peace; this all cannot be for naught.
====================
Sudan: Bashir Regime Responsible for Secession of South Sudan and Darfur Crisis - Mahdi
26 December 2013
Khartoum — The leader of opposition National Umma Party (NUP), Al-Sadig Al-Mahadi, accused the Sudanese regime of being responsible for the secession of South Sudan, crisis in Darfur, deteriorating economic situation, destruction of civil service, and the international isolation.
Al-Mahadi, who celebrated his 79th birthday on Wednesday, called for establishing a new regime and organising public pressure, protests, and sit-ins to force the regime to engage in a road map for achieving comprehensive and just peace and democratic transformation similar to that which took place in South Africa in 1992 or through a peaceful popular uprising.
He further called upon the rebel Sudan Revolutionary Front (SRF) and the opposition parties to accept the declaration of principles proposed by the NUP to achieve peace and the democratic transformation.
The NUP proposed a set of principles based on 10 points for inclusive dialogue that is founded on the diagnosis of all issues.
Al-Mahdi who rejects the use of violence to remove Bashir's regime repeats that the political change should be done in a comprehensive process including the rebel groups.
Al-Mahdi who diverges with the other opposition forces over the need to reorganise the opposition alliance is also criticised by the rebel groups for his persisting call for democratic transition and refusal of regime change.
In a separate issue, Al-Mahadi called upon the conflicting parties in South Sudan to cease fire and accept a neutral African committee to investigate the recent incidents, demanding them to negotiate a peaceful resolution for the conflict to be followed by fair elections.
He expressed keenness to the implementation of the cooperation agreements signed between Sudan and South Sudan, asking Khartoum and Juba governments not to obstruct oil production and transportation or trade and pasture.
In September 2012, both Sudan and South Sudan signed a series of cooperation agreements, which covered oil, citizenship rights, security issues, banking, border trade among others.
Last March, the two countries signed an implementation matrix for these cooperation agreements.
Al-Mahadi further demanded the Sudanese government not to involve in the southern crisis, saying that it should only mediate to bring the conflicting parties together in order to arrive at peaceful solution for the problem.
=======================
Sudan's Bashir Vows End of Rebellion in South Kordofan and Darfur in 2014
26 December 2013
Khartoum — The Sudanese president Omer Hassan Al-Bashir, vowed to end Sudan's rebellions in 2014 saying that military campaign carried out in South Kordofan will be followed by another one in Darfur region.
Sudanese president Omer Hassan al-Bashir (Photo: ASHRAF SHAZLY/AFP/Getty Images)
Bashir, who addressed a public rally in celebration of harvest season in Gedaref state in eastern Sudan on Wednesday, vowed that next year would witness the defeat of the alliance of rebel groups, Sudanese Revolutionary Front (SRF), and restore peace in southern and western parts of the country.
"He who wanted to humiliate us would fail and he who wanted to defeat us must lick his elbow first", he said, alluding to the statements by rebel leaders who refuse to negotiate separate peace deals in their respective regions.
Last month, the Sudanese defence minister, Abdel-Rahim Mohamed Hussein, announced the beginning of the summer military operations against the rebels in Darfur, South Kordofan, and Blue Nile.
On Friday, SAF claimed that it achieved a series of victories against the rebel SRF in Jebal areas in South Kordofan and drove its forces out of Abu Domoa, Kujoria, Al-Waliat, Shingil, Al-Karko, Kiga Al-Khail, Kaling, Al-Higair, Habail, Um Baraka, Higair Sinaina, Al-Rokeb, Al-Dhiainat, Ambir, Higair Yassen, and Al-Garsha.
Bashir affirmed that SAF is making victories in South Kordofan which will bring security, peace, and stability to the state.
He pointed that Sudan is targeted by foreign powers and called upon citizens not to listen to claims of those whom he described as saboteurs about injustice, marginalization, and poverty.
Bashir said that the government couldn't meet all people's demands but it would continue implementing development programs and plans, asking the Sudanese people to topple the government if it fails to achieve those programs.
The Sudanese president further said that Sudan is rich in terms of agricultural, animal, and mineral resources and added that Sudanese citizen is the pillar for development.
Bashir pointed to government efforts to support the vulnerable segments of the society through micro-financing programs, direct subsidies for poor families, and distribution of livelihood among the poor and needy.
He said that the federal government would support Gedaref state besides the support of the East Reconstruction and Development Fund (ERDF), pointing that the state managed to overcome its major water and gasoline problems.
Under the October 2006 peace agreement, the Eastern Front joined with the government and a $600 million ERDF was established to help the region recover from war.
A further $3.5 billion pledged at a donor conference that took place in Kuwait in December 2010 was also supposed to be added to the ERDF.
====================
South Sudan: Ugandan Dictator Arrives in Juba Ready to Suck the Blood of South Sudanese
By James Moises, 20 December 2013
The Ugandan president Yoweri Museveni has ordered his special forces to help his student Salva Kiir Mayardiit of South Sudan deals with the political and social crisis which is now taking place in Juba. This is exactly what I said back in July.
About five months ago, I have warned the world to take note of Museveni's evil feats long planned against South Sudanese who do not like the way Salva kiir runs the new country.
What my dictator forgot is the fact that his thirst for South Sudanese blood will not go unpunished!
My hat off to the late Ethiopian Prime Minister Meles Zenawi who warned Salva kiir to mind his own business after he (Kiir) first approached Addis Ababa to help him carryout his inhumane and undemocratic plan.
In July of this year, I promised the world that I will expose the actions of Ugandan ruthless killer, Museveni, with documents that will blow the minds of any human being on this planet earth.
On the 18th of December, 2013, I have decided that enough is enough and that all documents that I promised the world to see are now in the hands of very few agencies that will soon lid the bloody smoke long stored in one of the Uganda's secret organisations.
Please, revisit my previous report here: http://www.southsudannewsagency.com/opinion/articles/ugandan-president-has-a-deadly-hand
My fight against Museveni's evil deeds is ON, be READY, and prepare for the UNTHINKABLE!!
South Sudan: Ugandan Air Force Bombs Rebel Bases in Jonglei
21 December 2013
At least three jets of the Ugandan air force bombed the positions of the General Peter Gatdet Yak in Bor, the capital of Jonglei State.
One of the jets is reported to have been shut down by Gatdet's forces, Eyewitnesses in the area told the South Sudan News Agency.
The bombings come just one day after Ugandan president Yoweri Museveni sent his special forces to Juba, asserting that he acts at the request of the South Sudanese President.
Please, check back for more details...
=======================
South Sudan: Machar Appoints Delegation for Dialogue With South Sudan President Kiir
26 December 2013
London — The former vice-president, Riek Machar, said he was ready to initiate dialogue with the South Sudan's president, Salva Kiir, in the Ethiopian capital, Addis Ababa.
Speaking to Sudan Tribune in undisclosed location on Thursday on phone, he revealed that he had already appointed and submitted the list of his delegation for talks to the mediators.
The delegation to be led by the former secretary general, Pagan Amum Okiech, also includes the party senior leaders who are currently in prison in Juba.
Machar earlier on called for the release of the detainees in order to the dialogue to kick off, but Kiir said he was ready for unconditional talks.
The former vice-president left Juba on 15 December when violence erupted between the presidential guards, largely fitting Dinka against Nuer ethnic groups.
Kiir described the violence as an attempted coup while Machar said it was simply a misunderstanding between the guards, which Kiir later on used to get rid of his political opponents.
Senior leaders of the ruling Sudan People's Liberation Movement (SPLM) have been criticising president Kiir, who also chairs the party, for dictatorial tendencies that resisted internal reforms.
Thousands of people are feared dead in the over a week violence which also resulted to the government losing a number of key strategic states and capitals.
Uganda Denies Troops Supporting South Sudan Leader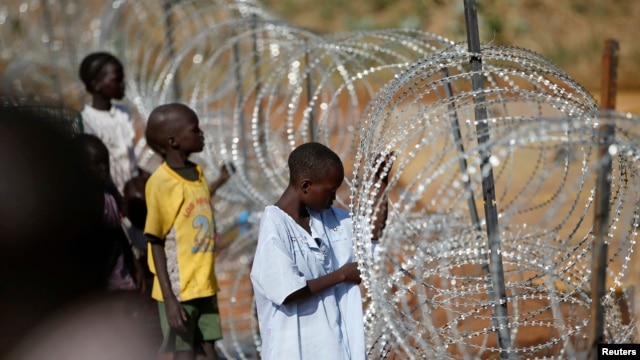 Internally displaced boys stand next to barbed wire inside a United Nations Missions in Sudan (UNMIS) compound in Juba December 19, 2013.