----- Forwarded Message -----
From:

Judy Miriga


To:

"progressive-kenyans@googlegroups.com" ; "wanakenya@googlegroups.com" ; Change Mombasa ; Mabadiliko


Sent:

Friday, December 27, 2013 3:03 PM


Subject:

BIG DEFEAT FOR KIRARIO,MIRIGA AS UHURU WINS PEACE SOUTH SUDAN

Uhuru was the wrong person to have headed the team for reconciliation to South Sudan. We predicted it and we were right. He is an interested party in the corruption shared by Museveni,

Al-Bashir, The Ethiopian Prime Minister Hailemariam Desalegn, and Salva Kiir which is why South Sudan is in conflict in the first place.

The three leaders that included Uhuru, Salva Kiir and Ethiopia's Foreign Minister Tedros Adhanom met behind closed doors in Juba, what does that explain to you?
What these IGAD leaders are doing is, they apply force in a joint armed insurgency to terrorize and instigate fear-factor to intimidate and engage

"kill, scatter, divide and rule"

strategy to enforce corruption, graft, impunity, genocide and atrocities on the people.

This is unacceptable and we shall not keep quite.
Our concern is all about human rights and freedom for Africa people to have opportunity to manage their own lifestyle and affairs without forcefully being displaced to provide room for irregular, illegal and unconstitutional land grabbing with illegal and unfair occupation of public land......and where

intimidation of the same aim at organized mis-use of public finances, wealth and resources, including public taxpayer, theft through Land Grabbing, marginalization of stage-managed obstruction from accessing public mandate that are short-changed through corruption, organized insurgencies and terrorism that are carefully planned through strategic

conspiracies by network of African Leaders with their Corporate Special Business Interest ....... for which as a result millions of poor Africans are pushed to extreme poverty and from extra-judiciary killings, people are maimed assassinated and where children and women are violently raped and

are put in a very pathetic and awkward situation after being made homeless and forcefully displaced to pave way for unconstitutional and illegal occupation of their land.
Things must not go on like this.

Democratic principles demands that Responsibilities through accountability and transparency be the order of good governance, but when such is demanded, many people are killed to be silenced.
As voices of reason, we shall not allow corruption to destroy, silence, dictate and deny Africans their Rights of freedom and to live a respectful and honorable dignified lifestyle. So NO, we are not defeated as the Truth shall set us all free indeed............
----- Forwarded Message -----
From:

mohamed warsama


To:

"uchunguzionline@yahoogroups.com" ; "changemombasa2012@yahoogroups.com" ; "wanakenya@googlegroups.com" ; "thelastwordtokenya@yahoogroups.com" ; naijaobserver


Sent:

Friday, December 27, 2013 11:43 AM


Subject:

BIG DEFEAT FOR KIRARIO,MIRIGA AS UHURU WINS PEACE SOUTH SUDAN
Kenya and Ethiopia leaders in South Sudan in peace effort
Published on
Dec 26, 2013
The leaders of two of South Sudan's neighbours have arrived in the capital Juba hoping to kick...
euronews, the most watched news channel in Europe Subscribe for your daily dose of international news, curated and explained:
http://eurone.ws/10ZCK4a
Euronews is available in 13 other languages:
http://eurone.ws/17moBCU
http://www.euronews.com/2013/12/26/ke...
The leaders of two of South Sudan's neighbours have arrived in the capital Juba hoping to kick start talks between the warring parties.
Kenya's President Uhuru Kenyatta and Ethiopia's Prime Minister Hailemariam Desalegn were greeted by South Sudan's President Salva Kiir.
He has called for an end to unrestrained killings and tribal-based atrocities that are thought to have left thousands of people dead.
As the leaders arrived, there were reports of more fighting between the army and rebels in an oil-rich region in the north.
On Tuesday the UN compound in Bor, where South Korean peacekeepers are based, was hit by mortar cannon, fired during a fierce exchange between government forces and rebels a few kilometres away.
Four Nepalese troops stationed at a post protecting the base were reportedly injured.
The area around Bor is said to have become safer since government troops retook the town from rebels on Tuesday.
International efforts have multiplied to try to stop the fighting. The EU is sending an envoy; China has said it will too. The UN is doubling the size of its peacekeeping force.
Tens of thousands of civilians have sought refuge in UN compounds. Many say they have been targeted based on their ethnicity.
Egypt and Ethiopia leaders meet over Nile row
Published on
Nov 20, 2013
The Egyptian and Ethiopian leaders have met for the first time to discuss tensions over Ethiopia's construction of a huge hydropower dam on the river Nile but the meeting ended without any agreement, sources said.

The Egyptian interim president, Adly Mansour, and Ethiopia's prime minister, Hailemariam Desalegn, met on Tuesday on the sidelines of an Afro-Arab Summit in Kuwait, sources familiar with the meeting told Al Jazeera.

It was the first meeting between leaders of the two countries over the Grand Renaissance Dam since the deposed Egyptian president, Mohamed Morsi, met Hailemariam in May.

Ethiopia began diverting the Blue Nile in May to build what will be Africa's largest dam when it is finished in 2017. Thirty percent of its construction has already been completed, according to Ethiopia. The hydropower station will have a 6,000-megawatt capacity when finished.


Egypt, almost totally dependent on the river, fears the dam could diminish its water supply. Ethiopia, which hopes the hydropower dam will boost its economy through power exports, has said there will be no major impact.

The sources said the Egyptian side had requested the meeting to "negotiate" over the project but that nothing was agreed.

Hailemariam, a source said, rejected a request from Mansour that he be involved in discussons about the project.

Colonial-era treaties negotiated by the British gave Egypt and Sudan a majority share of Nile waters. Seven other countries through which the river flows argue the agreements were unjust and need to be torn up.

Egypt's only current recourse lies with a panel of 10 experts from Egypt, Ethiopia, Sudan and other countries who have been reviewing the social and environmental impact of the dam.

The panel has issued a report about the project's potential impact on water levels, which has not yet been made public.

At a one-day meeting in the Sudanese capital Khartoum this month the water ministers of Egypt, Sudan and Ethiopia agreed to form a panel to implement the expert recommendations.

But Egyptian objections about the composition of the committee have been delaying its formation, Ethiopia's water minister has said.

A second round of negotiations is scheduled for Khartoum on December 8.

Perceived insult

Egypt has previously sought to delay the construction of the dam and its requests to inspect it have been rejected by the Ethiopians, who say Egypt needs to relinquish its power to veto projects on the Nile, which it was also given as part of the 1929 and 1959 treaties.

Under those agreements, Egypt is entitled to 55.5 billion cubic meters a year, most of the Nile's total flow of about 84 billion cubic meters. However, about 85 percent of the river's water originates in the Ethiopian highlands.

A new deal signed in 2010 by other Nile Basin countries, including Ethiopia, allows them to work on river projects without Cairo's prior agreement. Egypt has not signed that deal.

The meeting on Tuesday, the sources told Al Jazeera, was almost called off because Hailemariam, who is also the current chairman of the African Union, was insulted by a request that he should go to Mansour.

The issue was resolved when the leaders ageed to meet halfway - in a corridor.
Ethiopian Prime Minster : No One Will Stop Nile Dam Project
Published on
Jun 12, 2013
http://www.ethiopian.tv
: The Ethiopian Prime Minister Hailemariam Desalegn said no one will stop the Grand Ethiopian Renaissance Dam project.
Ethiopia The Blue Nile's Bridge to Hope
Published on
Oct 13, 2013
No description available.
5 months ago
in reply to whymeproducz
I can't understand when some Egyptian politicians and scholars say that "Egypt has historic right over Nile".During colonialism Egypt, Sudan and Britain signed a water sharing agreement ignoring mainly Ethiopia who contributes about 85% of the water.How come this treaty give EGYPT veto right? During colonial era,Europeans signed agreements among themselves to share Africa's natural resources,SO DO THEY have historic right to take whatever they want today?TODAY WE DECIDE FOR OURSELVES!
Prepare to die! Egyptians will not be messed with! We can export terrorism in your neighboorhouds, easily! None will be safe in Ethopia if you think you can take us out that easily!
Do what you gotta do, but the dam is being built. Egypt needs to think twice before attacking Ethiopia, we are not Djoubuti. We are more war ready than you.
======================
South Sudan crisis: Kenya and Ethiopia leaders in Juba for talks
The leaders of two of South Sudan's neighbours, Kenya and Ethiopia, have held "constructive" talks there in a bid to halt fighting, officials say.
More than a thousand people are feared dead in violence that began 11 days ago and has raised fears of a civil war.
Ethiopia's foreign minister said the meeting with President Salva Kiir was "candid" and had centred on halting the violence and starting political talks.
Mr Kiir is involved in a power struggle with ex-deputy Riek Machar.
The fighting has exposed ethnic divisions in the world's youngest state as the president is an ethnic Dinka, while Mr Machar represents the Nuer tribe.
UN officials believe well over a thousand people have been killed since violence erupted on 15 December, when clashes broke out at a meeting of the ruling Sudan People's Liberation Movement (SPLM).
President Kiir accused the former vice-president, who had been sacked in July, of plotting a coup. Mr Machar denies trying to seize power.
The fighting has since spread to half of South Sudan's 10 states and is now focused on the capital of oil-producing Unity state, Bentiu, and Malakal, the main town in Upper Nile state.
Tens of thousands of people have fled to UN compounds across the oil-rich country. The UN Security Council has decided to boost the existing UN force (Unmiss) of around 7,000 peacekeepers and police to about 14,000.
In a Christmas Day message, UN Secretary General Ban Ki-moon said "South Sudan is not alone".
Mr Kiir, wearing his trademark cowboy hat, went into the closed-door meeting on Thursday morning with Ethiopian Prime Minister Hailemariam Desalegn and Kenyan President Uhuru Kenyatta, currently head of the East African Community.
Ethiopian Foreign Minister Tedros Adhanom said later they had discussed a cessation of hostilities, an immediate start to political talks, supporters of Mr Machar who were in detention and the humanitarian crisis.
The two leaders and other East African countries would "do their best to resolve this problem amicably", he said.
The European Union is sending an envoy, Alex Rondos, to Juba to push for a negotiated solution. China said its special envoy to Africa would also travel to Juba "soon".
Both the South Sudanese leader and Mr Machar have said they are willing to discuss an end to the crisis.
But the former vice-president has said his detained political allies must first be freed, while Mr Kiir says there should be no preconditions.
Mr Machar told Paris-based Sudan Tribune on Thursday he had appointed a delegation to start talks in the Ethiopian capital Addis Ababa.
But South Sudan Information Minister Makuei Lueth told the Associated Press no contact with Mr Machar had yet been established. "For us, we are not talking with him," he said.
'Sense of confidence'
After the violence broke out, forces loyal to Mr Machar seized the key towns of Bor, the capital of Jonglei state, and Bentiu.
But government forces recaptured Bor on Tuesday and are trying to retake Bentiu.
Unmiss spokesman Col Michael Chadwick told BBC News that the area around Bor was currently relatively stable.
Some 15,000 people had fled to the UN compound in Bor but up to 2,000 of them were now moving out as the situation had become safer, he said.
"This is giving us a sense of confidence that we'll be able to establish more Unmiss flights and possibly more humanitarian flights."
South Sudan has struggled to achieve a stable government since becoming independent from Sudan in 2011.
The independence referendum was intended to end a decade-long conflict, led by the SPLM, against the north. But the oil-rich country remains ethnically and politically divided, with many armed groups active.
After a peace deal was signed in 2005, the southern rebel group appointed Mr Machar as vice-president of the South Sudan regional government, a position he retained after independence in 2011 until he was dropped in July.
South Sudan's Displaced Top 120,000, Government Agrees To End Hostilities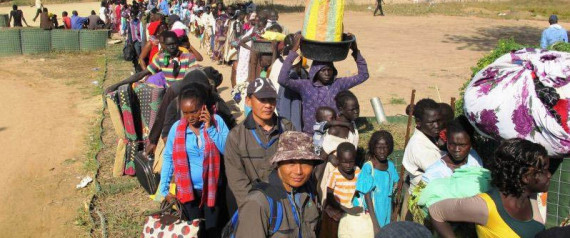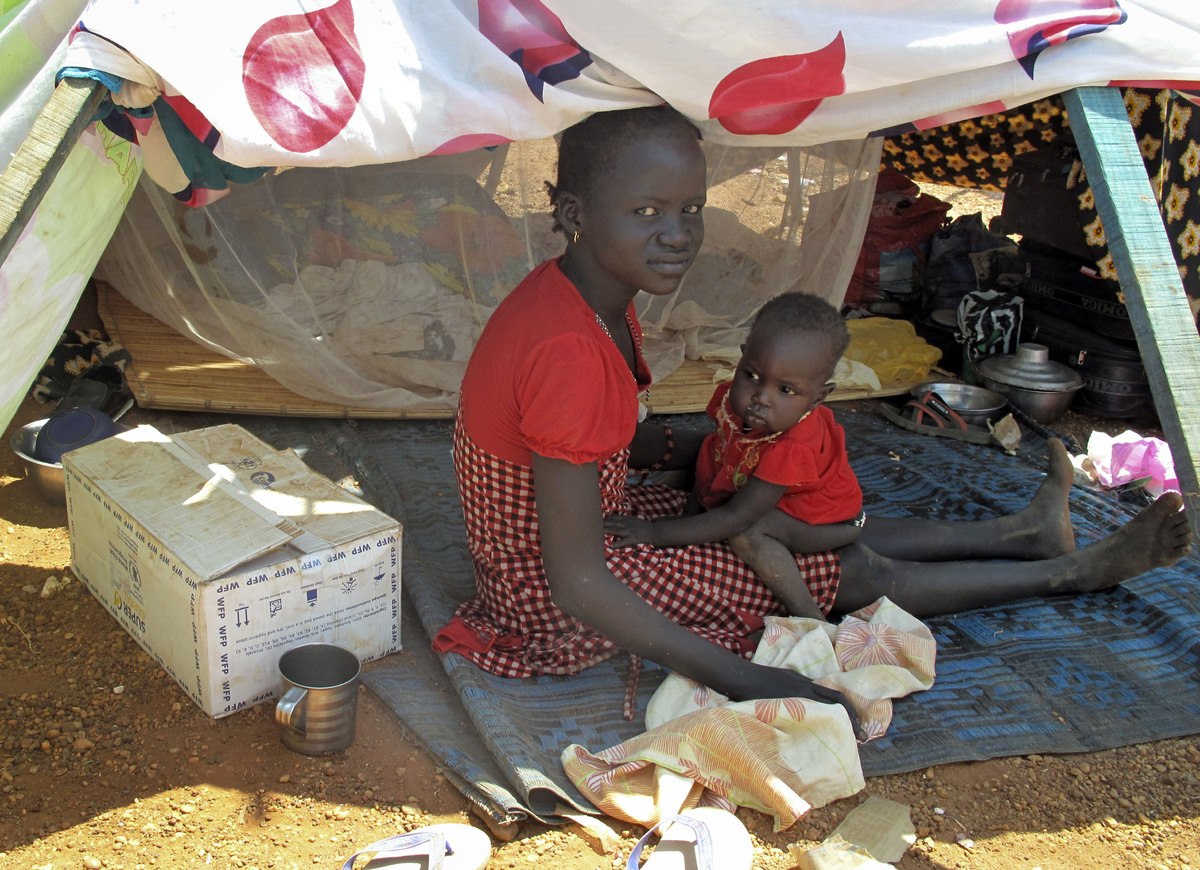 NAIROBI, Kenya (AP) — South Sudan's government on Friday agreed to end hostilities, regional leaders said at the end of a crisis summit, raising hopes for a potential breakthrough in efforts to cease violence that has displaced more than 120,000 people in the world's newest country.
East African leaders meeting in Kenya under a bloc called IGAD said in a statement Friday that they "welcomed the commitment by (South Sudan's government) to an immediate cessation of hostilities."
But former Vice President Riek Machar, Kiir's political rival who is accused of orchestrating a failed coup that the government says sparked unrest across the oil-producing country, was not represented at the summit in the Kenyan capital of Nairobi.
The leaders' joint statement said Machar is urged to "make similar commitments" to end hostilities.
Machar, the alleged leader of renegade forces now in control of some parts of South Sudan, remains a fugitive wanted by the military. At least 10 of his political allies are in detention for their roles in the alleged coup plot. Machar denies there was a coup attempt, and some officials with the ruling party insist violence broke out when presidential guards from Kiir's majority Dinka tribe tried to disarm guards from the Nuer ethnic group of Machar, leading to wider military clashes along ethnic lines.
Machar, an influential politician who appears to command the loyalty of Nuer army officers, has criticized Kiir as a dictator and says he will contest the 2015 presidential election. Kiir had fired Machar as his deputy in July following a power struggle within the ruling party, stoking ethnic tensions in a country with a history of divided military loyalties.
IGAD said it opposes a violent change of government in South Sudan and urged Kiir and his rivals to start peace talks before the end of 2013.
In a speech at the Nairobi summit, Kenyan President Uhuru Kenyatta had noted that there is "a very small window of opportunity to secure peace" in South Sudan, where fighting since Dec. 15 has raised fears of full-blown civil war.
South Sudan peacefully broke away from Sudan in 2011 after decades of a brutal war of independence fought against Sudan. The young country has been plagued by corruption, ethnic tension, and a power struggle within the ruling party that pits Kiir against Machar.
The number of internally displaced people continues to rise, with many seeking shelter at U.N. compounds across the country. There are sporadic military clashes in the oil-rich states of Unity and Upper Nile, potentially endangering the oil revenues that South Sudan depends on to keep the government running.
The U.N. said aid agencies need at least $166 million to save lives.
The top U.N. humanitarian official in South Sudan, Toby Lanzer, said earlier this week that he believes the death toll has surpassed 1,000. The U.N. also is investigating alleged mass killings in the latest violence.
"We have heard reports of extra-judicial killings, arbitrary detentions of civilians, ill-treatment, abuse and also mass graves," said Hilde Johnson, head of the U.N. mission in South Sudan. "Our human rights officers have been working around the clock, throughout this crisis, and they are investigating these reports and allegations."
___
Straziuso reported from Juba, South Sudan. Associated Press reporter Rodney Muhumuza contributed to this report from Kampala, Uganda.