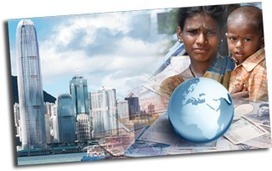 The developing world lost US$946.7 billion in illicit outflows in 2011, an increase of 13.7% over 2010. The capital outflows stem from crime, corruption, tax evasion, and other illicit activity.

The report finds that from 2002 to 2011, developing countries lost US$5.9 trillion to illicit outflows. The outflows increased at an average rate of 10.2% per year over the decade—significantly outpacing GDP growth.

As a percentage of GDP, Sub-Saharan Africa suffered the biggest loss of illicit capital. Illicit outflows from the region averaged 5.7% of GDP annually. Globally, illicit financial outflows averaged 4% of GDP.

China leads the world over the 10-year period with US$1.08 trillion in illicit outflows. However, 2011 marked the first time that Russia's illicit outflows exceeded China's, with a loss of US$191.14 billion against China's US$151.35 billion. The previous methodology had significantly understated Russia's illicit outflows, while it overstated China's illicit outflows.
Corruption is a particularly viral form of cancer. It is caught here and there but it reappears somewhere else as soon as vigilance is relaxed. It is not eliminated, just driven underground. The corrupt merely suspend their operations temporarily. It lingers, hovering always in the background for its next opportunity.
- Gerald E. Caiden
Your new post is loading...

Scoop.it!

*** Key findings from PwC's 17th Annual Global Economic Crime Survey
*** Cyber crime: the Achilles heel of the business world
*** Ukraine's $19-billion question of debt and corruption
*** FBI announces campaign to crack down on public corruption
*** Ukraine's $19-billion question of debt and corruption





Scoop.it!

Former Utah Attorneys General John Swallow and Mark Shurtleff were arrested and charged Tuesday on allegations ranging from accepting bribes to destroying evidence.
Both were arrested at their Sandy homes by members of the FBI and the Utah Department of Public Safety, and they arrived at the Salt Lake County Jail shortly after 8 a.m.
The state's former top law enforcement officials were charged in 3rd District Court with pattern of unlawful activity, a second-degree felony; and three counts of receiving or soliciting bribes by a public official, a third-degree felony.
In addition, Shurtleff was charged with illegally accepting gifts or loans, a second-degree felony; two counts of receiving bribes by a public official, a third-degree felony; witness tampering, a third-degree felony; tampering with evidence, a class A misdemeanor; and obstruction of justice, a class A misdemeanor.
.





Scoop.it!

The Justice Department, along with federal and state partners, today announced a $7 billion settlement with Citigroup Inc. to resolve federal and state civil claims related to Citigroup's conduct in the packaging, securitization, marketing, sale and issuance of residential mortgage-backed securities (RMBS) prior to Jan. 1, 2009. The resolution includes a $4 billion civil penalty – the largest penalty to date under the Financial Institutions Reform, Recovery and Enforcement Act (FIRREA). As part of the settlement, Citigroup acknowledged it made serious misrepresentations to the public – including the investing public – about the mortgage loans it securitized in RMBS. The resolution also requires Citigroup to provide relief to underwater homeowners, distressed borrowers and affected communities through a variety of means including financing affordable rental housing developments for low-income families in high-cost areas. The settlement does not absolve Citigroup or its employees from facing any possible criminal charges.

This settlement is part of the ongoing efforts of President Obama's Financial Fraud Enforcement Task Force's RMBS Working Group, which has recovered $20 billion to date for American consumers and investors.

"This historic penalty is appropriate given the strength of the evidence of the wrongdoing committed by Citi," said Attorney General Eric Holder. "The bank's activities contributed mightily to the financial crisis that devastated our economy in 2008. Taken together, we believe the size and scope of this resolution goes beyond what could be considered the mere cost of doing business. Citi is not the first financial institution to be held accountable by this Justice Department, and it will certainly not be the last."






Scoop.it!

Last week former New Orleans Mayor Ray Nagin became the latest American politician to be sent to jail for abuse of power, following in the footsteps of former Detroit Mayor Kwame Kilpatrick and onetime Illinois Congressman Jesse Jackson Jr. Despite such high-profile convictions, most Americans see political corruption as a problem that plagues the developing world far more than the U.S. The truth is more complex: It's certainly the case that paying bribes is a lot less common in the U.S. than in Nigeria or Bolivia, for example. But when citizens are asked if corruption is prevalent in their country, they're thinking about a lot more than bribes. They're more concerned about whether government and the political system is fair or stacked against them. And on those grounds, there are good reasons to think the difference between the U.S. and developing countries isn't very big at all.

It doesn't take a detailed look at Transparency International's Corruption Perceptions Index to work out which types of countries are viewed to be particularly corrupt by the political risk analysts, aid agency economists, and think-tank staff whose opinions the index reflects...

Nagin wasn't convicted of taking a bribe. His big crimes were related to steering business to his family's kitchen countertop company. That underscores a vital truth: There are lots of different ways to be corrupt. And when you survey people around the world about the problem of corruption in their country, most have a definition of "corruption" that's broader than bribery. Ask the same people, "Have you paid a bribe," and then ask, "Is corruption a problem in this country?" and the relationship between the two answers is weak. Again, ask the same companies, "How much do you pay in bribes?" and "Is corruption a major constraint to doing business," and many who say bribery in their industry is common also don't see corruption as a problem—while many who don't pay bribes are convinced corruption is holding them back.

People in





Scoop.it!

MANILA (Reuters) - Philippine President Benigno Aquino's performance ratings have plunged to their lowest ever, two independent pollsters said on Monday, as a perception grew that he is not serious enough...

"This is the largest decline in both approval and trust and it's also his lowest performance thus far," Ana Maria Tabunda, Pulse Asia research director, said in a television interview.
People were disillusioned by widespread corruption in government, she said, adding that her poll was taken at the same time that the government arrested three senators on plunder charges for misuse of congressional funds and rising cost of rice and other food.
Tabunda said the survey was largely complete by the time the Supreme Court rejected an Aquino creation of a discretionary fund, called the Disbursement Acceleration Program (DAB), which has become the administration's worst crisis in four years.





Scoop.it!

Georgia doesn't rank among the most corrupt states in the nation, according to a recent study. But it doesn't rank among the least corrupt either...


"I haven't been able to access the full study, but I'm not sure this is the best methodology," said Matthew Hipps, assistant professor of political science at Dalton State College.

"I'm not sure that the number of convictions really tells us how much corruption there is in an area," he added. "It's a measure, but it's not a very nuanced measure."





Scoop.it!

A former chief executive of the country's biggest public pension fund admitted that he took more than $250,000 in bribes and other valuable gifts from a friend and co-defendant in an influence-peddling scandal that rocked the pension investment world five years ago.
Federico R. Buenrostro Jr. pleaded guilty Friday to one federal charge of conspiracy to commit corruption and fraud in funneling deals through his friend, Alfred J.R. Villalobos, for outside firms to manage funds for the California Public Employees' Retirement System.
We condemn the misconduct and ethical breaches admitted today by Mr. Buenrostro.- CalPERS' statement "It's a good day for justice, and was time for Mr. Buenrostro to admit his wrongdoing," said Philip Khinda, a Washington lawyer who led an 18-month internal investigation into a scandal that led to a slew of changes in CalPERS operations and state law.
CalPERS, which manages about $300 billion in investments, said that it has taken "aggressive steps" to put into place new policies and reforms to ensure that its 1.6 million members — state and local government workers, retirees and their families — are not victims of future criminal fraud by insiders.

"We condemn the misconduct and ethical breaches admitted today by Mr. Buenrostro," the fund said in an email. "CalPERS looks forward to justice being served in this case and for the individuals involved to be held accountable for their actions."
Buenrostro, CalPERS' top official from 2002 until he was fired in 2008, said in his plea agreement that Villalobos personally delivered $200,000 in cash bribes in paper bags and shoe boxes, which were handed over at a Hyatt Hotel across from the state Capitol.






Scoop.it!

As soccer fans flock to their televisions for the World Cup final this weekend, the FBI and international investigators are looking ahead to allegations of corruption and abuse halfway around the world in Qatar, where the 2022 games are scheduled to take place in one of the hottest places on earth -- where daytime temperatures regularly reach 124 degrees.
During the World Cup this year in Brazil officials declared the first-of-its-kind water breakduring a match when the temperature hit the mid-80s, fearing for the health of the players.
Before Qatar won their bid for the 2022 World Cup, soccer federation officials were warned in advanced about the potentially dangerous heat in Qatar that makes its capital of Doha look like a ghost town during the day – some 40 degrees hotter than during the pause in Brazil.
...





Scoop.it!

A construction union whistleblower has blasted an ''independent'' investigation into the allegations of corruption he raised.
The Construction, Forestry, Mining and Energy Union on Friday released its review into a string of allegations about misconduct by senior officials and links to crime figure George Alex. The claims were raised by whistleblowers who complained to CFMEU national secretary Michael O'Connor late in 2013.
The allegations will be heard when the Heydon royal commission into union corruption sits in Sydney on Tuesday.
The complaints spurred the union to ask its law firm, Slater & Gordon, to organise an investigation. It chose Sydney barrister Tony Slevin, whose report, released on Friday, exonerates the union's leadership but suggests changes to the union's rules dealing with whistleblowers and complaints.





Scoop.it!

Thirty years on, public funding of Australian election campaigns has recorded a striking lack of success at stopping corruption. As should have been expected all along.
Among your weekend reading, don't miss Mike Steketee's piece in the Drumthis morning on public funding of elections. He gets it, much better than most people who write about this popular but misunderstood topic:


In the words of the report of a parliamentary inquiry, getting taxpayers to pick up the tab "removes the necessity or temptation to seek funds that may come with conditions imposed or implied" and "it may relieve parties from the constant round of fundraising so that they can concentrate on policy problems and solutions".
As it turned out, less true words have seldom been spoken. Thanks particularly to the Independent Commission Against Corruption in NSW, where the Wran government was the first to introduce public funding in 1981, we now know just how successfully politics has been cleaned up.

It's remarkable that anyone could ever have believed this rationale, much less continue to believe it with the weight of 30 years of evidence against it. Expecting public funding to reduce corruption is a bit like setting up a welfare system for gangsters in the hope that they will feel less need to rob banks.





Scoop.it!

It happens with disturbing regularity.
A high-profile Louisiana politician gets caught with his or her hands in the cookie jar, and there is the inevitable public outrage and embarrassment.
Unfortunately, incidents such as this reinforce an ugly and somewhat unfair political stereotype of Louisiana.
Thanks to our shameful political history, there is a widespread perception that we have more political corruption here than in many other places.
Anything that battles that image is welcome.
So, when former New Orleans Mayor Ray Nagin was convicted of fraud, bribery and other corruption-related charges, it provided yet another chance for federal prosecutors to serve notice that corruption will be discovered and punished.
Earlier this week, when federal Judge Ginger Berrigan sentenced Nagin to 10 years in prison, some observers worried aloud that the sentence was too lenient.
The larger point, though, is that Nagin was caught, prosecuted, convicted and sentenced.





Scoop.it!





Scoop.it!

Valdez accuses the health plans of "rampant fraud," alleging they overcharged Medicare $300 million to $350 million a year from 2007 through 2010. He claims that Aveta Chief Executive Officer Richard Shinto fired him "in retaliation for his outspoken opposition to these illegal practices." Valdez filed the lawsuit in Santa Ana, California, in April 2011, but it remained under court seal until February of this year. The case is pending.
In a May 23 statement to the Center for Public Integrity, the health plans called Valdez a "former disgruntled employee" and added that the company "categorically denies the allegations in the former employee's lawsuit and is highly confident that it will prevail in the case."
Valdez is a veteran health care executive and consultant who headed the California regional office of the U.S. Department of Health and Human Services from 2001 through 2003 under President George W. Bush. He also was a health policy adviser to Republican Mitt Romney during the 2012 presidential race.
Valdez said in court papers that he served as president of MSO of Puerto Rico, also owned by a subsidiary of Aveta, for eight months until his dismissal in December 2010. MSO worked with local doctors to coordinate coverage for some 230,000 elderly and disabled people then enrolled in those two Aveta-related Medicare Advantage health plans. In a press release touting his hire, Aveta said Valdez would enhance medical care while "effectively managing healthcare costs."




| | | | | | | |
| --- | --- | --- | --- | --- | --- | --- |
| | | | | | | |
| | | | | | | http://www.scoop.it/t/corruption-1/p/4012541834/2013/12/11/global-financial-integrity-reports-illicit-financial-flows-from-developing-countries-2002-2011-overview |